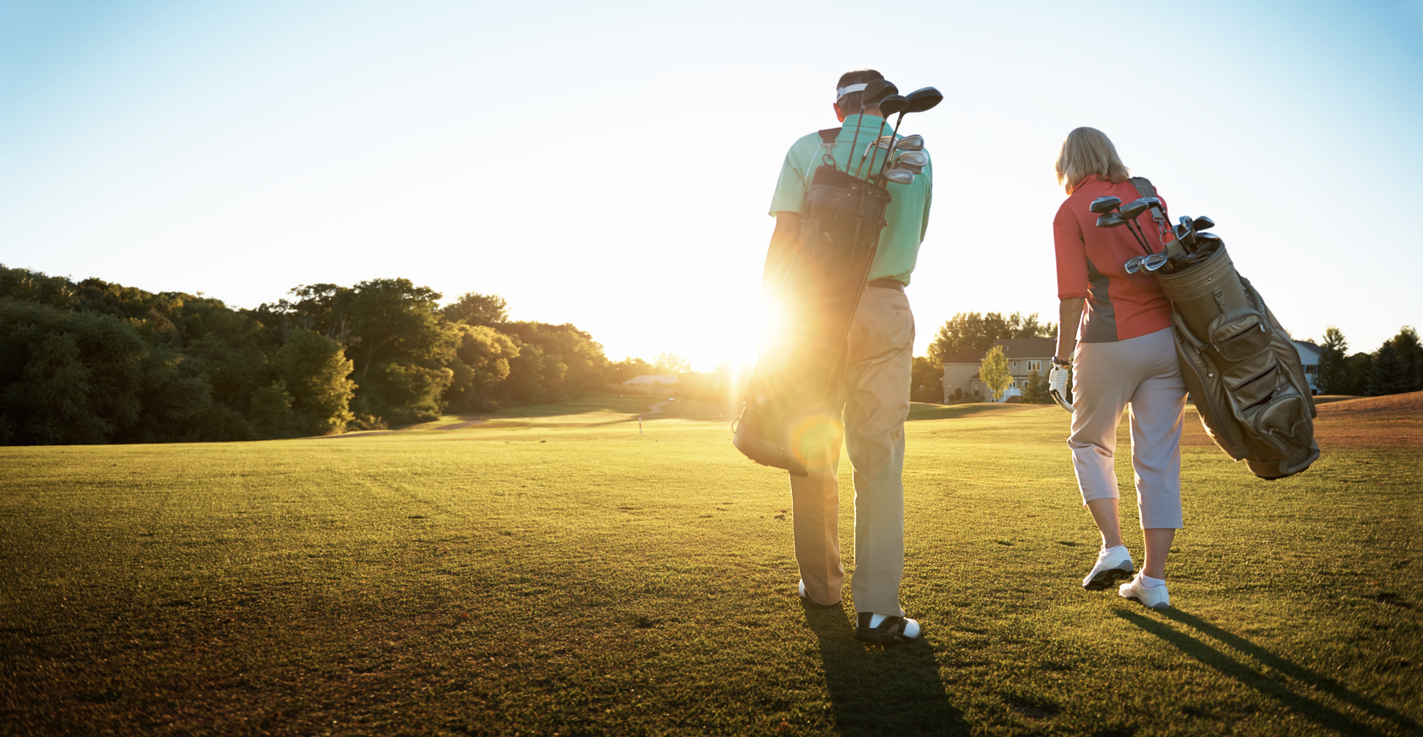 shapecharge/ iStock
Good news for golf lovers everywhere: Playing golf is good for your heart health — and could even be better than walking for older adults, according to new research. 
A study published this month in BMJ Open Sport and Exercise Medicine found that people 65 and older benefited the most from golfing compared to walking and Nordic walking (a full body workout that involves walking with special poles). The researchers looked at measures of cardiometabolic health, which refers to the heart, blood, and blood vessels.
As golf and walking are popular "age-appropriate" types of aerobic exercises for older adults, the researchers wanted to see the acute effects of each exercise on cardiometabolic health. They found that although all activities were beneficial, longer and lower intensity activities can have the most significant benefit..
"Despite the lower exercise intensity of golf, the longer duration and higher energy expenditure appeared to have a more positive effect on lipid profile and glucose metabolism compared with Nordic walking and walking," the authors explained in the study.
The findings are based on data from 25 "healthy older golfers" (16 men and nine women) who played 18 holes of golf on a flat course while walking and pulling a cart. According to WebMD, in total, they covered about 5.5 miles over three-and-a-half hours. In comparison, they also participated in 3.7 miles of walking and Nordic walking, which took about an hour.
RELATED: Breath Training Can Be as Effective as Medicine for Reducing Blood Pressure
Participants wore heart monitors and fitness devices to keep track of their distance, duration, pace, steps, and energy expenditure. The goal: to note their blood pressure, blood glucose, and blood lipid profile in a "real-life environment," per a press release
Ultimately, researchers found that more time on turf is a good thing for heart health, particularly for regulating lipid profile and glucose metabolism.
Previous research has also linked golf to improved mental well-being which is associated with health benefits. Golf is also an activity that takes place outside over the course of many hours, and previous studies have shown that more time outdoors is both a mood booster and stress buster.
However, this was the first study to specifically look at the acute effects of golfing, walking, and Nordic walking in healthy older adults.
The study showed these aerobic exercises can not only be recommended as a way to prevent cardiovascular diseases in healthy older adults, but also can be used as a way to improve and treat cardiometabolic health for those who already have a cardiovascular disease.
One potential caveat to the findings is that the researchers recruited experienced golfers to ensure the game was played properly, whereas Nordic walking was not a familiar exercise for most participants. Therefore, improper technique may have played a role in the outcomes.
Whether one loves golf as an escape, a way to get outside, or a social hobby, this study provides another reason to hit the course — and ditch the golf cart.
"The results of this study are meant to encourage older adults to spend more time on the golf course and play by walking," study co-author Julia Kettinen, a doctoral researcher at the Institute of Biomedicine/Sports and Exercise Medicine at the University of Eastern Finland in Kuopio, told United Press International. "Golf is a great way to exercise, as it motivates individuals to move, often without even realizing the distance they've walked during the game."
RELATED: Teens Who Are Loved May Have Better Heart Health in Adulthood, Study Finds