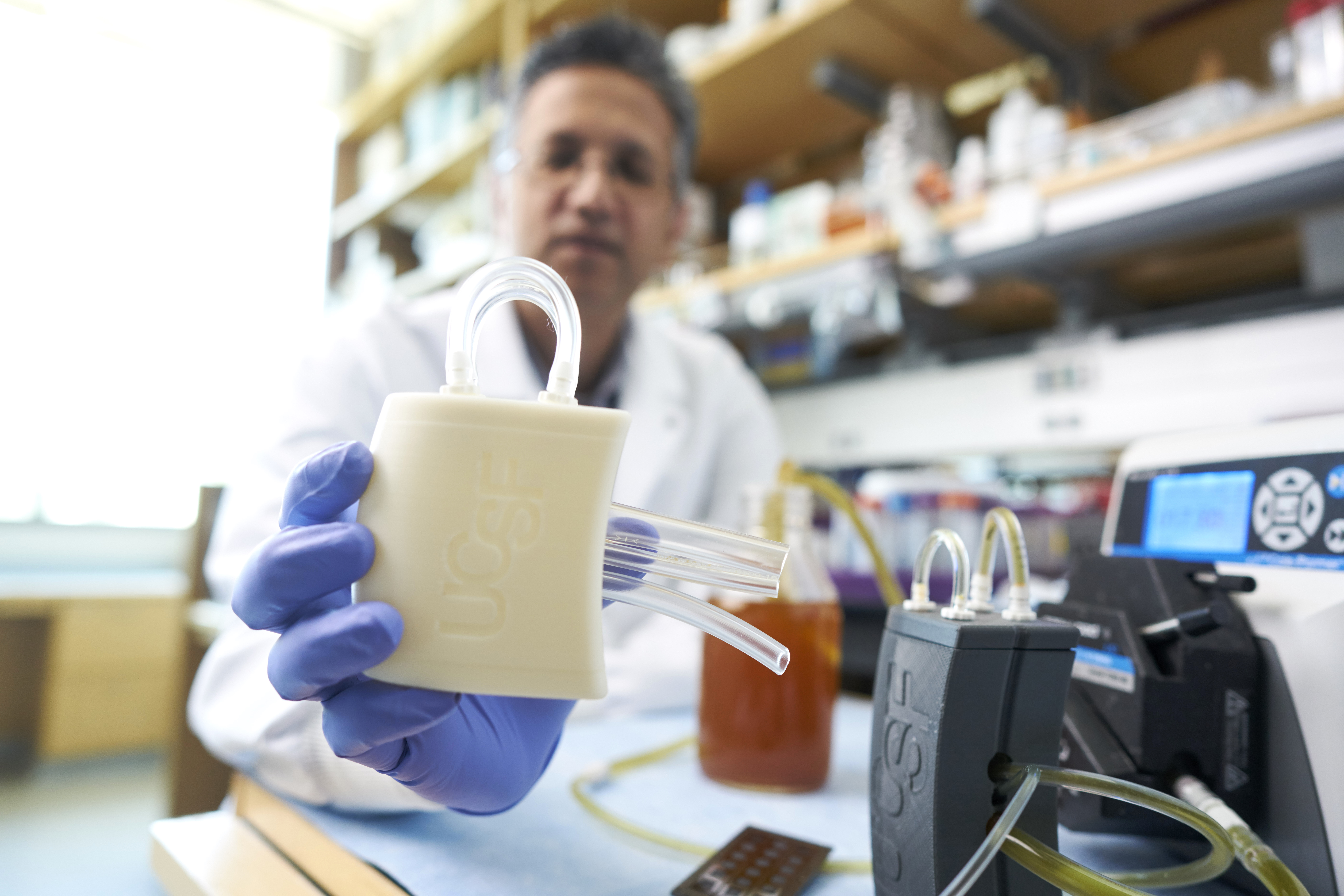 Steve Babuljak
Around 807,000 people in the United States are living with kidney failure, with the majority requiring dialysis, per the American Kidney Fund. Over 90,000 are on the waiting list for a transplant, but donors are hard to come by; in 2022, only about 1 in 4 of those renal disease patients actually received a kidney. A team of scientists is hoping to change those statistics, however, by developing an implantable, bioartificial kidney.
It's about the size of a coffee cup and works by employing real kidney cells that have been cultured in a lab and then placed inside a device called a bioreactor. Somewhat akin to a pacemaker, per a news release from the University of California, San Francisco, the engineered organ would run "in the background" after transplantation, connecting directly to blood vessels and veins and replicating important kidney functions.
So far, the team has successfully tested a prototype in pigs for up to a week without any adverse effects, publishing their findings in Nature Communications in late August. The eventual goal is to adapt the device to work with a wider range of kidney cells and then pair it with a hemofilter, which processes waste in the blood.
The artificial kidney would free renal disease patients from spending hours every week hooked up to dialysis machines and would not trigger the body's immune response the way live transplants sometimes do. Thus, patients wouldn't need to take immunosuppressive drugs, which can be hard on the liver, following surgery.
Development of the artificial kidney is the primary focus of a long-term, nationwide initiative called The Kidney Project, co-helmed by UCSF bioengineering professor Shuvo Roy and Dr. William H. Fissell, a nephrologist with Vanderbilt University's Medical Center.
"We needed to prove that a functional bioreactor will not require immunosuppressant drugs, and we did," Roy said in the release. "We had no complications and can now iterate up, reaching for the whole panel of kidney functions at the human scale."
According to The Kidney Project's FAQ page, the device is still four to five years away from clinical trials in humans, but the team hopes to have the product commercially available for patients by 2030.
Courtesy of The Kidney Project
This past June, their progress was recognized with $1 million in funding from KidneyX, a partnership between the U.S. Department of Health and Human Services and the American Society of Nephrology that was founded to "accelerate innovation in the prevention, diagnosis, and treatment of kidney diseases."
"The Kidney Project is building a more hopeful future for patients with no easy options," Kathy Giacomini, dean of the UCSF School of Pharmacy, said in a statement at the time, adding that the funding grant is "vital for ensuring that this work makes good on its promise to revolutionize the treatment of kidney failure."