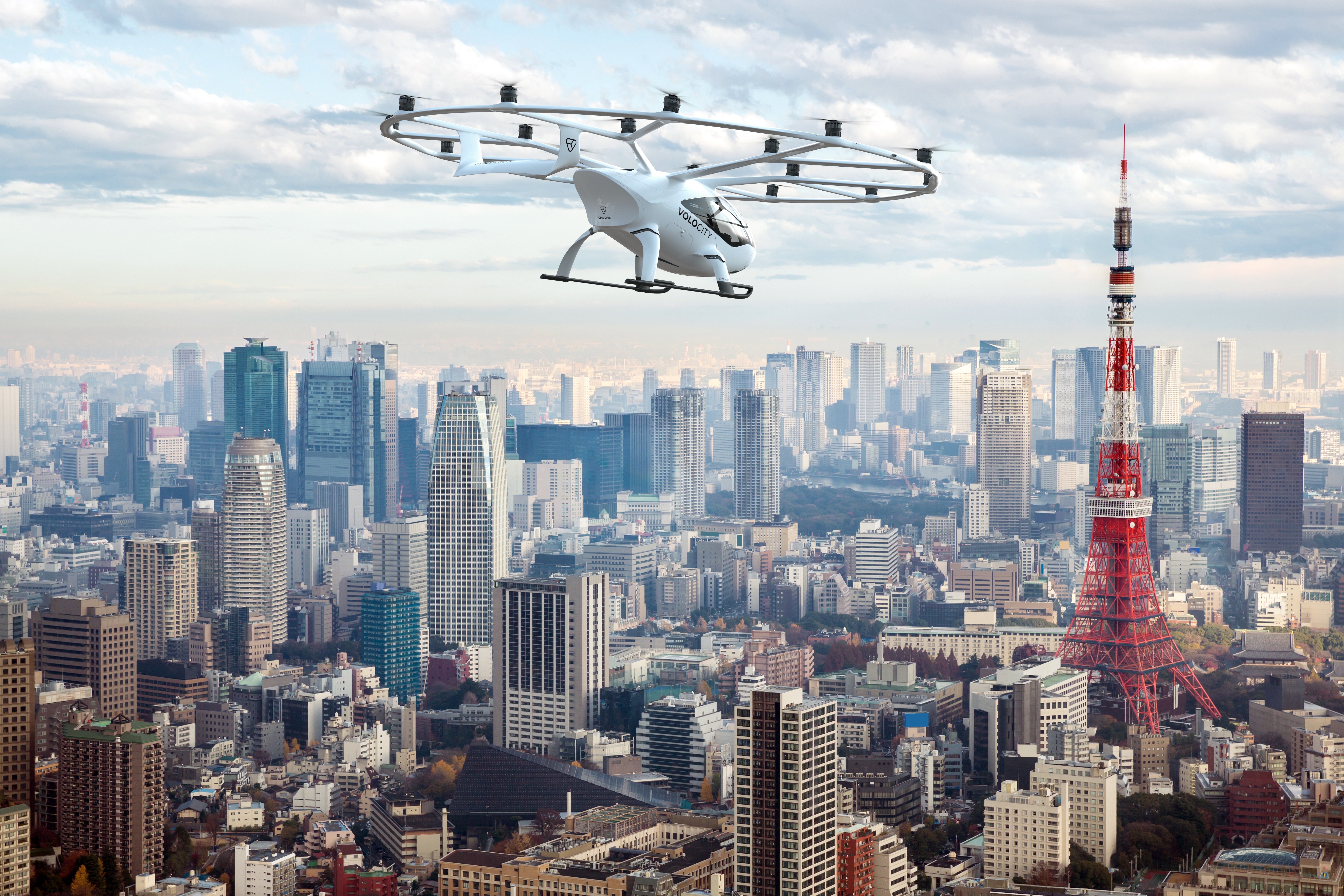 © Volocopter
Imagine Uber-like air travel: a convenient way to order an "air taxi" from one point of a city to another. It may sound futuristic, but it isn't light-years away — companies in the United States and across the globe have already begun investing in electric air taxis that aim to make commuting quicker and more sustainable.
Major airlines like American, Delta, and United have invested millions in Joby Aviation's vision of the electric air taxi. The startup's vision is taking the ridesharing tenet of popular companies like Uber and Lyft to the sky with its all-electric, vertical take-off and landing (eVTOL) aircraft. For more than a decade, the aviation company has been developing its fleet design, which is powered by six electric motors and takes off and lands vertically — meaning it can serve communities from sparsely populated suburbs to condensed urban areas within a 150-mile range.
The aircraft can reach speeds up to 200 mph, has zero operating emissions, and can seat up to five people, including the pilot. Joby Aviation says that the design is "a faster, cleaner, and smarter way to carry people through their lives," per its website, explaining that the "aerial ridesharing service will combine the ease of conventional ridesharing with the power of flight. A green alternative to driving that's bookable at the touch of an app."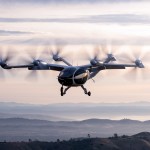 Delta Airlines announced in October that it is investing $60 million in Joby in the hopes of getting customers off the roads and in the sky via the home-to-airport transportation service. The two companies will first begin servicing passengers in New York and Los Angeles — a partnership that "will be mutually exclusive across the U.S. and U.K. for five years following commercial launch, with the potential to extend that period," per a press release.
Passengers will be able to travel from its "heliport" in the center of Manhattan to JFK Airport in a mere 7 minutes — a trip that can take up to an hour or more by car.
"Delta always looks forward and embraces opportunities to lead the future, and we've found in Joby a partner that shares our pioneering spirit and commitment to delivering innovative, seamless experiences that are better for our customers, their journeys, and our world," said Delta CEO Ed Bastian said in a statement. "This is a groundbreaking opportunity for Delta to deliver a time-saving, uniquely premium home-to-airport solution for customers in key markets we've been investing and innovating in for many years."
For those concerned about the possibility of noise pollution, Joby promises that its aircraft "will be quiet enough to land in your neighborhood" (listen here). It has completed more than 1,000 test flights over the past decade and recently received its Part 135 Air Carrier Certification after being the first eVTOL company to be granted a G-1 (Stage 4) Certification Basis for its aircraft by the FAA.
Tom Ziora / Wagnerchic / © Volocopter
Although the concept may be modern to most, it follows in the flight path of other companies looking to bring eVTOL travel to the masses. In 2011, Volocopter — an all-electric aircraft with the ability to vertically take off and land — was the first to build and fly a passenger in an electric air taxi of this kind, according to its website. The company's aircraft, VoloCity, hopes to launch short commercial passenger flights by 2024, according to Business Insider. It recently launched a successful test flight in Paris with one pilot and one passenger, but it hopes to be fully autonomous in the near future. The test flight was monitored by Groupe ADP, an international airport operator based in Paris.

"The completion of a Volocopter flight fully integrated into the airfield's airspace is the epitome of a year of very ambitious test campaigns. We are now looking ahead to 2024: the development of all use cases, including health and logistics," Augustin de Romanet, Groupe ADP Chairman and CEO, said in a press release.