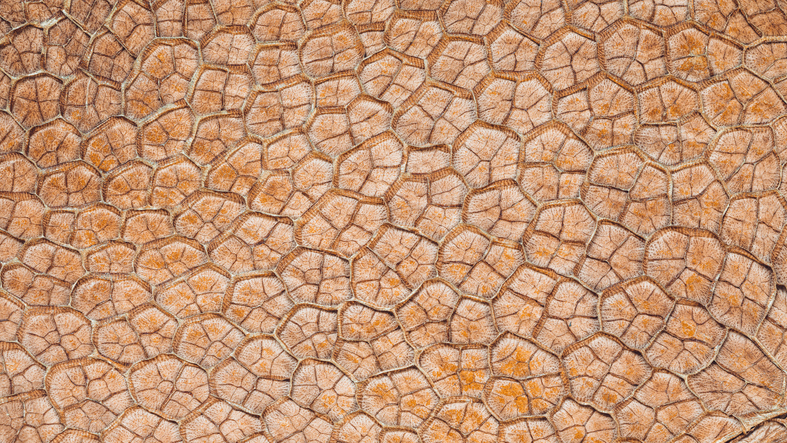 LeMusique/ iStock via Getty Images Plus
The lionfish's showstopping appearance makes it a star of many home aquariums. But in the wild, its presence is often sinister.
Avid diver Aarav Chavda told The Guardian he became increasingly depressed witnessing the devastation the invasive species wrought on Florida's tropical reefs. Then, he devised a plan to harvest lionfish and use their hides to craft sustainable, luxury leather goods.
Chavda and his childhood friend, Roland Salatino, founded startup Inversa, which tans and dyes lionfish hides and sells them to partners that create various high-end accouterments like wallets, belts, and purses. On World Oceans Day, Chavda and his team were named one of nine finalists in the Global Ocean Resilience Innovation Challenge (Oric).
While it's thinner than traditional leathers, fish leather is stronger and more durable than many others as its fibers run crossways. It's also far more sustainable: Whereas leathers made from cows and sheep require immense natural resources and contribute to deforestation, soil erosion, and carbon dioxide pollution, lionfish leather preserves ecosystems. According to Chavda, one hide can save up to 70,000 native reef fish.
Within the past few decades, lionfish have wreaked havoc in the Atlantic, Caribbean, Mediterranean, and Gulf of Mexico, where they insatiably devour local populations of smaller fish and mollusks. A 2016 study published in Scientific Reports found that a single lionfish gobbled up to 79% of juvenile marine life within about five weeks of entering an ecosystem. And unlike many predators who move along once the food supply runs low, lionfish swallow up entire populations. A lionfish invasion can substantially decrease coral reefs, too, according to Vox, because they kill off beneficial species like parrotfish, which eat algae off corals and prevent it from overtaking the reefs.
Indigenous to the South Pacific and Indian Oceans and the Red Sea, the lionfish is thought to have been introduced to the Atlantic sometime around 1985, when a lone fish was sighted off the Florida coast. The population gradually increased and spread throughout the 1990s, then exploded after 2005. The venomous predatory species has no natural predators outside its native range and reproduces year-round, with a mature female releasing about 2 million eggs annually.
"We know there are solutions for some of the problems — such as coral-friendly sunscreens help protect the reefs — but nobody's been able to do anything about the lionfish," Chavda told The Guardian.
Along with removing lionfish from their non-native territories, Chavda and his team propose setting up cooperatives in communities like Quintana Roo, Mexico, to provide a "100% catch-to-cash guarantee" for lionfish which would incentivize local anglers to catch them.
"We're really sort of empowering the consumer and fashion by doing something for the planet — then we empower dive communities in the fishing cooperatives all throughout the Caribbean to do something for themselves," he said. Perhaps in a few years, eco-friendly fish leather boots will be all the rage.