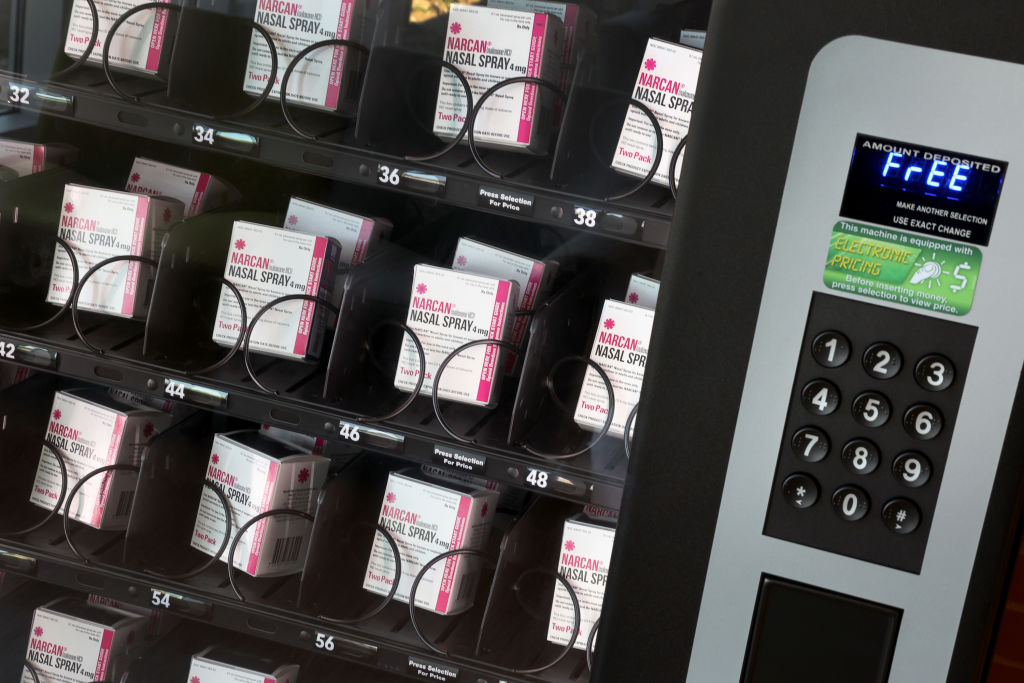 Scott Olson/ Getty Images
When you see a vending machine, you likely expect it to dole out snacks or beverages — not life-saving medication. In Ohio, there exists such a machine that dispenses naloxone, a medicine that rapidly reverses an opioid overdose. And it has already saved 960 lives through overdose reversal in under two years, according to new research.
Caracole, a Cincinnati-based HIV/AIDS service nonprofit, worked with nonprofit Interact for Health to install the 24/7-accessible vending machine outside its building in February 2021. Per a study from the University of Cincinnati (UC), published in the Journal of the American Pharmacists Association, it has dispensed over 3,300 doses of naloxone as well as more than 10,000 fentanyl test trips in the first year alone. At the time that the study was published on November 11, naloxone from the vending machine had been used to reverse 288 overdoses; as of December 6, author Daniel Arendt, a doctor of pharmacy at UC, told UC News that number had risen to 960. Over two-thirds of re-enrollees also reported detecting fentanyl in their drugs — and 75% of the time it was detected they either threw the supply away or used a lower dose.
"Would it be ideal if everyone wanted to simply stop using drugs altogether? Yes, but that's not reflective of reality," said Arendt. "In the end, there isn't anything more you can do to help a person if they die from an overdose during the course of their use."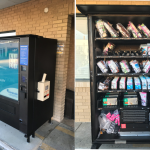 Courtesy of Caracole / UC News
The machine is available to those who enroll with Caracole, and requires an access code, which is given out by the organization after an anonymous survey is completed by participants. Program enrollees are then able to utilize the code for 90 days, after which re-enrolling is necessary.
Those with the code can "dispense two injection doses of naloxone, two nasal spray doses of naloxone, a container for disposing of sharp objects such as needles, a safer injection kit, a safer smoking kit, a personal protective equipment kit, a safer sex kit, a pregnancy test and a box of bandages from the machine every seven days," UC News reports.
In 2021, overdose deaths decreased by 10 percent across Hamilton County, which includes Cincinnati, whereas overdose deaths throughout the entire United States increased by 15 percent, totaling more than 107,000 lives lost. Arendt believes the vending machine helped, even though it does not provide clean syringes due to state laws requiring local jurisdictional approval.
"That is not to say that we shouldn't also want syringes and all the possible products available, but more just to say that even in states where that is too much of a legal hurdle for you to get through, you can still have an intervention that is safe and effective," he explained.
While this kind of self-service system is not common in the U.S., similar practices are available in Europe, and Arendt and Caracole are working with other organizations to implement more of the machines across the country.
Several other cities and states across the country, including San Diego, Las Vegas, New York, and Indiana, are implementing their own vending machine programs as of recently, supplying easily-accessible naloxone and fentanyl medication resources.
"A cornerstone of harm reduction is to help people who use drugs stay as healthy as possible," said Suzanne Bachmeyer, Caracole director of prevention. "Vending machines provide 24/7 ready access to life-saving and disease prevention supplies so people feel empowered to take control of their health."