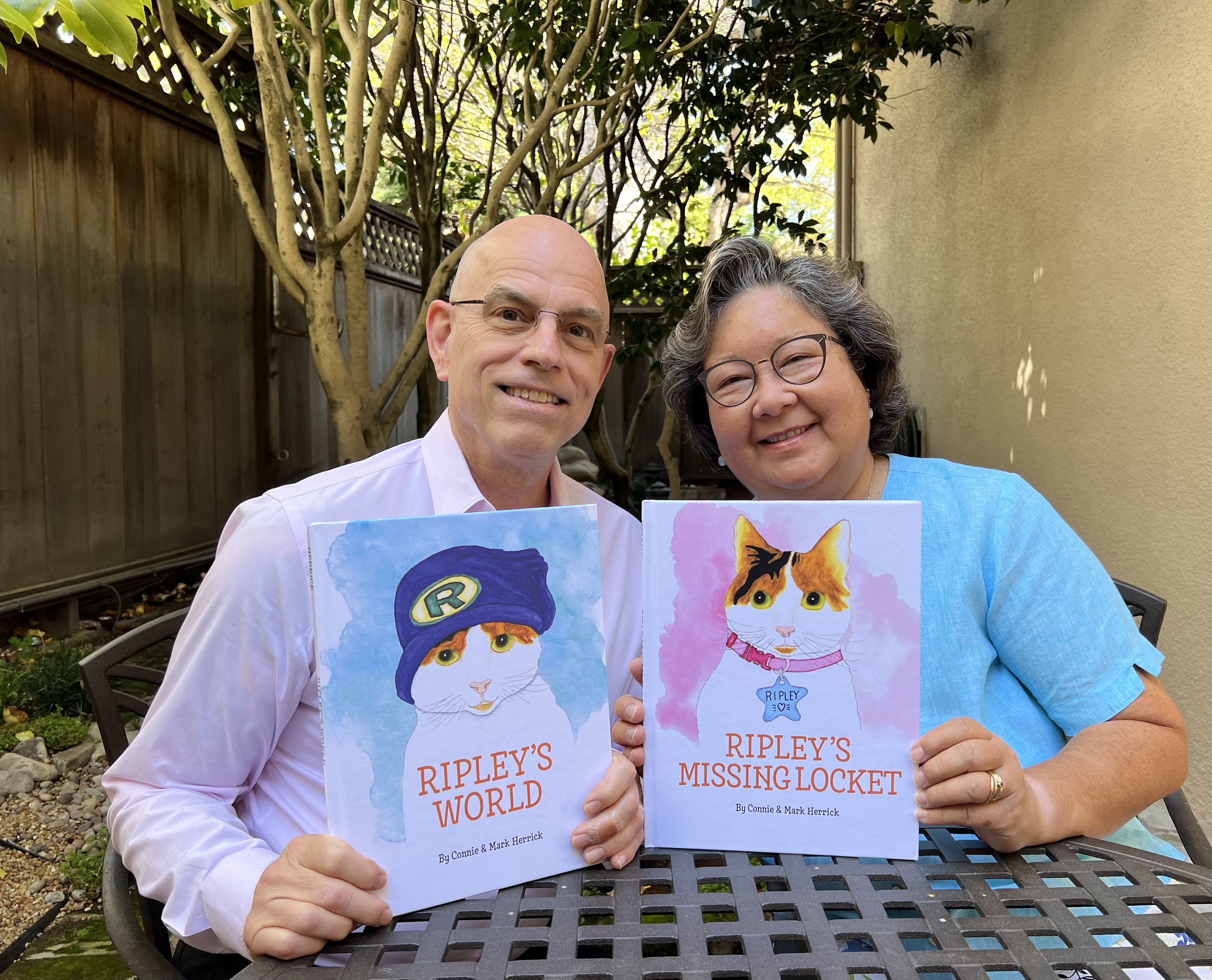 Courtesy of Mark and Connie Herrick
When Connie and Mark Herrick first brought Ripley home, they knew that the tiny calico kitten had a big personality — so big that she would eventually inspire them to capture her adventurous spirit in a series of children's books. The couple had adopted Ripley, the runt of a litter of kittens abandoned at a construction site, from Northern California's East Bay SPCA. 
"When we took her home, she fit right in the palm of my hand, this little teeny thing," Connie told Nice News. "Well, she ended up ruling the house and living for a good 18 years. She was a pistol — what she didn't have physically, she absolutely made up in her energetics."
The couple later translated Ripley's feline fervor into a series of books for young readers everywhere, all with the goal of sharing the joy that their rescue kitty brought them.
When she first came home, Ripley joined a "zoo" of a family — dogs Kapo and Pele and an upside-down goldfish named Hariel — and quickly made acquaintance with the squirrels, possums, and twin raccoons that inhabited the Herricks' backyard. Mark trained Kapo and Pele in search and rescue operations, and together, they deployed on over 100 search missions — but despite their tough-dog careers, "they always deferred to Ripley," the couple agreed.
Friends and family would always ask about the cat, the Herricks said, and so they compiled a collection of stories about her over the years, keeping the memory of Ripley alive well after her passing in July 2018.
Connie recalled an exemplary anecdote that later inspired an illustration in their first book, Ripley's World. One day, the couple's son yelled for them to come outside into the backyard. "I could tell he was in a panic. As I'm running toward him, I see him looking up into our maple tree. 'Mom! She's up there!' he pointed urgently. I look up into the tree and there is Ripley, hanging from a branch," Connie said. "Now, most cats would be terrified. Not Ripley. I looked up at her little face and saw that she was determined to swing herself back up onto the branch."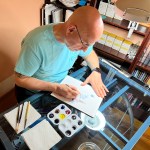 Courtesy of Mark and Connie Herrick
Connie stationed herself under the tree and Ripley fell into her arms; but once put down, the cat immediately made a beeline for the same tree. "I caught her in time and brought her inside the house. One time up the tree was more than enough excitement for me, but she was ready for more. That was how she was all her life — fearless and full of adventure," she added.
Connie and Mark, retired from decades of working in the finance and tech industries, saw an opportunity to bring Ripley's adventures to life in a published story. It was a project they had discussed for years, but didn't get around to until they were sheltered in place at the start of the pandemic in 2020. Ripley's World, featuring Connie's writing and Mark's watercolor illustrations, took about nine months to complete and was published in October 2021.
The initial reviews for the book came from a most esteemed audience: the Herricks' loved ones. But they soon found the story was spreading far and wide among school-aged children.
RELATED: Students' Letter Writing Campaign Successfully Boosts Animal Shelter Adoptions
"When we saw 'beautifully illustrated,' 'enjoyable, feel-good book,' and 'a pleasure to read out loud,' we were thrilled and honestly, a bit relieved," Mark said. "Then photos of children enjoying Ripley's World started coming in. Every photo made our hearts sing. All we ever wanted was to bring joy to readers. To be able to see that in the photos was so wonderful and gratifying."
And now, kids can enjoy even more of Ripley's stories. The Herricks published book No. 2 in the series, Ripley's Missing Locket, in September. The main message of their newest release is how precious family and friends are, and to never be afraid to ask for help, the couple told Nice News.
"With a world so focused on material things, there is a tendency to forget what is most important — our connections with each other," said Connie.
She and her husband promote the adoption of pets like Ripley through Ripley's Store, which includes personalized items from the children's books, and they donate 100% of store profits to support animal adoption, wildlife preservation, and children's literacy.
Ripley's Missing Locket and Ripley's World are available on Bookshop.org and on bookshelves now, and two more books — Ripley's Road Trip and Ripley's Pet Visit — are slated for release in 2024 and 2025, respectively.