Courtesy of Merry People
Sponsored by Merry People
We love an inspiring success story here at Nice News, and this one fits the bill perfectly. One woman with a vision to address an unmet need built a rain boots business from the ground up — and now the brand boasts over 11,000 five-star reviews from around the globe. Here's how she did it.
In addition to being a vibrant cultural hub, Melbourne, Australia, is famous for its extremely variable weather — meaning the people who live there may leave the house in sneakers only to find themselves in need of rain boots by midday. It's a situation Merry People founder Danielle Pearce was familiar (and frustrated) with back in 2014, when she was working a corporate job in the city.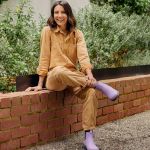 "I kept wrecking my work shoes," she explains on the company website. "I needed a durable and comfortable pair of boots that could withstand my commute and still be suitable to walk into a corporate office."
Pearce grew up on a farm in Victoria, so she was used to wearing gumboots, also known as rain boots or Wellingtons in the U.S., to keep her feet cozy and dry in the countryside. When she couldn't find a pair stylish enough to wear to work, though, she decided to take a "leap of faith" and create her own.
She'd been seeking to add more creativity and happiness to her work life around that time, and it turned out sketching shoe designs and ideating business plans provided ample amounts of both.
Soon, the first Merry People boot was off the page and in Pearce's hands. She started by selling out of the trunk of her car at farmers markets. Though customers were hard to come by at first, she pulled herself up by her bootstraps (pun intended) and kept at it. And we're glad she did. Today, the company is thriving, routinely featured in major publications like Elle and Wirecutter.
Nice News first became enamored with Merry People's boots back in February, when we shared the ankle-length Bobbi Boot — the company's bestseller — in the "Things We Love" section of our Sunday edition. It's unisex, comes in 16 fun colors, and goes with any outfit.
Another favorite, and a perfect option as the weather warms up, is the Billie Clog. Wear it while gardening, lounging around the house, or going to the office or out to lunch. All of Merry People's footwear, including the Bobbi and the mid-calf Darcy Boot, are 100% vegan, made with natural rubber, and lined with flexible neoprene — meaning they keep your feet comfortable, warm, and dry. Plus, they all come with a one-year warranty.
Launching and building Merry People, then seeing it become such a success, has been a "dream adventure" for Pearce, something that's evident in her company's values.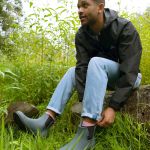 Last year, she brought on a sustainability advisor and is working toward several goals that will help the company continue to "leave a positive impact on our people, customers, and suppliers — but also the earth that our boots are made to explore.
"Like my journey," Pearce writes, "Merry People represents finding what makes you feel happy and alive. Putting your gumboots on, finding your own unique adventure, embracing the unknown, and enjoying the journey."
Find out what those 11,000 happy customers are raving about by ordering your own pair of Bobbi Boots here.