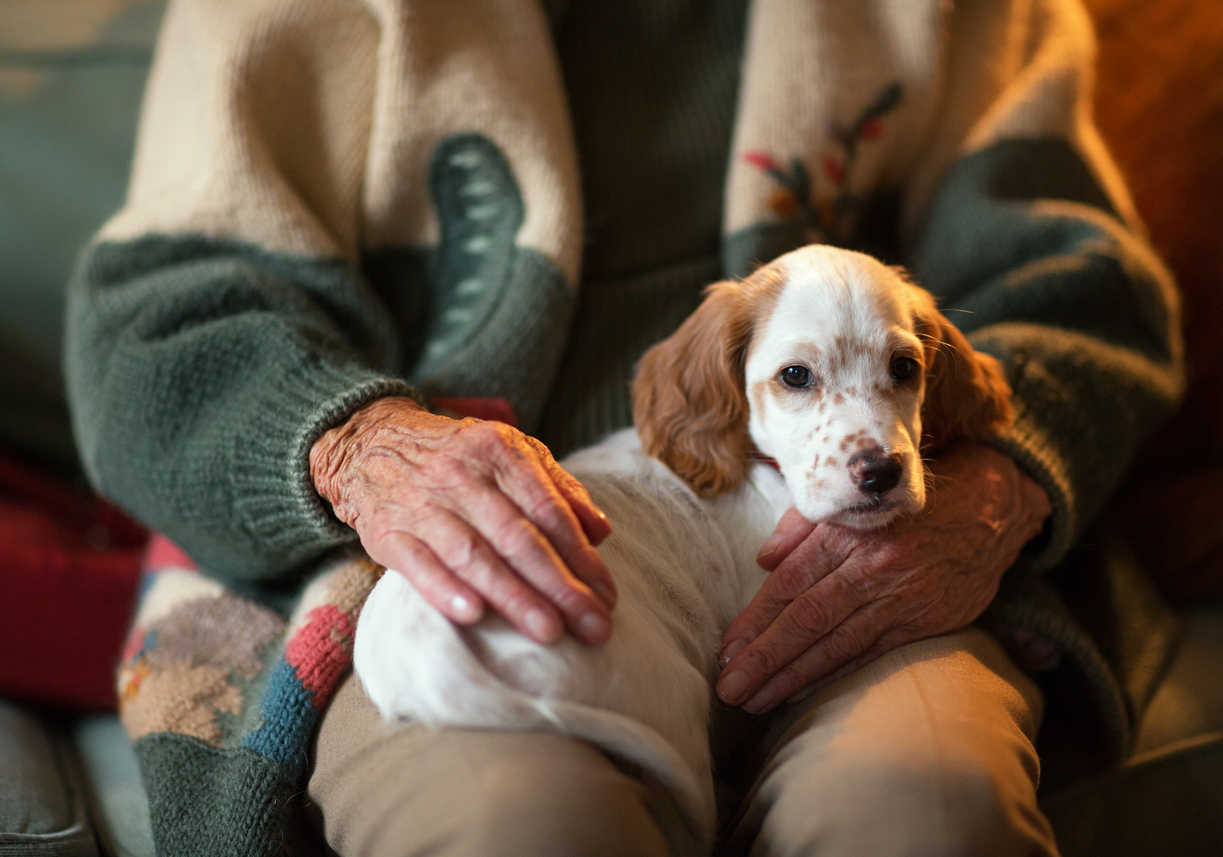 ROMAOSLO/ iStock
Dogs and other pets are often a great help to older adults when it comes to companionship and overall well-being. However, illnesses and long hospital stays can complicate pet care, an issue Carie Broecker has been familiar with for over a decade.
Broecker, who lives on California's central coast, has long worked in animal rescue, and about 13 years ago adopted out one of the dogs she had been fostering to a woman named Alice. Five years later, when Alice developed emphysema, she reached back out to Broecker for help. Broecker stepped in to care for the beloved pet, named Savannah, while her owner went to medical appointments. 
Eventually, Alice was moved to hospice care. But rather than finding peace in her final days, she was consumed with worry about what would happen to her dog.
"I said, 'I promise I will make sure that Savannah finds a good home,'" Broecker told CNN in July. "She was so relieved that I could make that promise to her."
Witnessing the struggles both Alice and Savannah faced gave her an idea. "I remember it clear as day," she said. "The whole concept of Peace of Mind Dog Rescue came to me: the name, and that we would take in dogs from senior citizens who were dying."
In 2009, she brought her plan to fruition, co-founding Peace of Mind Dog Rescue with her friend, Monica Rua, who came up with another way the nonprofit could help: The women would also rescue senior dogs from shelters. (You can meet all of the adorable adoptable dogs here.)
"Carie and I had volunteered together at another dog rescue, and I was always heartbroken to see older dogs passed over or having a harder time in that environment," Rua explained to The Washington Post in October.
Since it was founded more than a decade ago, the organization, which has around 1,300 volunteers, has paired families with around 3,000 dogs and helped 2,000 more stay at home by assisting owners with tasks like daily walks through an offshoot called Helping Paw. Funded in part by a grant from the Animal Welfare and Assistance Group, the program also offers financial assistance to older adults, individuals in hospice care, and other people who are struggling to provide for their pets. 
These days, Broeker lives with her own four furry friends of advanced ages: Buddy, Sneakers, Conga, and Abbey, all rescued through Peace of Mind. She and her husband also publish a magazine called the Coastal Canine.
"We want to give dogs — and their owners — dignity in their older years," Broecker told the Post of her work, later adding: "They deserve every kindness."
Click here if you'd like to donate to Peace of Mind Dog Rescue.