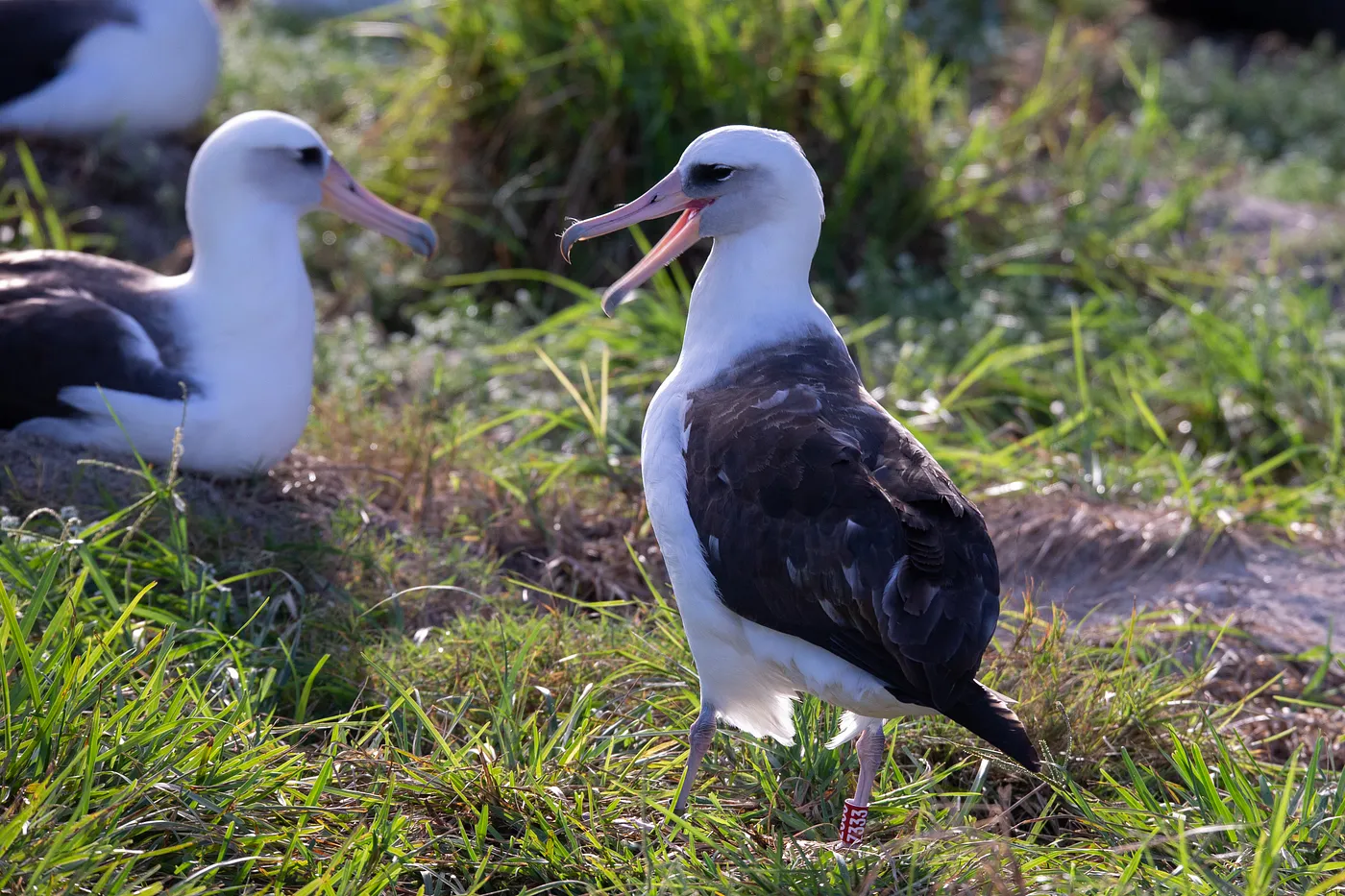 Dragana Connaughton / Schoolyard Films
Wisdom, a 71-year-old Laysan albatross and the oldest known bird living in the wild, has become a grandmother again!
According to a March 17 Instagram post from the U.S. Fish and Wildlife Service, Wisdom's newest "grandchick" was discovered in February at the Midway Atoll National Wildlife Refuge and Battle of Midway National Memorial "under the protection of a banded adult," which "told biologists that it was Wisdom's offspring from 2011."
Wisdom was first banded in December 1956 after she had laid an egg. Because female Laysan albatrosses don't generally breed before the age of 5, it indicated that Wisdom may have hatched as late as 1951, which is how her age was calculated.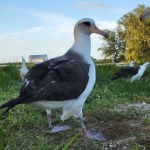 Jonathan Plissner, a supervisory wildlife biologist at Midway Atoll National Wildlife Refuge, estimates that Wisdom has likely produced between 50 and 60 eggs throughout the decades, with upward of 30 chicks fledging.
Mating season at Midway Atoll begins annually in November, with most eggs being laid by early December, according to a Medium post from Ivan Vicente, a public affairs officer with the USFWS. Albatrosses lay one egg, which will typically hatch in late January or early February.
"Each year millions of albatrosses return to Midway Atoll National Wildlife Refuge in the North Pacific Ocean to nest and raise their young," USFWS explains, noting that Wisdom has been doing so since President Eisenhower's administration.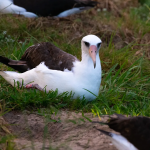 Dragana Connaughton / Schoolyard Films
In 2021, Wisdom was spotted at her winter home at Midway Atoll, located within Papahānaumokuākea Marine National Monument. After laying an egg, albatrosses will often take a year off from nesting, which may explain the absence of Wisdom's mate, Akeakamai, that year.
"There have been no observations of Akeakamai this year and no evidence of a nest cup; so it is unlikely that they will nest this year," Plissner said in the Medium post. "We will continue to monitor the area through the month of December, as a few new nest starts of Laysan albatross can occur in December."
Wisdom and Akeakamai have been observed nesting on Midway Atoll nearly every year since 2006. In 2018, one of Wisdom's chicks, born in 2001, was observed near her nest, which was the first sighted return of one of her offspring. The chick has continued to return in subsequent seasons, but was found with a nest of its own in December 2021.
Most recently, Wisdom once again returned to Midway Atoll in November, and was first spotted on Thanksgiving Day.
According to Pam Repp, refuge manager for Midway Atoll, monitoring Wisdom and other albatrosses has provided invaluable information about their lives and breeding behaviors.
"Wisdom continues to help us better understand how long these birds live and how often they breed," said Repp. "It is incredible to know that Wisdom is surrounded by generations of her family at Midway Atoll."
As for Wisdom's newest grandchick, the "nest is in a good location, according to refuge staff, and they will continue to monitor the baby seabird's progress," per USFWS.