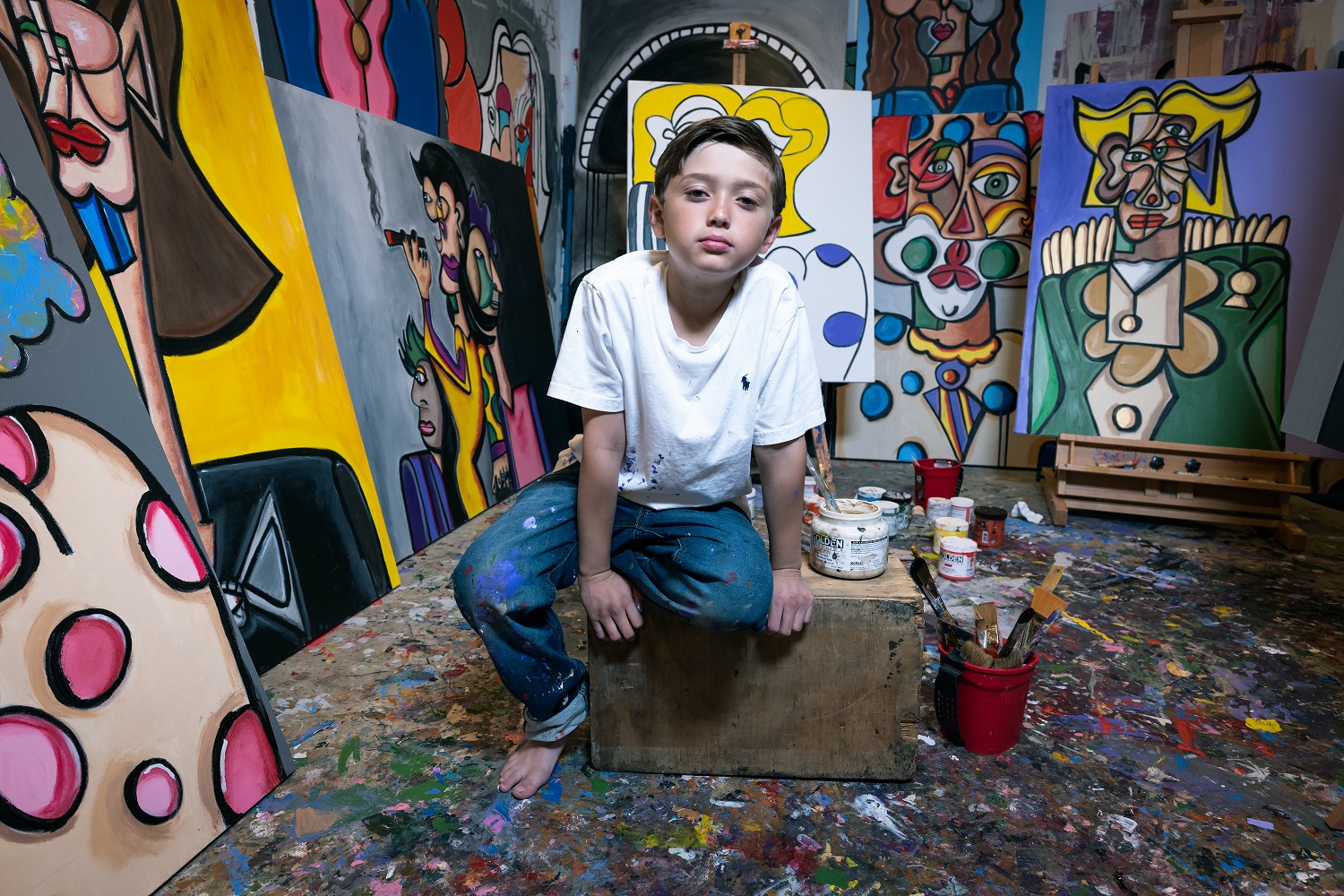 Courtesy of Andres Valencia
Many artists have struggled under the shadow of obscurity, waiting years for their talent to be recognized. Lore around Vincent Van Gogh, for example, suggests he sold only one piece in his lifetime. Such is not the case for 11-year-old Andres Valencia. Not only have his paintings earned him admiration in the art world, they also carry hefty price tags: This past December, the prodigious preteen made a whopping $1.3 million selling his work at Art Miami in Florida.
Andres' bold, colorful canvases have earned him the nickname "Little Picasso" — and the best way to describe his style, he told Today, is "a hint of cubism, surrealism a little, and some Modigliani." While the technical skill in his paintings belies his age, so too does the subject matter that has inspired him. 
He painted one piece, entitled "Invasion of Ukraine," after listening to news reports about the war between Russia and Ukraine when he stayed home sick from school one day last year. "When he finished I sat there and made sure to ask him what exactly it all meant," his mother, Elsa Valencia, told Forbes. "He went through each area and described the whole painting."
Other paintings are perhaps less emotionally inspired: "Clowns are just classic," the youngster explained to The New York Times at the Chase Contemporary gallery in SoHo last September as he pointed out a piece called "Max the Clown."
Courtesy of Andres Valencia
His art journey began in the Valencia family dining room, where, at 4 years old, Andres sat for hours looking at a painting and sketching a copy of it.
"I would bring paper and sit there and always try to copy it, but it took years to get it right," he told the outlet.
As his natural talent developed ("I've never taken any art lessons," he told Today) he began peddling $20 watercolor paintings to family friends. Soon, one of those friends, Bernie Chase, owner of Chase Contemporary, had acquired a wealth of Andres' art, paying as much as $5,000 for one piece. It was Chase's idea to introduce Andres to the larger art world, including his debut at Art Miami.
Courtesy of Andres Valencia
Today, his clientele consists of celebrities like Sofia Vergara, Brooke Shields, and Channing Tatum. His pieces go for as much as $250,000, according to Forbes. He became the youngest person to have their own booth at Art Miami in 2021, where he painted live for onlookers. In December, he returned to the art fair and sold 11 pieces, for a total of $1.3 million. He's donated a significant portion of the money he's made to nonprofits like the children's charity Box of Hope and AIDS research foundation amFAR.
"I've been painting a lot of my life," he said to the publication during this year's event, adding, "I like that people enjoy my art and it's fun going to different art shows."
And his mom makes sure that fun is always part of the picture for Andres, telling The New York Times: "My son is an artist, but he is a kid first."