Guinness World Records
Small, sweet, and unique, a Chihuahua named Pearl is officially the world's shortest living dog.
According to Guinness World Records, Pearl is 3.59 inches in height — shorter than a popsicle stick and only a smidge taller than a teacup — 5 inches in length (think: the size of a dollar bill), and weighs 1.22 pounds. This may sound as light as can be, but it is significantly larger than her birth size of less than one ounce.
To put these numbers in perspective, the average Chihuahua is about 5-8 inches tall and weighs between 2 and 6 pounds.
Not only is Pearl the shortest dog alive, she is also related to the previous record holder, Miracle Milly (3.8 inches), who sadly crossed the rainbow bridge in 2020.
"We're blessed to have her," Vanesa Semler, Pearl's owner, told Guinness World Records. "And to have this unique opportunity to break our own record and share with the world this amazing news."
RELATED: A 27-Year-Old Llama Sets World Record for Oldest of His Species — And He Has the Best Name
There's no question Pearl is small in size, but make no mistake: She is larger than life when it comes to her personality.
Recently, Semler presented Pearl on a TV talent show in Italy, Lo Show Dei Record, and described her to the host as "a bit of a diva" and "small like a ball."
Semler added that Pearl is very calm and enjoys high-quality meals, such as chicken and salmon, and loves "dressing up nice."
In a video posted by Guinness World Records, Pearl is seen wearing everything from tutus and necklaces to pink sweaters, and, fittingly, bows with pearls. Like most pups, she is described as a lover of lots of attention, playtime, TV, and walks — particularly to Starbucks. The petite pooch also loves being told she's a "good girl" by her humans and enjoys listening to classical music.
If you're wondering how Pearl qualified for the title of world's shortest dog, Guinness World Records explained the verification is precise in both measurements and process.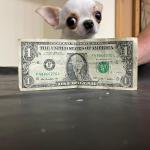 Pearl was measured at the Crystal Creek Animal Hospital in Orlando, Florida, where she was born. The veterinarian used a special "dog measuring wicket" three consecutive times, with breaks in between.
The rules require the measurement to be taken "from the base of the front leg foot up to the top of the withers (the ridge between the shoulder blades) in a straight vertical line."
While Pearl is the shortest dog alive, the shortest canine ever recorded was a dwarf Yorkshire terrier that stood at 2.8 inches tall and died in 1945, just before turning 2.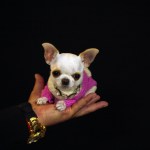 Born September 1, 2020, Pearl is gearing up for her third birthday, which puts her at nearly age 28 in human years, but Semler said she is still a "child at heart."
One thing's for sure: Pearl is bringing a new meaning to the phrase "short and sweet." We hope she enjoys a long life filled with walks, yummy meals, and all the classical music and glittery accessories her heart desires.
RELATED: Meet the Oldest Dog Ever: Bobi, a 30-Year-Old Portuguese Pooch