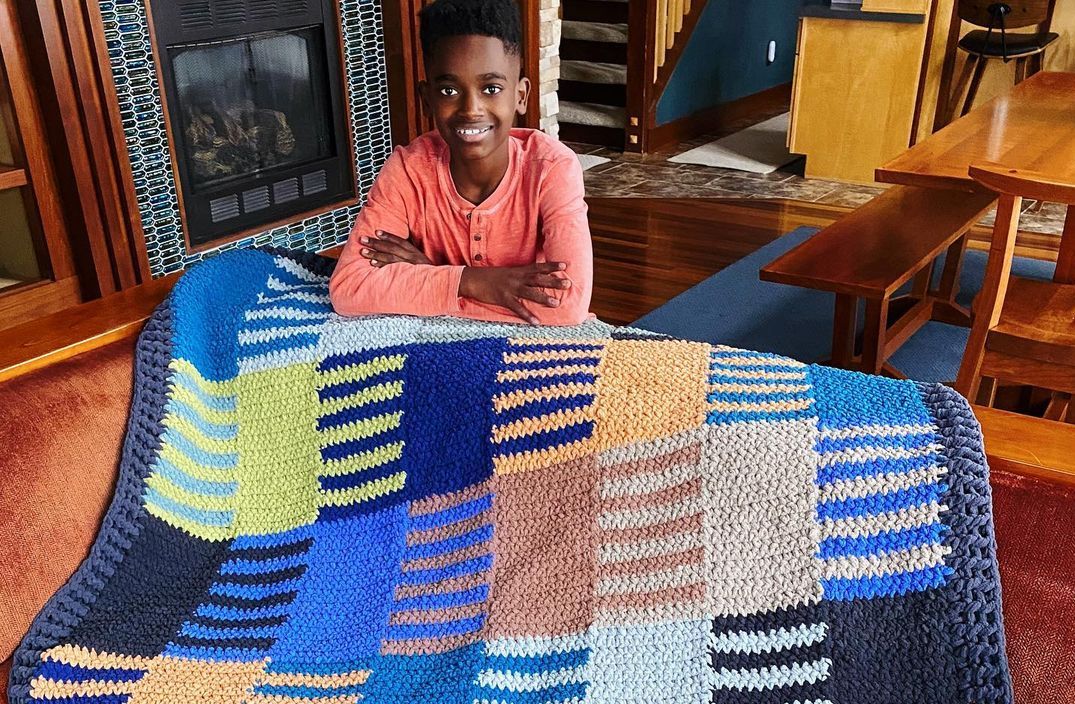 Jonah's Hands/ Instagram
Many might see crocheting as a hobby for older generations, but 15-year-old Jonah Larson is a self-taught prodigy in the field. He's been crocheting since he was just 5, with hopes that the meticulous craft will help prepare him to be a surgeon one day. The teen from Wisconsin has gained real traction on social media in recent years, going by "Jonah's Hands" online.
"After a very hard, busy, chaotic day in this busy world with school, it's just nice to know that I can come home and crochet in my little corner of the house while sitting by the one I love most: my mom," he told NPR back in 2019.
Perhaps even more impressive than his crocheting skills is Jonah's altruistic spirit. He donates some of his creations and the profits he makes from selling them to Wisconsin-based nonprofit Roots Ethiopia, which benefits the Ethiopian orphanage where he was adopted from at 5 months old, per Today.
His GoFundMe has garnered over $48,000, half of which will go directly to the organization. Per the Roots Ethiopia website, it works with communities "to improve schools, educate children, and enable livelihoods." The other half of the money he's raised will help fund a visit back to the village where he was born, and help support his crochet business and future education. 
"I was adopted from a very poor and rural area," Jonah, decked out in a colorful crocheted turtleneck, shared on Good Morning America earlier this year. He added: "When my mom and dad went to get me, the caretakers at the orphanage, when they put me into my mother's arms, they said, 'Don't let him forget his roots,' or 'Don't let him forget where he came from.' And my mom and dad have most definitely kept that promise."
With the help of his supporters, Jonah was able to provide 2,000 kids in that area with a library, a science lab, a new set of restrooms for the female students, and classroom desks.
The high school student went on to discuss his future charitable goals, sharing that while "academics are super important," being able to enjoy extra-curricular activities is too: "So our next step is to give them a soccer team with uniforms, shoes, and soccer balls, because they currently have none of those materials," he said.
Jonah looks out for his fellow crocheters as well, providing free patterns on his website and uploading tutorials to his YouTube channel, where he teaches his nearly 150,000 subscribers how to make everything from cable socks and cardigans to beanies, dog coats, and dishcloths.
This past March, the Association of Fundraising Professionals recognized Jonah with a William R. Simms Award for Outstanding Youth in Philanthropy, which "honors young people with a proven record of exceptional generosity, who demonstrate outstanding civic and charitable responsibility and whose philanthropy encourages others to engage on a community, national, and/or international level."
In a statement after receiving the award, Jonah said: "Philanthropy doesn't require a talent or platform, but rather an understanding that each of us can contribute with a giving heart. You can even start with something as simple as a ball of yarn and a hook, as in my case."
RELATED: Teen Entrepreneur Creates Adorable Bow Ties for Shelter Animals