Courtesy Renee Bruns
To Renee Bruns, the word "can't" doesn't exist. The intrepid 38-year-old has visited 110 countries and 15 territories — using her wheelchair to get around in all of them. Bruns chronicles her adventures on her blog, Wheels Travels, and she's in the running to earn a Guinness World Record for the most countries visited in one year by a person in a wheelchair. But on the top of her list of goals? She wants to inspire young people to "follow their dreams."
Up until recently, Bruns, who was born with a skeletal disorder and has been using a wheelchair for all of her life, was a Fortune 500 executive in the insurance industry, leading a team of 250 people. But after witnessing the impact COVID-19 had on so many, she realized "how quickly life can be taken from us." She decided to hang up her hat and explore the world, officially quitting her job in May of 2022 to set out on a yearlong sabbatical. That same month, she flew to her first stop: Indonesia.
"This has always been a dream of mine. I love traveling, but I think it's more than that for me. It's about conquering something that most people would think I can't do," Bruns told Nice News. Within the next seven months, she visited 41 more countries after Indonesia, adding to the 68 she'd been to previously.
When traveling, she relies on finding good deals and staying in guest houses. Sometimes her friends, family, or longtime partner tag along on her jaunts around the globe, but for the most part, Bruns is on this journey alone.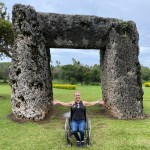 And that isn't without its challenges. Many of the countries Bruns visits don't provide accommodations for people with disabilities. "There are not always ramps. There are not always wide enough doorways," she explained. But "on the flip side," she added, "the most refreshing and rewarding piece of it is just the general kindness of people."
"They come out of the woodwork to help you," she said. "I'm trying to cross the street, and there's not a ramp, and out of nowhere, people will just come and be there to help and lift and do whatever they need to do to help me get to where I'm going."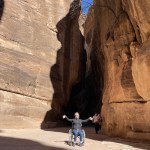 In addition to getting to try new cuisines, learn about new cultures, and take in the sights — whether on a tiny island in Oceania or in a bustling Monaco market — Bruns loves interacting with the locals. And she says they're proof of just how much humans across the globe all have in common: "Aside from the political and the religious and all of that, you talk to somebody about their kids. Everybody loves their kids and their pets. So I always try to find a local person at a restaurant or a hotel and spend a couple hours with them."
Since embarking on her solo travels and relishing daily one-of-a-kind experiences, Bruns has gained more than a mere passport full of stamps: she's gained a newfound confidence: "I just feel like I can conquer the world now," she gushed. "It's such a cool feeling to say, 'Oh my God, I went to Bali by myself.' And once you do that, you can't take it back. You have that forever."