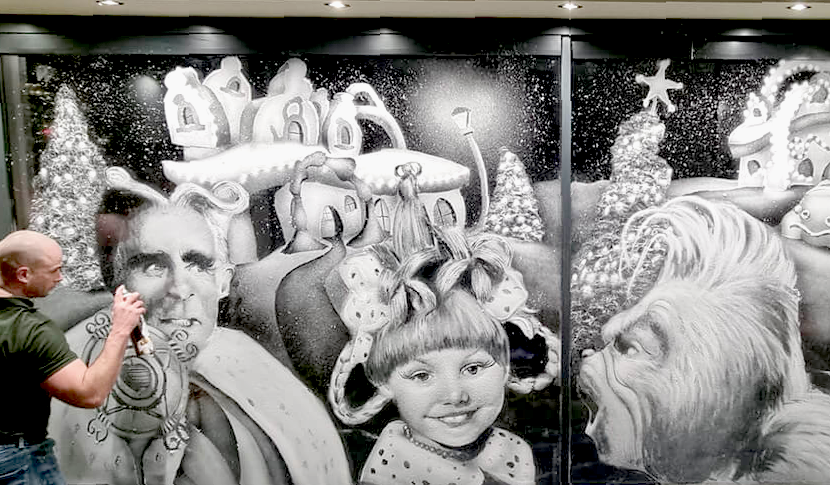 Courtesy of Snow Graffiti
The holidays are officially here, and with them comes the return of charming decor on city streets, sidewalks, and storefront window displays. Among the people bringing that Christmastime magic to life is Scott Wilcock — or the "Bob Ross of snow graffiti," as some call him — who has taken social media by snowstorm with his elaborate and nostalgic window art featuring scenes from classic holiday movies.
Take a scroll through his feed and you'll see iconic characters from Home Alone, The Grinch, and Miracle on 34th Street. From a distance, the window scenes look like black-and-white paintings, but look closely and you'll notice each work of art is made up entirely of little dots of canned snow spray.
Blown away? You're in good company — the artist and father from Manchester, U.K., has garnered over 1 million followers on social media and an impressive roster of clients, including Paramount, Coors Light, and Fortnite.
"I often see parents with small children stopping and talking about them and the reactions on social media are overwhelming," Wilcock told Nice News. "Some people have messaged to say they spend ages watching the videos; they find them therapeutic to watch."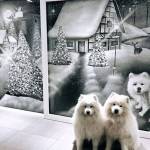 Courtesy of Snow Graffiti
In his videos, Wilcock documents his process of bringing intricate displays to life with a handful of tools: a can of snow spray, a brush, and a plastic scraper. They're often recorded from a close-up perspective as Wilcock sprays the canned snow, shapes the lines, and refines the details with a steady hand. But it isn't until he zooms out that the masterpieces are seen in full winter whimsy.
For example, one of his most-loved posts, which has 6 million likes and 21,000 comments, shows his process of creating the famous McCallister house from Home Alone. At first, you see the brick suburban house detailed with the front porch steps, door wreath, and windows lined with Christmas lights. Then, as he zooms out and pans to the left, you see the classic image of Kevin screaming with his hands over his cheeks. (A different version of a Home Alone scene includes the Oh-Kay Plumbing van that Harry and Marv drove and a trail of footsteps in the snow.)
Courtesy of Scott Graffiti
"We want the designs to bring an exciting feeling when people see them," Wilcock said. "We want them to think 'Christmas is coming' and bring the tradition back into the family homes where everyone can admire them."
Some of his other holiday creations capture Cindy Lou Who from The Grinch, the snowy train from The Polar Express, and Buddy from Elf. Each is complete with intricate details and expressions that look so realistic and jaw-droppingly good, it's comforting to know the art will stay on the windows until it's intentionally scraped off (in some cases not for years!), according to his website.
Beyond Christmas films, Wilcock also creates Halloween window scenes, such as the Sanderson sisters from Hocus Pocus and Jack and Sally from The Nightmare Before Christmas, along with family portraits, tribute murals, and more commissioned pieces.
So how did Wilcock get into the unique world of snow art? He used to spend all his free time drawing and painting, and began making snow scenes during the holidays while also working as a mechanic, he told Nice News.
"I had been trying out different techniques and even tried to get in with tattoo parlors," he said. "I spent days walking around to different ones showing them my portfolios and was laughed out of some."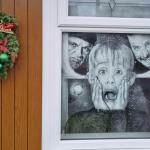 Courtesy of Snow Graffiti
Undeterred, he continued to make art for pleasure, including snow designs on his own home windows around the holidays.
"My wife was so impressed, she posted it on her private social media and people started to ask if I could do theirs and it snowballed from there," he explained.
Now, he travels the country making bespoke designs and hopes they bring a combination of excitement and tradition to families. 
Courtesy of Scott Graffiti
"I'm still learning as I go along but I've had people approach me for advice and I take a lot of pride in that," Wilcock told PA Media. "Especially when it's people who have always dreamt about doing this sort of work but never had the confidence to go for it. I always try to talk them into it."
In addition to encouragement, Wilcock shares "how to" videos on social media and provides free tutorials on his website so his fans can create their own snowy scenes at home.
And when he's not creating holiday or non-season snow art, Wilcock uses his skills to draw black-and-white portraits and colorful wall art.
Whatever the masterpiece that's being created, one thing's for sure: The scenes bring a whole lot of joy and life to windows, walls, neighbors, and feeds all over the world — and serve as a reminder to keep going after your dreams.
"Find something you enjoy doing and make small goals, feeling a sense of achievement with even the smallest goal can make a shift inside you that fills you with pride," he said.