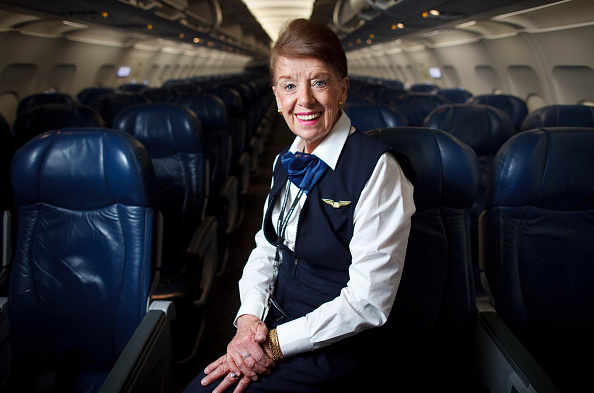 Dina Rudick / The Boston Globe via Getty Images
A lot has changed since Bette Nash became a flight attendant. When she first took to the skies in 1957, tickets cost just $12 and cigarettes and matches were passed out after meals, she told ABC. Though soda and pretzels are the handouts of choice today, and the price of tickets has gone up quite a bit, Nash's career is still going strong. This year, at the age of 86 years old, she was recognized by Guinness World Records as the longest-serving flight attendant. 
In November, Nash, who is also the world's oldest flight attendant, celebrated 65 years with American Airlines. But she can trace her passion for what she does even further back. As a 16-year-old in 1952, she flew from Reagan National Airport in Arlington, Virginia, to Dayton, Ohio. As she waited for her flight with her mother, she was taken by "the spiffy appearances and gracious manners of the crew members," according to a 2017 American Airlines press release.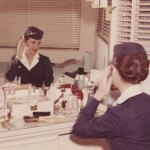 "My mother and I were sitting on the couch waiting for our flight to Dayton, Ohio, on TWA, and then up the steps came this crew — I guess it was a flight attendant and two pilots — and I said, 'That is for me. That's the job for me,'" Nash recounted to CNN back in 2016. 
A few years later, at age 21, she donned the uniform herself, including white gloves and a pillbox hat to "keep up [the] image of glamor." At the time, President Dwight D. Eisenhower was in office, and Nash remembers the era as the "golden age" of aviation, per the media release, when tickets were handwritten; reservations weren't required; and passengers dined on lobster, carved meats, and decadent slices of cake.
Nash has flown the New York-Washington, D.C.-Boston route — a quick jaunt that has earned her and her fellow crew members the collective nickname the "Nash-Dash" — since 1961, so she can return home to Massachusetts each day to care for her son with disabilities. "I wanted to be home every night. It wasn't a choice for me," she told ABC7 in 2017. 
And the quality of her service has remained high all these years. One passenger shared with the outlet: "I fly hundreds of thousands of miles a year, but these are always my best flights when Bette is on the plane." 
RELATED: Pilots Discover They're Long-Lost Sisters — And Had Likely Crossed Paths Before: Exclusive