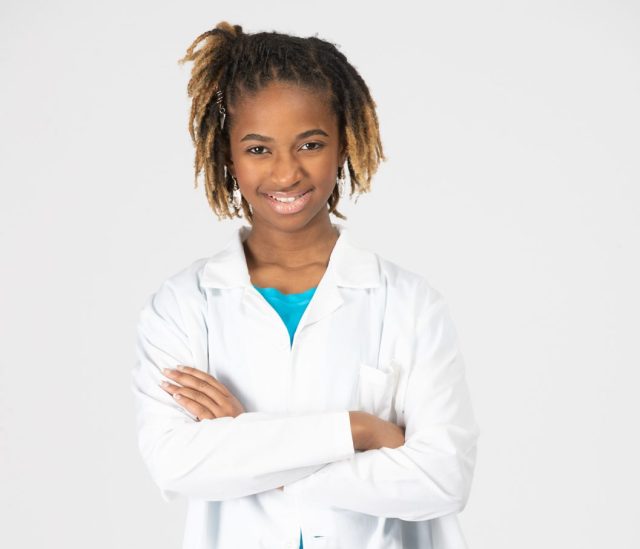 D Lacy Photography
At 13 years old, Alena Analeigh has already achieved more than your average adult — she was the youngest-ever NASA intern, she's a triple major undergraduate enrolled at Arizona State University and Oakwood University, and she's the founder of Black Stem Girl, a program dedicated to providing girls of color access to STEM programs and scholarships.
But Alena is nowhere near finished. On May 13, she was offered admission to the University of Alabama at Birmingham Heersink School of Medicine, becoming the youngest Black person ever to be accepted into medical school. Now she's on track to becoming a doctor by the age of 18.
"Today I'm just grateful. I graduated High school LAST YEAR at 12 years old and here I am one year later[,] I've been accepted into Med School at 13. I'm a junior in college. Statistics would have said I never would have made it. A little black girl adopted from Fontana California. I've worked so hard to reach my goals and live my dreams," the proud teenager shared on Instagram.
Like most kids, Alena has always had big dreams, and, also like most kids, those dreams have bounced around a bit. First she decided to become an astronomer. Next, she set her sights on building a rover to go to space. After beginning college, Alena found herself inspired by medicine. She told The Baltimore Times in 2021 that she wanted to be a flight surgeon for NASA. But after a trip to Jordan, Alena realized her ultimate passion: viral immunology.
"I think viral immunology really came from my passion for volunteering and going out there, engaging with the world," she told 12 News. "What I want from healthcare is to really show these underrepresented communities that we can help, that we can find cures for these viruses."
It was that spirit of altruism and the desire to make a difference in the world, along with an impressive amount of maturity and determination, that led Alena to create her foundation. "I really want to leave my mark on the world. And lead a group of girls that know what they can do," Alena said.
Her mother, Daphne McQuarter, told Good Morning America more about the genesis of Brown STEM Girl: "She said, 'Mom, I want to create this culture of Brown girls in STEM, because it's this whole gap, and I just want to do something.'" Alena drew up the business plan and did all the heavy lifting herself — reaching out to graphic designers and people who could help with funding requests and public relations. "I just kind of sat in the background, and I got the fun part of writing the checks," McQuarter laughed.
When Alena isn't studying biomedical and mechanical engineering and chemistry, she's developing her podcast. Or you might find her working on Lego sets — at least, that was one of her favorite hobbies pre-college. A Star Wars fan, she told GMA that if she could pick a favorite set, "it would be the Millennium Falcon." The precocious teen has also added "author" to her list of credentials: she published a book entitled Braniac World: 21 Days of Affirmations for Smart Girls.
It's clear that no matter what Alena does, she does it well, and with the goal of being a positive role model. She told 12 News: "I want to inspire the girls. I want them to see that there are no limits."