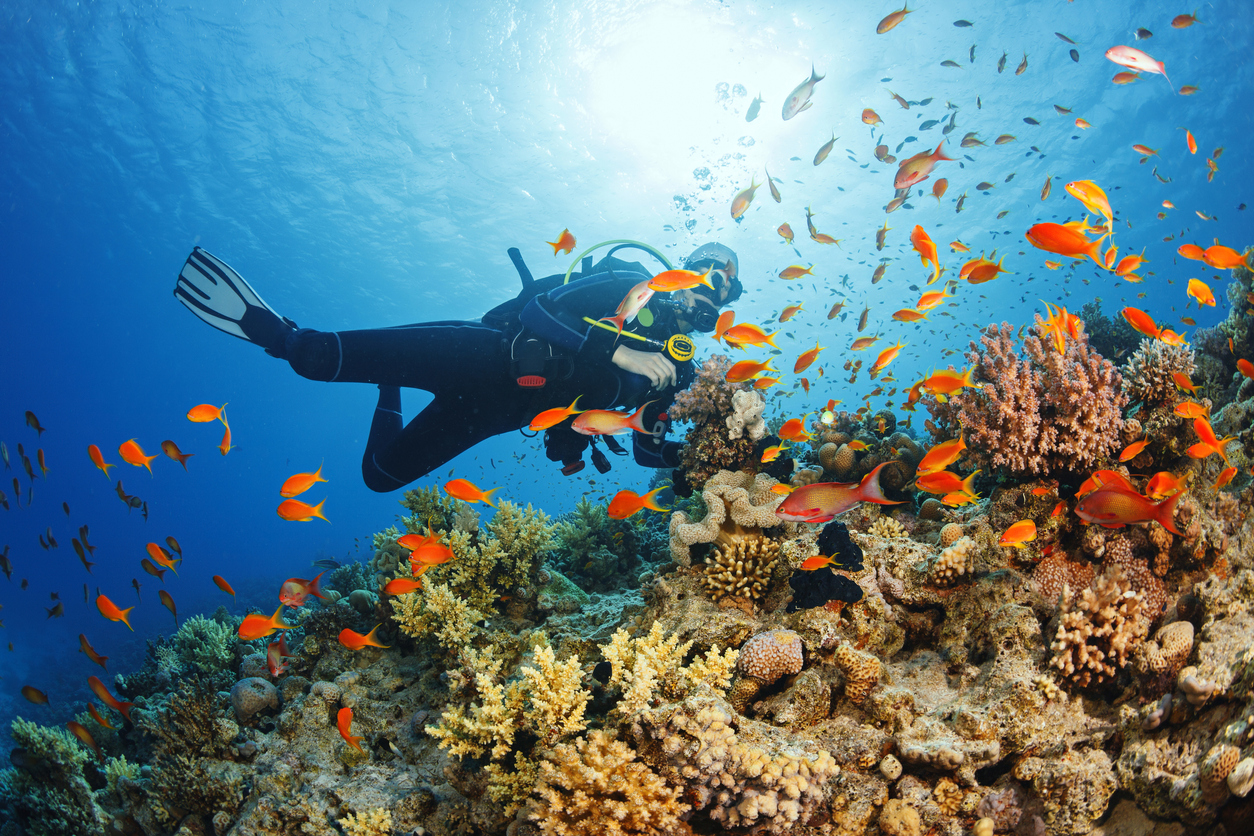 ultramarinfoto/ iStock
A new review paper out of the Scripps Institution of Oceanography proposes tapping into the global diving community to advance marine conservation and help achieve UN Sustainable Development Goal No. 14: Life Below Water.  
Publishing their work in the journal Frontiers in Marine Science, researchers highlighted how the diving sector — comprising tourism, instruction, and scientific research — could improve both the blue economy and the overall health of the world's oceans. 
"Whether they are scuba divers, freedivers, or snorkelers, we think the diving community and broader diving industry hold tremendous potential to make a meaningful impact in conservation and sustainability," lead author Matthew Forrest said in a news release. "Our goal with this review is to provide a framework for local-level stakeholders to promote wider engagement by the diving sector, thus advancing UN Sustainable Development Goals and the blue economy."
The multi-billion-dollar diving industry already plays a key role in several countries' economies, Forrest and his colleagues point out in their review, yet the sector as a whole "still lacks the recognition and international organization necessary" to parlay its financial contributions into sustainability and conservation.
To that end, the authors outlined five recommended courses of action:
Organize the fragmented sector via international associations and federations.
Recognize usage rights for natural capital equal to extractive activities.
Modernize the sector using technology to improve connectivity and data sharing.
Invest in the sector by engaging private and public funding and subsidizing critical infrastructure to enable equitable access.
Foster a sense of community by training and supporting local leaders, thereby ensuring more equitable participation by including Indigenous people, women, and youth.
The specific suggestions within those larger courses of action include diving companies forming national and international partnerships with each other and local governments to "gain recognition within the political and policy arenas;" and communities promoting local interest and involvement in diving to instill "a sense of ownership towards the marine environment." 
They also recommend that the diving sector adopt more cutting-edge technologies for use in the industry as well as in citizen scientist initiatives — specifically implementing underwater QR codes and autonomous underwater vehicles and making use of recreational dive computers and cameras. All of the above could progress sustainability and conservation while being equally beneficial to the business side of things.
Two other key steps involve the sector diversifying its leadership and integrating Indigenous knowledge and culture.
Co-author Zahidah Nisa, a research affiliate at the Scripps Center for Climate Change Impacts and Adaptation, emphasized the importance of the former.
"Indigenous communities have a profound understanding of and connection to their marine environment, making them natural stewards of resource management and its sustainable use," she said. An ocean steward from Fiji, Nisa noted that in her home country, Indigenous communities own their marine resources and are the "first line of negotiators for blue jobs."
In their final area of recommendation, "Foster," the authors stress that for the diving sector to truly live out its potential in advancing sustainability and conservation, it needs to engender a sense of civic responsibility. 
They suggest that the community as a whole should take steps to promote diving as more than solely a recreational activity — and instead "to inspire the upcoming generation of leaders to engage actively in the diving sector's pursuit of [Sustainable Development Goal No. 14] and blue economy goals."
RELATED: Award-Winning Photographer Laurent Ballesta Showcases Diverse Sea Life Under Antarctic Ice: Photos