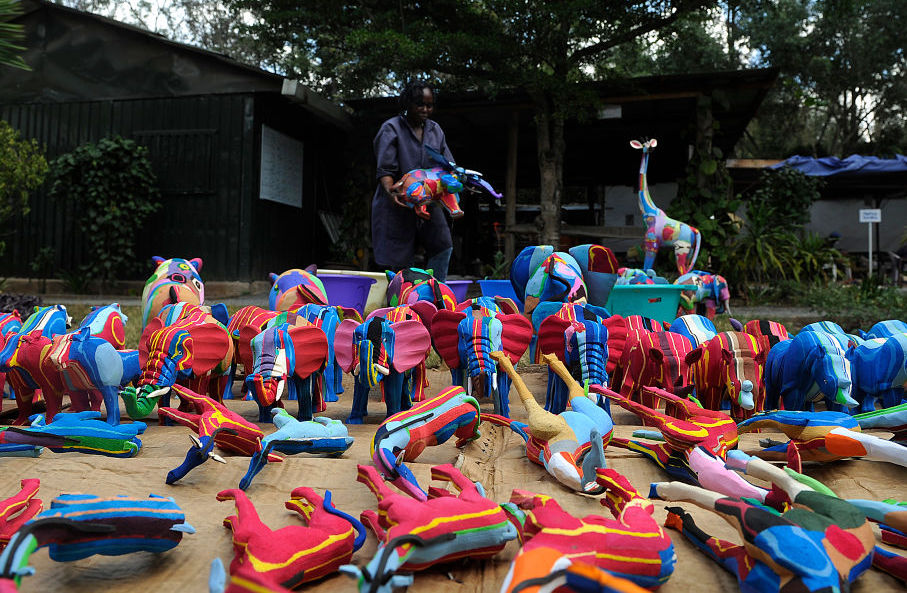 SIMON MAINA / AFP via Getty Images
In 1997, Julie Church was studying the nesting habits of sea turtles on Kiwayu Island, Kenya, as a project executant for World Wildlife Fund when she observed a distressing variable: Newly-hatched sea turtles had to crawl through heaps of trash on their maiden voyages into the ocean.
Dotting the shore was Styrofoam flip-flop debris, which Church observed was being collected by children and turned into toys. Though unintentional, this cleanup effectively created a safe path for the hatchlings to reach water.
She encouraged the children's mothers to collect, wash, cut, and fashion the trash into art to sell at local markets as a means of income. The idea was a success. For the first time, women of the Kiwayu Island village community acquired a steady source of disposable income, earning up to 5,000 Kenyan shillings ($65) a month — more than the local fishermen earned, World Wide Fund for Nature reported.
What started as a personal project grew into a full-fledged nonprofit organization in 1999 called Ocean Sole, which currently impacts over 1,000 Kenyans through direct employment or payment for flip-flop collection. Its mission is to upcycle the world's flip-flop pollution into art and functional products while raising "visual awareness of the problem at hand."
Ocean Sole focuses on upcycling Styrofoam waste by annually repurposing 1 million flip-flops, which is the equivalent of over 2,000 pounds a month. Styrofoam has an extensive post-consumer lifespan of about 500 years or more, according to UCLA, and when polluted, can cause serious harm to wildlife. Foamed polystyrene is a popular material used in flip-flops due to its lightweight properties; but like the majority of plastics, it is not biodegradable. While it can be recycled or repurposed, not all recycling facilities have the ability to process the material.
In the more than two decades since it began, Ocean Sole has found a way to repurpose the colorful sandals while employing Kenyan artisans. Pounds of flip-flops are hand-carved into sculptures, including animals such as giraffes, hippos, and turtles. No two pieces of art are alike, and they range in size from "small" keychain pieces to "double extra-large" sculptures over four feet tall.
The nonprofit has also grown beyond sustainable art to include apparel — its online shop features T-shirts, bracelets, and a classic espadrille shoe design with a neoprene sole made from a mosaic of rubbers.
Five years ago, Kenya became a leader in global conservation when it banned the sale and distribution of single-use plastic carrier bags, one of the first countries in East Africa to do so. While the nation still has more work to do in cleaning up its watersheds, lakes, and coastline, the production of Ocean Sole's art pieces is a sustainable and sensible approach — and it's restoring the beautiful beaches of Kenya one step at a time.
See more of Ocean Sole's work here.