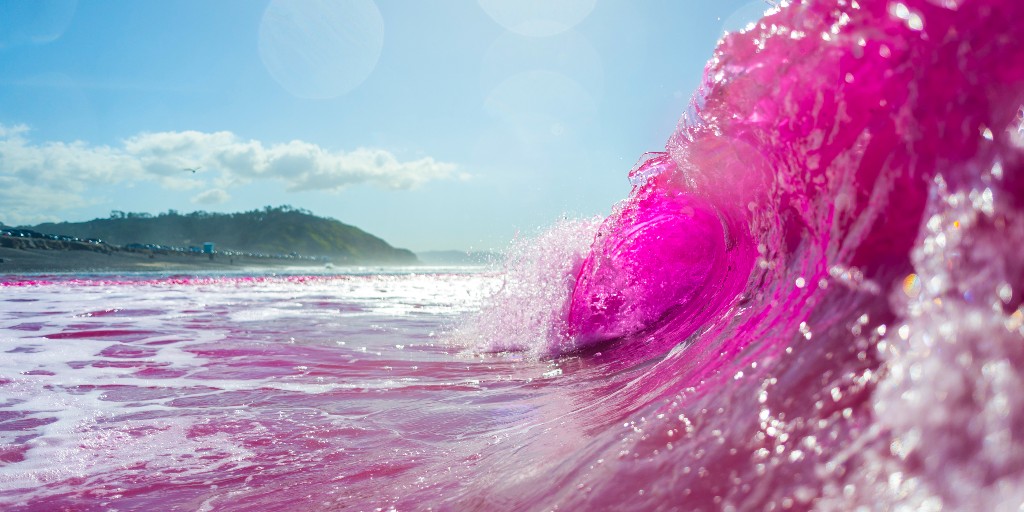 Erik Jepsen/UC San Diego
Seawater often varies in hue — from crystal clear to chlorophyll-tinted green, and sometimes even neon blue thanks to bioluminescent plankton. But for three brief periods in early 2023, one small part of the Pacific Ocean sported a more novel shade: Waves were crashing against the shore looking pretty in pink.
Though some bodies of water appear pink naturally, thought to be due to the presence of certain types of algae or bacteria, the fuchsia color tinting the water off the coast of San Diego was intentionally caused by scientists who are hoping to learn more about the way the world's oceans work.
Researchers from the University of Washington and UC San Diego's Scripps Institution of Oceanography first poured 15 gallons of a fluorescent pink dye into the Los Peñasquitos Lagoon, an estuary within Torrey Pines State Beach and Natural Reserve, on January 20. The dye is non-toxic, and posed "no threat to humans, wildlife, or the environment," according to a news release about the experiment.
The substance was visible to the naked eye for about 24 hours, and was monitored by "a variety of instruments including drones, sensors affixed to poles in the sand in the river mouth and surfzone, and a jet ski outfitted with a fluorometer — a device that measures the fluorescence or light emitted from the dye." Two more releases were planned to coincide with the ebb of the tide so the dye would be carried out of the estuary into the coastal ocean.
Entitled Plumes in Nearshore Conditions, or PiNC, the project aims to help the team better understand what occurs when small-scale plumes of freshwater interact with saltwater near the coastline and as they encounter waves — an important process responsible for dispersing materials to the ocean, including sediments, organisms, and (unfortunately) pollutants.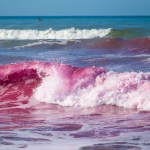 "I'm excited because this research hasn't been done before and it's a really unique experiment," oceanographer Sarah Giddings, who is leading the PiNC study, said in a statement. "We're bringing together a lot of different people with different expertise, such that I think it's going to have some really great results and impacts. We will combine results from this experiment with an older field study and computer models that will allow us to make progress on understanding how these plumes spread."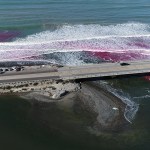 This isn't the first time pink dye has been used by Scripps scientists to observe processes in the sea. A 2015 study conducted south of San Diego and in Tijuana, Mexico, deployed the substance to better understand "how pollution moves and dilutes along the coast."
RELATED: Underwater Photographer of the Year 2023 Awards: Gorgeous Image of Endangered Pink Dolphin Wins — See More Stunning Shots