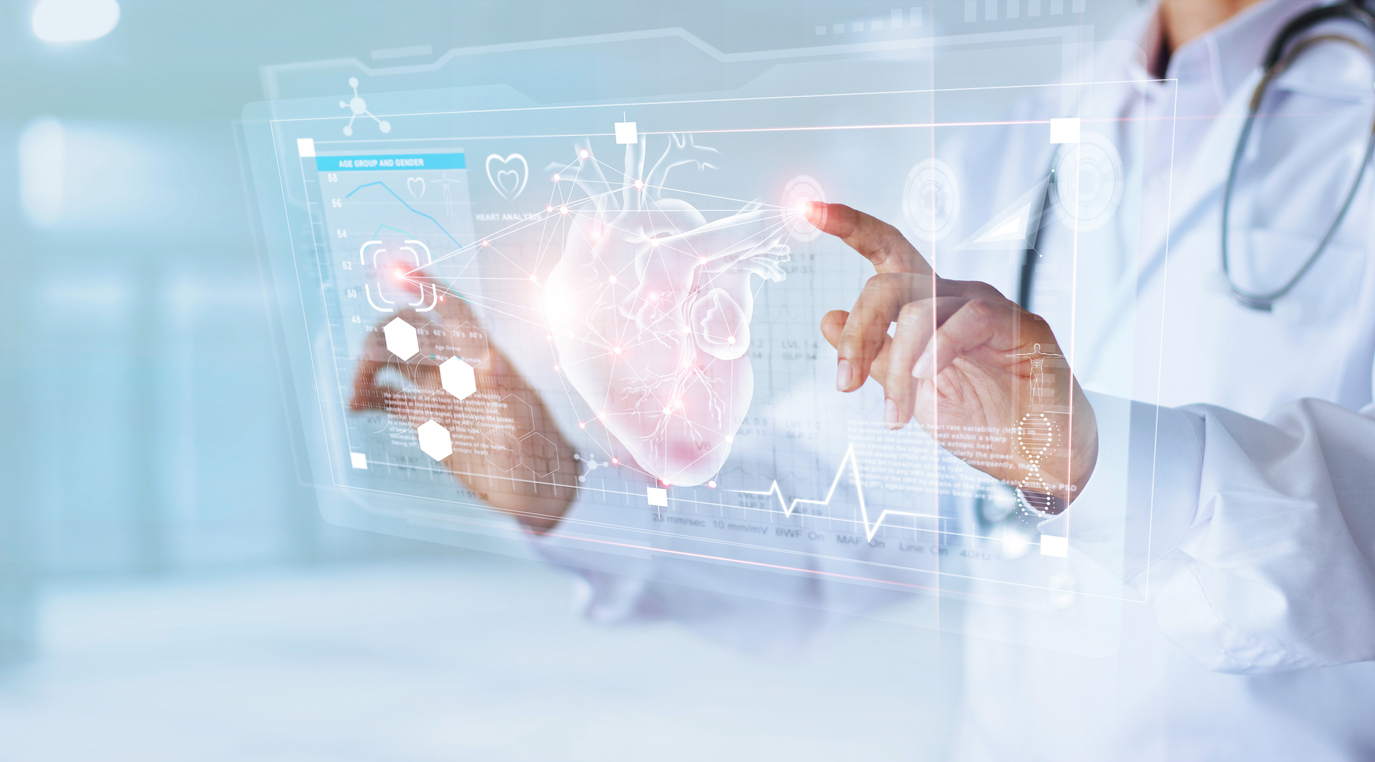 ipopba/ iStock
Someone has a heart attack approximately every 40 seconds in the United States, and one in five of those medical emergencies happens silently, meaning the damage is done without the person even knowing. But what if there were an AI system that could predict and prevent a heart attack long before one ever occurred?
That's where Cleerly, the brainchild of cardiologist James Min, comes in. According to a recent study, the startup has created an artificial intelligence-based evaluation system that rivals that of a coronary angiography (the current standard diagnostic procedure to examine the heart). Cleerly's AI evaluation is noninvasive and scans the heart to measure for plaque buildup, and was found in the study to have an overall accuracy rate of 84%. 
Cleerly analyzes the arteries of the heart to predict the likelihood that buildups may lead to a future heart attack, and can also detect early signs of heart disease. Afterward, physicians may use the information to create an individualized treatment plan for patients.
"The status quo for heart health simply isn't good enough — for patients, providers, or payors — and our proven approach to examining for early signs of heart disease through the buildup of arterial plaque promises to deliver the change we need right now," Min told Fierce Biotech. 
Min has personally seen the devastating effect a massive heart attack can have while working in the ICU, he told CNBC. After treating a 36-year-old patient who had "experienced a massive heart attack," Min thought the health care system should focus more on "preventive" measures rather than just reacting. 
"Many emergency department visits for heart attacks are preventable if risk factors for heart disease are identified in advance," he explained. "Current diagnostic methods miss 70% of all patients who will suffer a heart attack, as they are mistakenly considered 'low risk' by traditional measures such as cholesterol or blood pressure. What's more, roughly half of patients who have a heart attack show no symptoms (such as chest pain or shortness of breath) before their catastrophic event."
Since treating that formative patient, Min has made Cleerly a top company to watch in the health sector. According to CNBC, Cleerly secured a total of $279 million in funding from June 2021 to July 2022. The company has also partnered with the American College of Cardiology and several universities to conduct studies and clinical trials.
Currently, Cleerly is available in 10 health systems or large cardiology practices and 83 imaging centers across 14 states, Min told CNBC — right on track to reaching the doctor's ultimate goal of a "heart-attack free" world.
RELATED: Heartfelt Art: Machine Turns Heartbeats of Children With Heart Defects Into Musical Rhythms