AJ_Watt / iStock
New research has found that caring for grandchildren — including simple acts like picking them up from school and attending play dates — may combat loneliness in senior citizens.
Publishing their findings in the journal Aging & Mental Health on November 23, a team of experts from Germany and the U.K. systematically reviewed data from 28 studies involving 191,652 adults. The team sought to determine the relationship between caregiving, volunteering, and loneliness in people aged 50 years or older.
Participants aged 60 or above who cared for their grandchildren for an average of 12 hours a week were 60% less likely to experience loneliness than non-caregivers, one of the reviewed studies found. Five other studies, out of a total of seven, also produced data showing a negative correlation between loneliness and caregiving for grandchildren. Additionally, five out of six reviewed studies found that seniors who volunteered in their communities felt less lonely than those who didn't.
"This is the first review of its kind to investigate systematically the relationship between older people's caregiving and volunteering activities and loneliness," co-author Dr. Matthew Prina, head of the Social Epidemiology Research Group at King's College London, said in a news release.
Further research "could help shed light on the optimal 'dose' of volunteering and caring for grandchildren and identify ways to maximize their potential beneficial effects on combating loneliness in the over 50s," he added. "Respecting older adults for their contributions and valuing their unpaid activities will likely play an important role in mitigating loneliness."
RELATED: Engaging in Meaningful Activities Can Reduce Loneliness, Study Finds
The review also looked at studies that focused on caregiving for spouses or partners with complex health conditions like dementia. In those cases, seniors reported higher feelings of loneliness. "Spousal caregiving may be an isolating experience when there is an absence of support from other people or organizations," the authors wrote.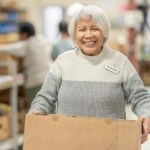 They further explained that when tending to children, older adults tend to be more drawn into society — via things like school, playdates, and other social events, which "may stimulate older people's brains (e.g. by active engagement in diverse activities, constant learning experiences from a younger generation)."
While not everyone has young children in their life to care for, volunteering opportunities abound. And one group is bringing the two concepts together. Eldera, which has been featured in Forbes, Time, and The Atlantic, focuses on connecting generations virtually by pairing mentors 60 years or older with children across the world. 
"We believe that the wisdom of our elders — with decades of experience, knowledge, love, loss and common sense — is the most valuable resource we can share with the younger generation to help them imagine a better future for all," the website states:
Find out how you or someone you love can get involved, or check out these low-cost ways to deal with loneliness.