Courtesy of Kahlmi
Babies are soft, bouncy, and spend most of their time eating and sleeping — so, at first thought, they may not seem like a demographic in need of frequent massages. But infant massage has actually been practiced for centuries in Asia and is said to offer myriad benefits. Studies have found that it can increase weight gain and help preterm infants thrive, and it may also aid with sleep, stimulate the circulatory and digestive systems, and even encourage brain development, according to the International Association of Infant Massage.
Mother and marketing expert Elina Furman is well-aware of the history and benefits of baby massage. In fact, she was so motivated to spread the word with other parents that she created a massage wand just for infants. Touted as the world's first baby massager, Kahlmi is made of antimicrobial, edible-grade silicone and delivers low-frequency vibrations. And in addition to positively impacting the child, it provides comfort and value to parents.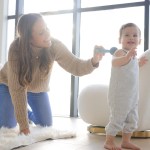 "So many people assume that because you have a baby, you are automatically bonded with them," Furman, who is also a certified infant massage instructor, explained to Nice News. "But many parents struggle with the attachment bonding process, especially those who go through postpartum anxiety and depression. So doing baby massage has been shown to really increase that bond, increase a parent's sense of competence, [and] sense of satisfaction in being a parent." She added that the time spent using the device is calming and restful for parents as well.
Kahlmi, which won an iF design award in 2022, is shaped a bit like a rattle and is small enough for a baby to hold, which Furman felt was important. "They love holding it because the sensory input of the vibrations is so calming to them, but they also love putting it in their mouth," she shared, adding that the company is now working on developing attachments to help with teething.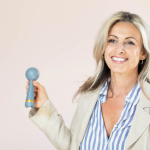 One mother who used the Kahlmi knows firsthand how helpful it is that the babies can pick it up themselves. Tessa Gorski's infant son, Ryder, suffered a stroke at birth; he had worked with physical and occupational therapists, but it wasn't until his mom got her hands on the Kahlmi that she saw an incredible improvement — or rather, until he got his hand on the Kahlmi, when he was around age 1.
"I charged it as soon as we got it, and I gave it to him, and it was the very first thing I've seen him pick up with his right hand by himself," Gorski said, adding that witnessing the moment "was just amazing." She shared that Ryder, now 19 months, loves baby massages in the evening and that the Kahlmi also helps relieve constipation. "It really has been a huge sensory tool for us."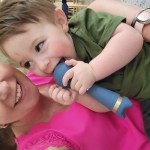 Furman worked with Manasa Mantravadi, a pediatrician born in India whose mother massaged her as an infant. Mantravadi did the same for her own children, and told Fast Company in June that the experience was calming for both her and them, but she understands how it can seem intimidating to parents who are unfamiliar with the practice.
"If you don't happen to have an Indian immigrant mother who can teach you the basics, you might need a tool to help you," she said.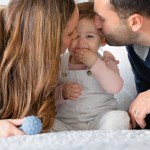 And the benefits of baby massage extend beyond the individual families practicing it, Furman told Nice News. Citing research that found that cultures in which children receive more physical touch in the maternal-infant relationship are less violent later in life, she expressed her desire to see the Kahlmi make a positive contribution to society as a whole.
"It's really building that early relationship between parent and baby, which is the foundation for that whole child's upbringing," she said, adding: "There's no downside to baby massage. … So I'm just super excited to help foster that connection and bonding at the earliest stages."
RELATED: Spontaneous Baby Movements Serve a Larger Purpose Than Previously Thought, New Study Finds