SrdjanPav/ iStock
While love doesn't make the world go 'round (as much as we would like to believe it does), both happiness and feeling loved can have an impact on a person's life and physical well-being. In fact, researchers have found that teenagers who are happy and feel loved are more likely to have better heart health as adults.
In a research examination published in the Journal of the American Heart Association (JAHA), researchers examined data gathered by the National Longitudinal Study of Adolescent Health on more than 3,500 American high school students, with an average age of 16. That study followed the teens from 1994 to 2018, from roughly 16 to 38 years old on average, collecting data and examining their overall health over two decades.
The 3,500 teens were split nearly evenly with male and female participants. In total, 67% were white or caucasian, 15% were Black, 11% were Latino, and 6% were Native American, Asian, or "other," according to a press release from the American Heart Association.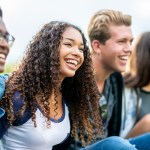 The recent evaluation examined the group for one of five positive psychological assets: feeling loved, self-esteem, belongingness, happiness, and optimism. It also assessed seven biological markers for heart health in the group as adults (in their late 20s and 30s), examining such things as total cholesterol, blood pressure, and body mass index. What the researchers discovered is that the teens who had four or five positive mental health assets were 69% more likely to maintain cardiometabolic health in young adulthood.
Lead researcher Farah Qureshi, an assistant professor at the Johns Hopkins Bloomberg School of Public Health, told UPI News, "One thing I'm struck by is, we really don't have a handle on the 'good things' that kids need to support their cardiometabolic health."
Unfortunately, more than half (55%) of the teens in the study reported zero to one positive psychological assets. Meanwhile, only 16% of the study participants said they had four to five assets. This is a worrisome sign that teens and youth need more positive reinforcement and environments. According to the Oklahoma Heart Institute, today's youths are at an increased risk for cardiovascular disease.
According to the JAHA study, as young adults, only 12% of participants maintained cardiometabolic health over time, and white teens were more likely to maintain good health later in life compared to Black or Latino teens. Racial disparities were also found to be less prominent in those who had four or five mental health assets.
In the press release, Qureshi explained the significance of this discovery: "When we dug deeper, we found that the absence of psychological assets being was particularly health-damaging for Black youth. For Black youth – who face numerous barriers to achieving and sustaining optimal cardiometabolic health in adulthood – not having these additional mental health resources makes a big difference."
Adrienne Kovacs, a volunteer expert with the American Heart Association, told UPI News, "When we're optimistic, for example, we expect that we're going to be able to handle a situation, so we behave accordingly."
The study is an important step in understanding how early experiences, as well as outlook, can have a major effect on a person's life.