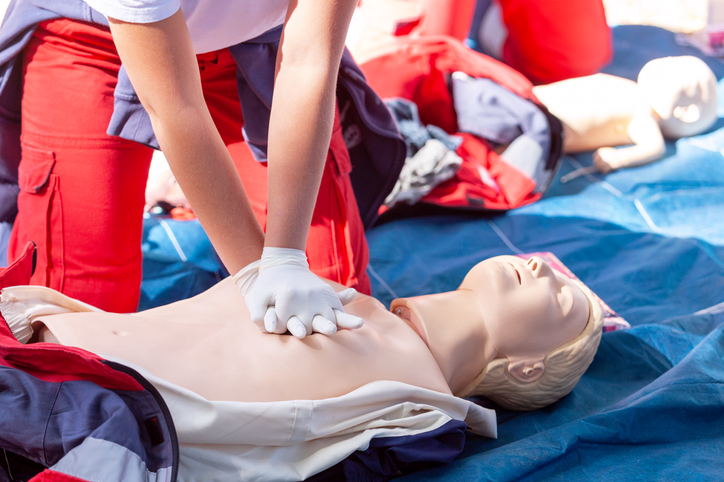 Mihajlo Maricic / iStock
Many people associate CPR with lifeguards, EMTs, firefighters, and other emergency workers. But one New York hospital is on a mission to show that anyone, regardless of experience or certification, can save a life with hands-only CPR.
"Everyone should know how to save a life. Everyone can save a life," cardiologist Holly Andersen told People. "You don't have to be certified. You don't have to do mouth-to-mouth anymore."
To help get the word out, Andersen and her colleagues at the New York-Presbyterian/Weill Cornell Medical Center, where she serves as director of education and outreach for the Ronald O. Perelman Heart Institute, created Handsonly.org. Visitors to the site can watch a simple instructional video to learn the method, which Andersen says is "so easy." 
If you do find yourself thrust into an emergency situation, follow three simple steps: check, call, and compress. First, check if the person is breathing. If they're not, call 911. Then, begin chest compressions "hard and fast" — the sooner the better, according to Andersen.
You can even follow along to the beat of a song, like "Stayin' Alive," "I Will Survive," or one of the many others New York-Presbyterian has compiled into a playlist. 
Other organizations are also on a mission to reduce preventable out-of-hospital cardiac arrest (OHCA) deaths — 70% of which occur in a home or residence, according to the American Heart Association. Since 2018, two medical departments at the University of Michigan (UM) have been working with local emergency support services to establish the OHCA Learning Community dedicated to empowering and educating people to step in and assist others when needed. 
"Most sudden cardiac arrests occur in the home, yet CPR is initiated by a family member or bystander only 40% of the time," Robert Neumar, M.D., Ph.D., chair of UM's department of emergency medicine, said in a news release this past June. "We know through experience and research that rapidly recognizing cardiac arrest and starting CPR as quickly as possible can improve survival rates and neurological outcomes for sudden cardiac arrest. If families are prepared to respond to this emergency in the home, many lives will be saved."
To empower people even further, the Learning Community created a "HeartSafe Home Plan" during CPR awareness week. The plan involves following the same hands-only CPR steps laid out at Handsonly.org, but includes making sure the front door of your home is unlocked for first responders, and performing a home cardiac arrest drill at least once a year.
For more information on HeartSafe Homes, click here.