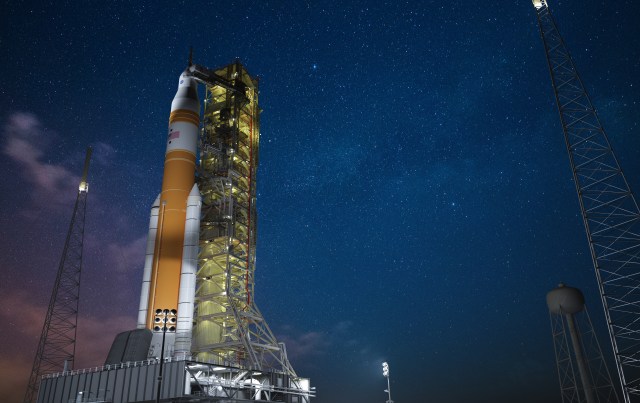 NASA / MSFC
UPDATE: NASA announced Monday morning that the Artemis I mission has been indefinitely delayed due to an issue with an engine bleed.
"The launch director halted today's Artemis I launch attempt at approximately 8:34 a.m. EDT. The Space Launch System rocket and Orion spacecraft remain in a safe and stable configuration. Launch controllers were continuing to evaluate why a bleed test to get the RS-25 engines on the bottom of the core stage to the proper temperature range for liftoff was not successful, and ran out of time in the two-hour launch window. Engineers are continuing to gather additional data," NASA said in a statement.
—
Go for liftoff: The historic Artemis I mission, the first step in humanity's return to the moon, is set to take off from the Kennedy Space Center in Florida on Monday morning. NASA's Space Launch System (SLS)  — the most powerful rocket ever built — will transport the spacecraft Orion on a 42-day journey farther into space than any other vessel intended for human occupancy has ever traveled.
Artemis I is the first of two uncrewed missions ahead of Artemis III, planned for 2025, which will see astronauts stepping onto the surface of the moon for the first time since 1972, two of whom will be the first woman and the first person of color ever to do so.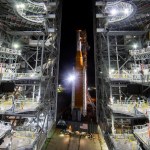 So why are we going back now? NASA has many goals, including gaining insight into our planet and the solar system and creating hundreds of thousands of jobs. But the biggest motivation? Making it to Mars.
Mars Is Beckoning
In May of 2022, NASA released its 50 Moon to Mars objectives, which include transportation and habitation, science, and operations goals on the red planet.
"Astronauts will live and work in deep space and will develop the science and technology to send humans to Mars."
To help achieve those objectives, a base camp will be established on the moon; it will include a mobile habitat, a rover, and several reconnaissance robots. In addition, plans are in place to eventually construct fission power plants and refueling outposts.
"Astronauts will live and work in deep space and will develop the science and technology to send humans to Mars," NASA administrator Bill Nelson said on August 8 at a press briefing about the Artemis missions. "And we're going to learn to use the resources on the moon in order to be able to build things in the future, as we go — not a quarter of a million miles away, not a three-day journey — but millions and millions of miles away on a months and months, if not years, journey."
How the First Launch Will Go
After SLS launches Orion, the spacecraft will propel itself out of Earth's orbit using a service module provided by the European Space Agency (ESA). It will fly within 62 miles of the moon's surface and then 40,000 miles past it, where it will remain to collect data for six days. Then, on or around October 10, it will return back to Earth, CNN reports.
Orion will reenter Earth's atmosphere at 25,000 MPH. A significant component of Artemis I is the test of the spacecraft's ability to complete a precision landing and withstand temperatures exceeding 5,000 degrees Fahrenheit — information that will be crucial when astronauts are aboard.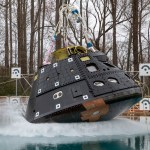 "This is a mission that truly will do what hasn't been done and learn what isn't known," said Mike Sarafin, Artemis I mission manager at NASA Headquarters in Washington, D.C. "It will blaze a trail that people will follow on the next Orion flight, pushing the edges of the envelope to prepare for that mission."
How to Watch
The Artemis I launch was set to blast off between 8:33 and 10:33 AM ET on Monday before it was delayed. In a statement, NASA said it will hold a press briefing where further details on the future of the mission will be provided.
"Safety is always first. Following today's #Artemis I launch attempt, @NASAArtemis teams are working through an issue with engine number 3, and expect to give a news briefing later today. Stay tuned for broadcast details," the space agency posted on Twitter.
To tune in to the press conference, watch NASA's Live YouTube channel.