Society for Science
From a Florida farm to first place at the largest international high school science and engineering fair, meet the world's most promising young engineer.
Robert Sansone, 17, won the $75,000 top award at the 2022 Regeneron ISEF in May. For his submission, Sansone built a new type of motor to be used in electric cars. This motor could one day replace the machines, reliant on unsustainable, rare earth elements, that currently power such vehicles.
Through his research, the young innovator found alternative designs of electric motors that don't utilize these elements, but they lacked the performance quality to be a suitable replacement. So he redesigned one of the possible substitutes to perform at the necessary level for use in electric vehicles.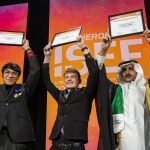 Sansone determined that the motor had the ideal performance levels by testing the two main factors for choosing an electric motor: torque and efficiency. Not having access to the technology used by mechanical engineers to test these factors, he used his own mathematical calculations.
"If you are really passionate about a project that you want to pursue, and you really look in a wide perspective of what is available to you, you can accomplish a lot more than you think you might," Sansone told Nice News, adding that his main message to kids interested in science and engineering is: "You don't have to wait until college or a career to actually start doing stuff that you're passionate about in the field."
His project is proof of his words. Many of the parts used were 3D-printed out of plastic, all of the coils of wire in the machine were wound by hand, and after 14 versions, Sansone finally had his prototype. But his submission, prototype 15, is only the beginning of what he hopes to achieve. "Ultimately, I want to build a version 16 of the motor," he said.
During the global science fair's awards ceremony, announcers called second, third, and fourth place winners at the beginning, leaving Sansone thinking, "I either got nothing or I got first place." After the latter was announced, he recalled, "I was super excited because to have my research recognized on that level [after] how much I put into my project. It was really great."
As for future plans, Sansone wants to use the prize money he earned to pursue a bachelor's degree in engineering and, eventually, become an engineer that designs electric motors.
"And then of course, if my machine works out version 16 of the motor and I can get patented, then who knows what opportunities may come from that?" he said.