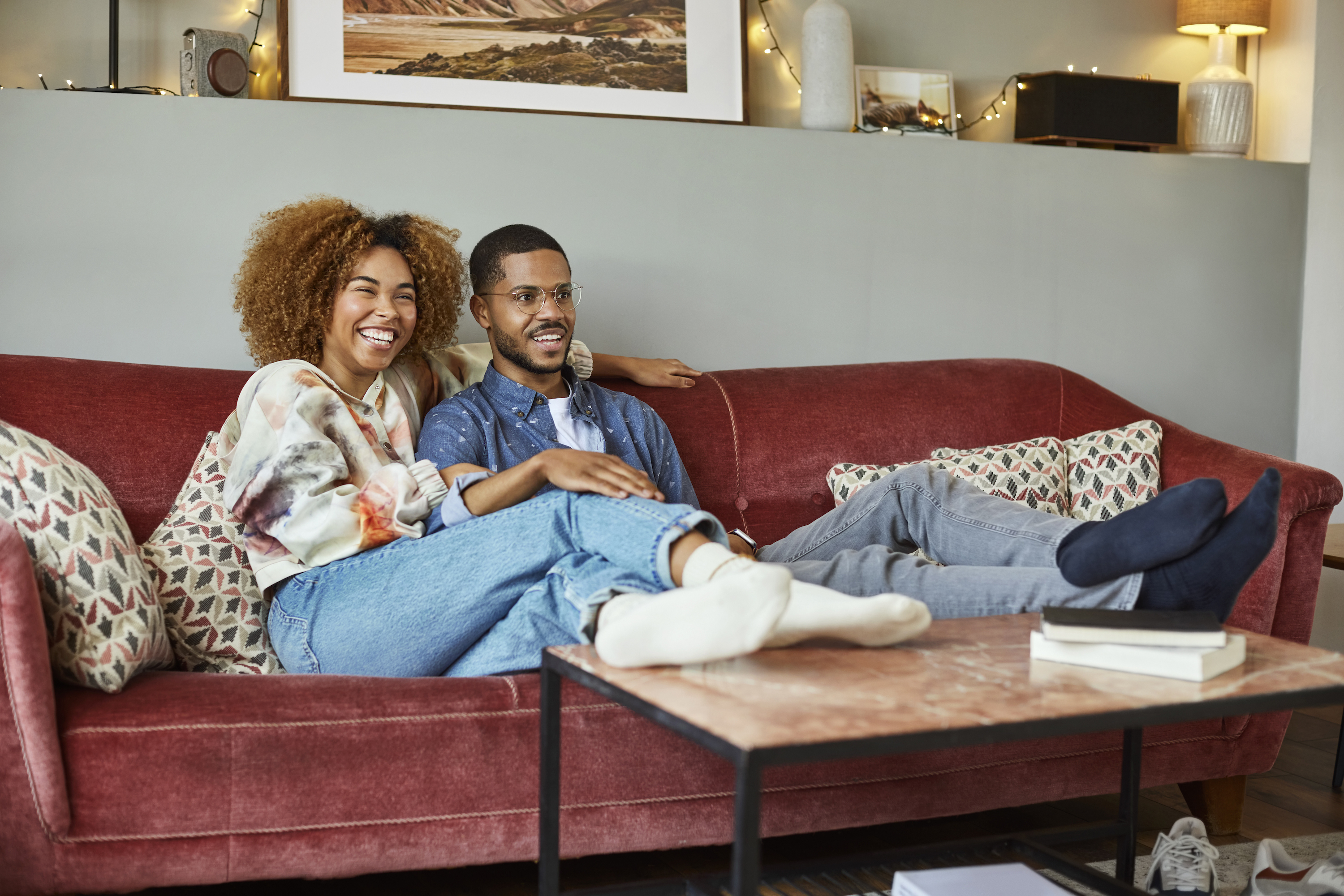 Morsa Images/ Getty Images
What's the recipe for a feel-good TV show? For some, perhaps it's a mix of romance and humor. Others, it may be a nostalgic storyline with relatable characters. Or maybe it's just the opposite: escapism reality TV that transports you somewhere far away. Luckily, uplifting stories of all kinds are available to stream and make us smile at all hours of the day (and night).
From comedies and coming-of-age-stories to heartwarming reality series, these shows can help you feel a little better about the world. So, pour yourself a yummy mocktail and cuddle up on the couch — a heartwarming streaming session awaits!
Ted Lasso | Apple TV+
The epitome of comfort TV, Ted Lasso centers on an American football coach (Jason Sudeikis) who is hired to manage a British soccer team. Even if you're not a sports fan, this three-season series is so charming and rich with wholesome humor that makes it a feel-good favorite for everyone.
Extraordinary Attorney Woo | Netflix
South Korean television series Extraordinary Attorney Woo follows a young lawyer who is on the autism spectrum as she navigates everyday interactions in her unique and authentic way. The show, which is dubbed in English, premiered in 2022, has a 93% audience score on Rotten Tomatoes, and was the most-viewed title on Netflix for a week with more than 77 million hours watched. As one reviewer wrote, "it's an unexpected delight."
Somebody Somewhere | Amazon
Described as "a totally platonic love story" by HBO, Somebody Somewhere is about two co-workers (played by Bridget Everett and Jeff Hiller) turned dear friends. Audiences watch as they develop the sweetest, most endearing chemistry that's filled with lots of laughs and good vibes. "I hope that people come away with 'never give up on yourself,' because a lot of people do," said Everett.
Tex Mex Motors | Netflix
Watch old junkyard cars from Mexico get radically restored in Texas, thanks to a talented team of car experts on Tex Mex Motors. While the car transformations are fun to watch (and very impressive), the personalities of the pros are the real stars of the show.
Gilmore Girls | Netflix
For a dose of mother-daughter love, Gilmore Girls offers seven seasons (and a four-part reunion series) of endearing content. The young mom and her teenage daughter — played by Lauren Graham and Alexis Bledel, respectively — talk fast, drink a lot of coffee, and lean on each other through family drama, job changes, and, most of all, romantic ups and downs.
Old Enough | Netflix
Root for little kiddos as they run errands on their own in Japan. They solve problems in the moment while showcasing their determination and independence at such a young age. One reviewer writes, "'adorable' is an understatement."
Riches-to-rags is the premise of Schitt's Creek: a series about a wealthy family who loses all their money and moves into a motel in a (very) small town. Laugh-out-loud moments, endearing friendships, and perfectly quotable one-liners earned this rewatchable, lighthearted show an Emmy for outstanding comedy series in 2020.
Queer Eye | Netflix
The "Fab Five" gives emotional makeovers to ordinary folks across the country. But rather than focusing on appearance alone, the team explores the powerful connection between how we look, how we treat ourselves, and how we interact with the world — a reminder we can all use.
Derry Girls | Netflix
Witty and wonderful, Derry Girls is a British teen sitcom that follows a tight-knit group of friends during "The Troubles" in Ireland. It's a beautiful example of the power of embracing humor amid hardships, without glossing over truths.
Sister, Sister | Hulu
A '90s classic, Sister, Sister — starring twins Tia and Tamera Mowry — is still a joy to watch decades after it was shot. Equally heart-filling and funny, the six-season series captures the magic of sisterhood and supportive family units.
Survivor | Netflix (Select Seasons) or Paramount Plus (All Seasons)
A show that just keeps on giving, Survivor has over 40 seasons of entertainment about groups of "castaways" competing for a prize of $1 million. While the concept has remained mostly the same for more than two decades, every season delivers new personalities and social dynamics. Fun fact: Mike White (the creator of White Lotus) was on the cast of the David vs. Goliath season.
Black-ish | Hulu
This Emmy-nominated comedy series is heartwarming, family-centered, and will keep you laughing. Follow the beloved Johnsons for eight seasons as they navigate highs, lows, and life changes together.
RELATED: Why YouTube Cooking Sensation Andrew Rea Wants Amateur Chefs to Be "Less Afraid of Making Mistakes" — Exclusive