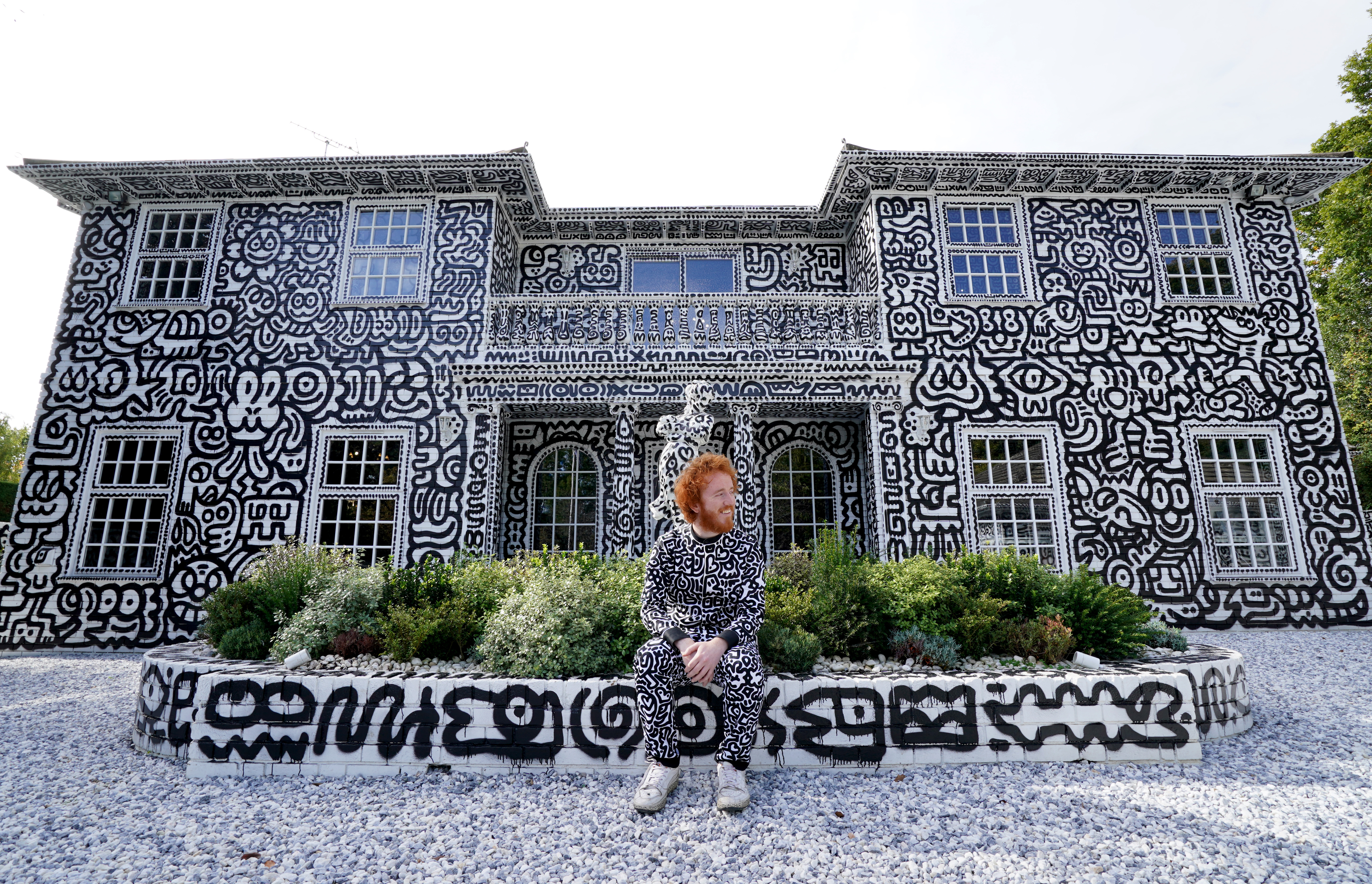 Gareth Fuller / PA Images via Getty Images
Most parents aren't too pleased when their kids draw on the walls, but Sam Cox's folks didn't mind. That creative freedom inspired Cox, also known as Mr. Doodle, to produce a one-of-a-kind work of art: a house completely covered in doodles.
"I have wanted to live in a property completely covered in characters of my own creation. A DoodleLand filled with happy creatures that bring me joy when I see them," the U.K.-based artist wrote in an Instagram post. "For me, that's what I create art for, to make myself happy and to hopefully make others happy along the way."
Cox's mammoth creative project took two years to complete. According to his Instagram, he used 900 liters of white paint and 401 cans of black spray paint for the exterior, and 286 bottles of black drawing paint and 2,296 pen nibs for the interior. He covered every inch of the sprawling 1.35 million-pound (around $1.5 million), 12-room mansion, from pillowcases and lampshades to the stovetop and bathtub.  
"It is a project I have been dreaming about since I was very young. Everything I have done up to this point has been in aim of being able to realize this piece," Cox wrote about his Tenterden, England, home. "I spent years planning the work; every part of the piece was carefully thought and rethought before final completion."
He told the BBC he'd loved doodling since he was a child but didn't realize he could make it a career until people began asking to purchase or commission his pieces. According to Artsy, he studied illustration in Bristol, England, where a professor nicknamed him "Mr. Doodle" for his animated apparel featuring hand-drawn patterns. 
Today, Mr. Doodle is world-famous, his whimsical style instantly recognizable. He shot to fame after a viral Facebook video showed him covering an entire shop floor in doodles and has since amassed millions of followers on social media.
He has also shown his work in exhibits around the globe, from London to Seoul, and collaborated with brands like MTV, Adidas, Puma, and Fendi, per Artsy. In August 2020, his painting Spring (2019) sold for nearly $1 million, and that same year, he was the world's fifth-most successful artist under age 40 at auction, according to the BBC. 
"I've always loved doodling since I was a little kid. It just became an obsession of mine and I never really realized I could kind of make a career out of it until people started to ask if they could buy my work," he told the outlet n 2020. He added: "My influences mostly stem from video games and comic books that I played, or watched, or read as a kid."
While doodle décor might not be for everyone, Cox shared, "This is sort of a paradise for me." He and his wife, Mrs. Doodle, and their Doodle Dog don't plan on going anywhere anytime soon. 
"There's a whole world to doodle over," he said.