Neil Hanna – Courtesy of National Galleries of Scotland
More than a century after his death, Vincent Van Gogh is continuing to delight art enthusiasts with new masterpieces. Experts at the National Galleries of Scotland discovered a never-before-seen self-portrait of the late artist while X-raying another of Van Gogh's paintings, "Head of a Peasant Woman," before putting it on display. 
When "Head of a Peasant Woman," completed in 1885, was loaned to an exhibition in Amsterdam following Van Gogh's passing in 1890, the side with the self-portrait was covered with glue and cardboard for framing, possibly because it was considered less "finished," according to the BBC. The piece changed owners several times before being donated to the National Galleries of Scotland in 1960.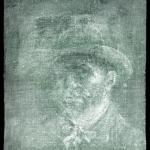 National Galleries of Scotland
In a video interview with the institution, professor and senior conservator Lesley Stevenson said of the finding, "When we saw the X-ray for the first time, of course we were hugely excited. Such a major discovery happens once [or] twice in a conservator's lifetime."
Her colleague, senior curator Frances Fowle, added: "We have three works by Van Gogh in the collection, and then suddenly, we have potentially another, which is probably the most exciting one of all."
Though he received financial support from his brother and sold several paintings in his lifetime, the Dutch artist wasn't hugely successful, and didn't achieve great fame until after his death. Mostly self-taught, Van Gogh was known for reusing canvases — often painting on the reverse side in order to save money.
According to The Guardian, the hidden painting is likely part of a series of experimental self-portraits the artist painted on the backs of other used canvases between 1883 and 1885, five of which are on display at the Van Gogh Museum in the Netherlands.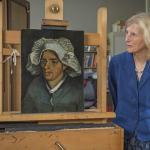 Neil Hanna – Courtesy of National Galleries of Scotland
"This period when he began producing self-portraits was key in the development of his mature style, when he began experimenting with his own distinctive brush stroke," Fowle told the outlet. "Van Gogh was a very independent thinker and he developed his radical new style so quickly."
As of July, when the discovery was announced, experts were researching how to safely remove the glue and cardboard without harming "Head of a Peasant Woman." The painting remained in position while on display from July through November, during the "Taste for Impressionism" exhibition in Edinburgh, where visitors could view the X-ray image through a specially-crafted lightbox.
The portrait will "forever be in the care of the National Galleries," Fowle said in a statement, calling it "an incredible gift for Scotland."