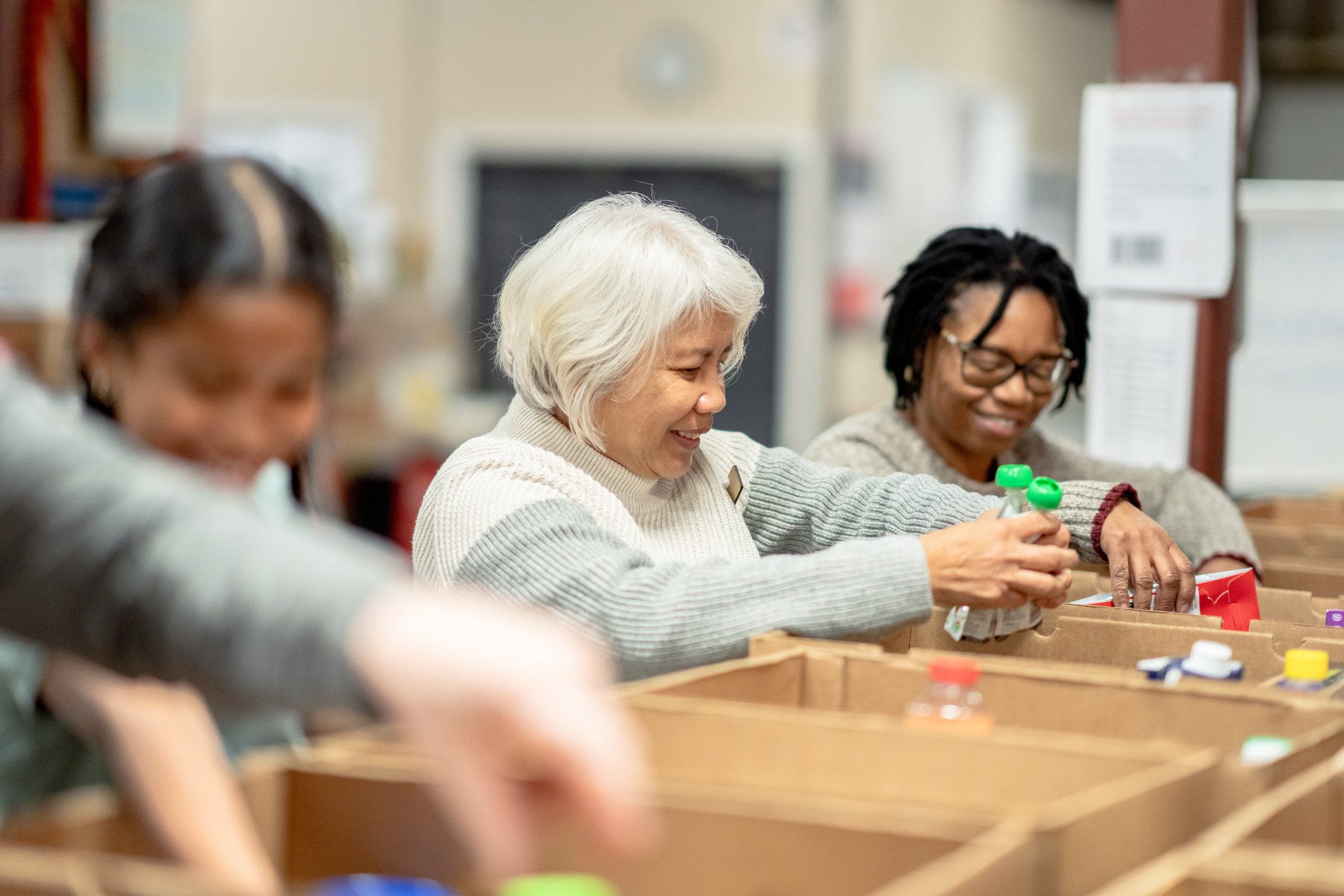 FatCamera/ iStock
Nearly a quarter of Americans age 16 and over spent some time formally volunteering between September 2020 and 2021, and more than half informally helped their neighbors that year. Good deeds and acts of kindness go a long way in helping those in need, but volunteering can also be beneficial to the volunteer, especially for older adults. A recent study from researchers at UC Davis Health found that volunteering later in life can protect one's brain and help with cognitive function.
It makes a certain amount of sense. After retirement, some people aren't as social as they were when they were in the workforce. Likewise, they're not using their brains to the same extent as they were when solving tasks at a job. Volunteering invites people to engage with the community and also problem-solve to overcome obstacles. Similar to how lifting weights strengthens your muscles, volunteering gives your brain a daily workout — think of it as a mental morning jog that also happens to do some good.
"Volunteering may be important for better cognition in late life and could serve as a simple intervention in all older adults to protect against risk for Alzheimer's disease and associated dementias," Yi Lor, a UC Davis doctoral student and one of the study authors, said in a statement.
Around 2,500 adults with an average age of 74 were examined for the study, which looked at both their memory and cognitive abilities. Nearly half, 43%, reported they had volunteered in the past year.
Upon closer examination, the researchers discovered that there was a correlation between volunteering and cognitive function. Those who had volunteered in the past year scored better when it came to both verbal episodic memory and executive functioning and those who reported volunteering several times per week scored the highest overall. The findings held true even when researchers adjusted for factors like age, sex, education, and income.
"We hope these new data encourage individuals of all ages and backgrounds to engage in local volunteering — not only to benefit their communities, but potentially their own cognitive and brain health," said Donna McCullough, the Alzheimer's Association's chief mission and field operations officer.
If you're not volunteering already and would like to incorporate it into your schedule, there are numerous ways to help out — the most important thing to keep in mind is to follow what you're most passionate about. From animal shelters to blood drives, we've compiled a few options for you to consider below.
Animal shelters. Try phoning your local shelter or rescue center to see if they could use a hand, or click here to search for volunteering opportunities near you via the Humane Society.
Feed those in need. Meals on Wheels makes sure everyone has access to a nutritious and balanced meal. Sign up to volunteer.
Help out your local farmers. Your local farmers could use your help. Pack fresh produce to be shipped out and participate in giving vegetables and fruit to those in need with organizations like South Carolina's Feed & Seed.
Homeless shelters and soup kitchens. There are more than half a million unhoused Americans. Consider volunteering with the Salvation Army, which runs numerous shelters across the country.
Mentor youth. Programs like Big Brothers Big Sisters allow you to impart wisdom and guidance to those who need it the most — young people.
Organize a blood drive for the Red Cross. In addition to its various charity outreach programs, the Red Cross is well known for its local blood drives. Help organize one in your community and help save lives in the process.
Volunteer at the YMCA. Stay active and give back to the community by volunteering at your local YMCA.