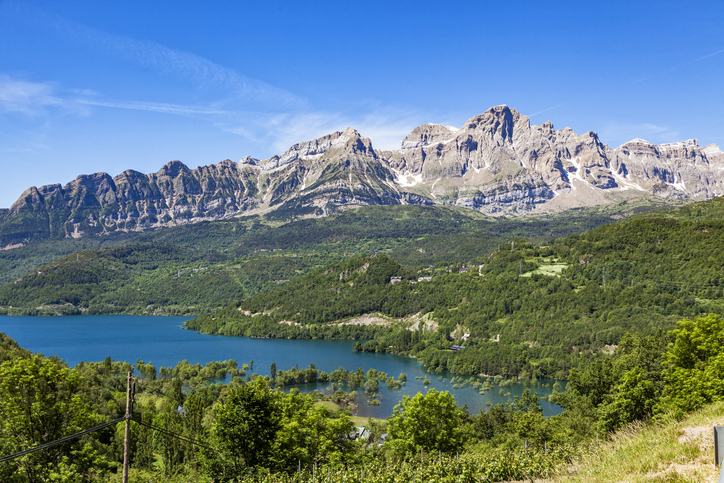 Proformabooks / iStock
Archaeologists have confirmed that ruins located on the southern slopes of the Pyrenees mountain range in Spain once formed a massive imperial Roman city with its own infrastructure, water supply system, sewers, public monuments, and possibly a temple.
Experts wrote in a report that the Roman city was "of urban character" and featured "buildings of monumental proportions," according to Spanish newspaper El País. Despite the vastness and complexity of the city, it isn't mentioned in any known historical documents — meaning its original name is thus far lost to history.
Using sensing techniques like georadar and aerial imaging, along with conventional methods, a team of researchers discovered a life-sized marble hand that was likely part of a public monument, as well as "the reception room of a thermal bath — complete with mosaics preserved by the collapsed sandstone ceiling," Ancient-Archeology.com reports, adding that the "magnificent find features two cupids riding seahorses and is decorated with shell and scallop designs."
Other artifacts discovered were two Corinthian capitals that "would have been part of Corinthian columns more than six meters high, and they would have belonged to a public building of enormous dimensions, perhaps a forum temple," José Ángel Asensio, one of the investigation's research directors, told El País.
The team also determined that the city had a second phase of occupation in the early-medieval Christian era, between the 9th and 13th centuries. During that phase, the site became a medieval village; its remains include the apse area of a church, numerous silos, and a large cemetery consistent with medieval Christian burial rites. The church was likely part of the San Pedro Hermitage, a religious monument built in the first half of the 12th century.
The original Roman settlement stood next to an ancient road connecting three Spanish cities: Iaca, Ilumberri, and Pompelo. The road lasted through the Middle Ages as a part of the "The Camino de Santiago," or "The Way of Saint James," a pilgrimage route leading to a northwestern region of Spain where Saint James' remains are believed to be buried.
The team's conclusions were the result of years of research after the local government of the Spanish city Artieda asked the University of Zaragoza's archaeology department for assistance studying the ruins in 2018.
Through their continued study of artifacts retrieved in the excavation, archaeologists hope to glean further insight into the culture and affiliations of the ancient city's inhabitants.