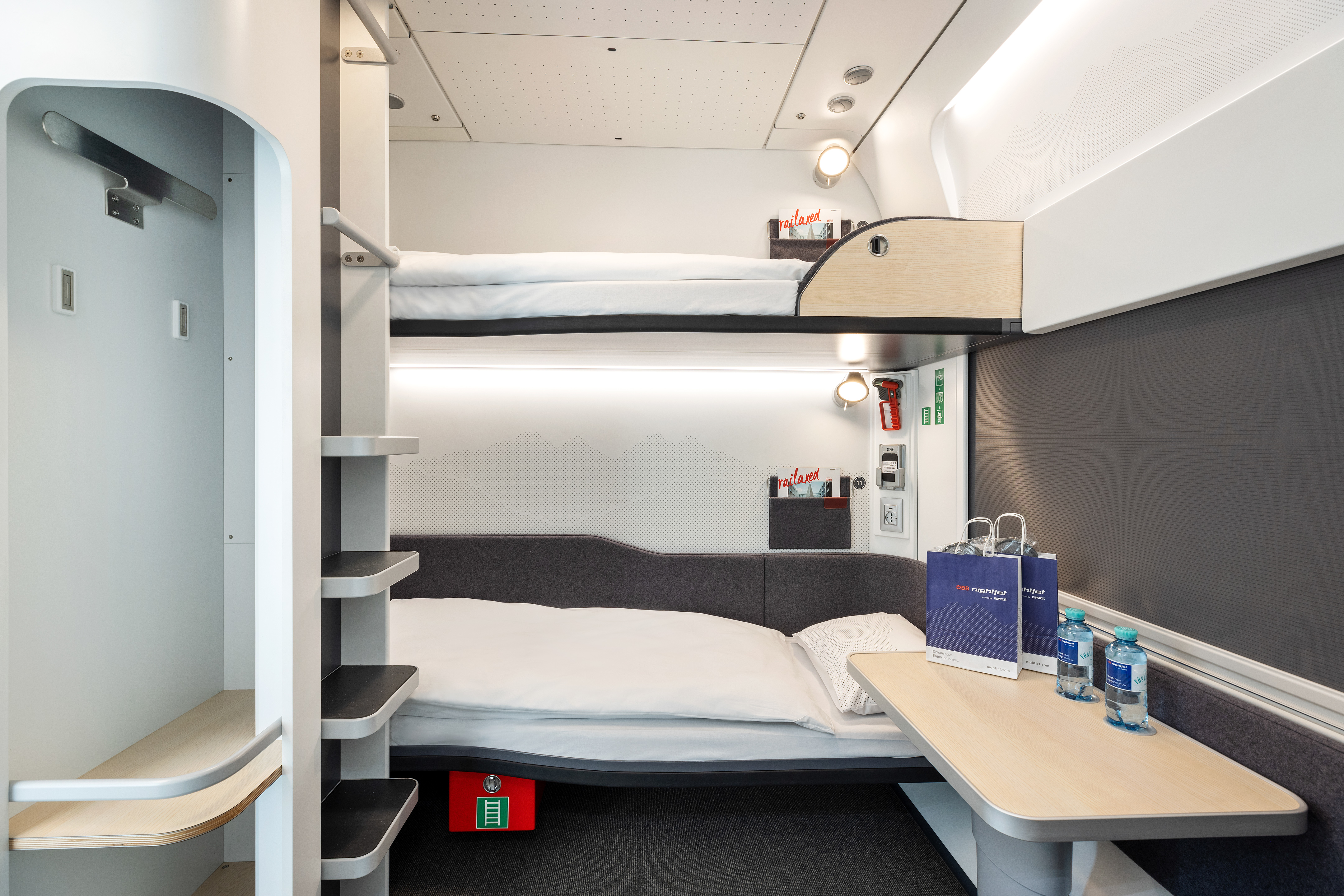 ÖBB and Siemens Mobility
Some countries are investing further into trains over planes, with hopes that the newest innovation in overnight European railway transportation will be more enticing for travelers than flying — based on the benefits to the environment, lower costs, and greater comfort.
A new, "next generation" design in high-speed rail from the national Austrian train operator ÖBB and German railway engineering company Siemens Mobility was unveiled September 6 during a press conference at the Siemens Mobility plant in Vienna. 
The upcoming fleet aims to be the premier choice for overnight travelers with privacy and comfort as the top priority. ÖBB ordered a total of 33 Nightjet sleeper trains from Siemens; a fraction will be launched next summer, and the full fleet will be up and running by the end of 2025.
Nightjet's new overnight trains will connect major cities in Germany, Austria, Italy, and Switzerland, traversing the European countryside at speeds up to 140 miles per hour "in a climate-friendly way." According to the framework agreement between ÖBB and Siemens detailing ÖBB's multi-billion-dollar investment, the coaches can also be equipped for operation in Croatia, the Czech Republic, Hungary, Slovakia, Slovenia, and Poland. 
Demand for Europe's "night train network began eroding in the 1990s" as low-cost airlines emerged, Time Magazine reported. "By 2019, both Germany and Switzerland had sold off or shut down" their night rail connections completely, and "the total number of passenger night trains in Europe had decreased from around 1,200 per week in 2001 to about 450." 
But there's now growing interest among travelers to choose train transport over airlines even despite the longer commute time. One caveat weighed heavily on commuters' decision, though: lack of privacy. A Dutch study measured willingness to use night trains over airplanes for long-distance travel by surveying over 800 travelers in the Netherlands. Perceived night train "comfort level" was most influenced by the accommodation's privacy.
The Nightjet has set out to address that concern. Currently, ÖBB Nightjet passengers can choose to ride in a sleeper cabin (triple, double, or single occupancy), a "couchette," or seated carriages. On the horizon, "the seven-car Nightjets of the next generation are each made up of two seating cars (control car and multifunction car), three couchette cars, and two sleeping cars. The maximum capacity per train is 254 passengers," according to the press release.
With the new and improved Nightjet, ÖBB is striving to meet customers' needs for greater privacy by reducing occupancy to two people per sleeping compartment, four in a couchette compartment, and providing mini cabins for those traveling alone. Pod-like cabins that resemble cocoons come with lockable doors for solo travelers and sliding doors between pods at head level, which allow for inter-cabin conversation, The Guardian reports.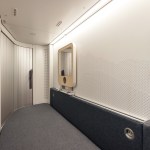 "The night train has become the epitome of sustainable travel, and our Nightjet is a synonym for night trains in Europe. For our travel guests, comfort, modern design and more privacy are becoming increasingly important, which is why ÖBB is investing in a total of 33 completely new Nightjet trains. The interior of the next-generation Nightjets will offer guests a new travel experience. With this train, we are entering a new age of nighttime travel," ÖBB CEO Andreas Matthä said in a statement.
Nightjet trains are also planning to offer competitive prices that match most airline fares. According to Bloomberg, "a flight from Vienna to Amsterdam on Austrian air costs about 70 euros in economy class and 252 euros in business." The outlet notes that "taking the train is often cheaper" as passengers can save on luggage costs and, in the case of overnight travel, hotel accommodations. 
Beyond comfort and cost, ÖBB's investment in train travel puts Europe on track for a more sustainable future. Austria's federal minister of climate action, Leonore Gewessler, said that traveling with Nightjet is around 50 times more climate-friendly than flying. 
"Night trains are gaining momentum throughout Europe, because they're the climate-friendly alternative to short-haul flights," said Gewessler. "When you travel by night train, you choose the most relaxed way to travel. You also contribute to reducing CO2 emissions."