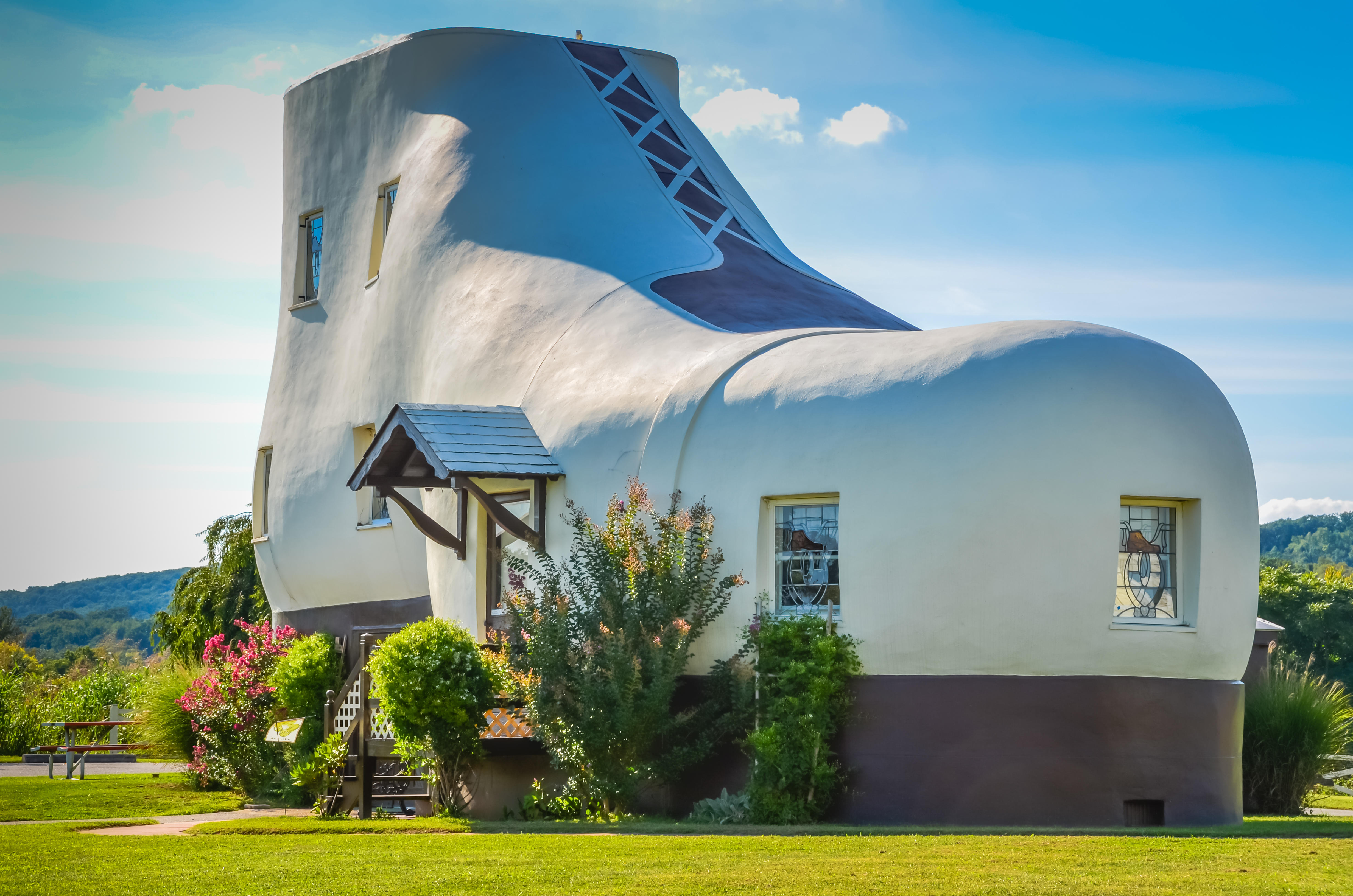 Sandra Foyt / Alamy Stock Photo
What does "home" mean to you? For some, it's a place to spend time with loved ones while making family recipes, celebrating holidays, and putting children's artwork on refrigerators. For others, it isn't a physical location at all, but rather a feeling, person, or memory. And looking at the list of houses below, it's clear that home can also be a space to get creative, experiment with colors and shapes, and make room for wonder.
From a building shaped like a snake to one dubbed "The Dr. Seuss House," these abodes push boundaries, delight onlookers, and show how special it can be to add a dash (or more) of imagination to your home.
Reversible Destiny Lofts | Tokyo, Japan
Between the brightly colored walls, spherical rooms, and purposefully bumpy floors, Reversible Destiny Lofts in Tokyo look and feel unlike any other apartment complex. That's by design. Rather than viewing home as a place to "turn off" your brain, the designers — Arakawa and Madeline Gins — aimed to make the lofts a hub for stimulating the senses.
"Residents and guests who inhabit these spaces are given the possibility to discover the full potential of the body and experience challenging environments that may feel at different times more appropriate to a child or an elderly person," the website explains. This is why you'll see light switches at uneven heights to challenge the body, sloped surfaces to stretch the legs, and colorful scenes to mimic the shades of nature.
Curious to experience it for yourself? Most of the lofts are occupied by full-time residents, but two are available for short-term stays.
La Miette | Provence, France
Live like a famous poet in this restored 12th century apartment. The former home of Jacques Prévert, a French poet, writer, and screenwriter, the residence is not only photogenic on the outside, but it also boasts details of a place rooted in history. You'll see ancient wooden beams, an open fireplace, a jasmine-covered terrace, and, of course, ample, sun-filled space throughout for writing.
Today, the residence is named "La Miette," which roughly translates to "the crumbs," and is available to reserve on Airbnb.
Quetzalcoatl's Nest | Naucalpan, Mexico
A monument to the Aztec snake god "Quetzalcoatl," this apartment complex in Mexico is a story of seeing the beauty in a challenge. Per Atlas Obscura, architect Javier Senosiain was tasked with working on the complex's "irregular-shaped land, which is filled with caves and vast tracts of oak trees." So he used the tricky foundation as inspiration to build a fantastical design: a 165-by-20-foot serpent's head.
Seeking serenity and want to experience it for yourself? According to the Airbnb page for one of the apartments, the unit is designed with minimalistic interiors to "create a juxtaposition with the outdoors, every window frames a different scenery."
RELATED: This Man Built His Mom a Tiny Home, Then Founded a Company Teaching Others to Make Their Own — Exclusive
Keret House | Warsaw, Poland
No such thing as too small! Known as the world's narrowest house, the Keret House in Poland is 152 centimeters at its widest point (roughly five feet). Still, it is fully functional with a bed, bathroom, and a desk. The unique home is the creation of Polish architect Jakub Szczesny, who built the space as an art installation between two existing buildings.
Marek Domek/Alamy Live News
"It requires a sense of humor, as you cannot stay long in a place like this," Szczesny joked to Dezeen about the unit, which is ideal for traveling writers.
Today, it is accessible to visit on "open days" during select weekends.
Barbie's DreamHouse | Malibu, California
Barbie's dream house came to life for a limited time in July 2023 — but decked out a la Ken. Ahead of the July 2023 Barbie premiere, this renovated pink mansion in Malibu pulled out all the stops — from a disco dance floor to the doll's signature pink carpet, walls, bed, and roof. But as in the movie, Ken has taken over and revamped the abode with all things horses, cowboys, weights, and guitars. And fitting for Barbie, the home had ocean views, an infinity pool, and no shortage of spaces to hang out with her posse of friends.
See more pictures of the picturesque pink paradise on Airbnb.
Villa Vals | Vals, Switzerland
A stone home built into a mountainside, Villa Vals in Switzerland is a storybook dream come true. According to the website, the home was designed by Bjarne Mastenbroek and Christian Müller who wanted to "fully integrate the villa into the landscape so as not to disturb the pristine nature." This is why the villa can only be reached through an underground tunnel.
"Completed in 2009, the house was built with local contractors and furnished with a variety of international designer pieces. They fit well with Villa Vals' spacious, industrial architecture. The interior is an eclectic but balanced mix of contemporary design. A unique combination of architecture, interior and design," the website reads, adding, "A large glass facade opens onto the terrace, offering spectacular views of green meadows and, in winter, snow-covered slopes and mountain peaks."
Yellow Submarine | Marton, New Zealand
Want to live in a yellow submarine (cue The Beatles)? You have the chance to experience what life would be like in an underwater vehicle in this quirky Airbnb that "floats" among redwood trees in New Zealand. While it's undoubtedly very cool for how it looks, it's even more special for how it's made: out of pieces of an old grain silo, spa bath, and milking shed, according to Time Out. Inside, you'll see a periscope, a quirky captain mannequin, and nautical details that dot the submarine in every corner.
Shoe House | Mpumalanga, South Africa
Peter Horree / Alamy Stock Photo
Located in South Africa, the Shoe House brings the nursery rhyme of the "old woman who lived in a shoe" to life. Inside, you'll see furniture and interiors inspired by the story and a small museum featuring history of the Ohrigstad Valley. Fun fact: The Shoe has a small underground chapel for weddings! See more photos here.
Sandra Foyt / Alamy Stock Photo
Bonus: Another footwear-inspired domicile is located in Hellam Township, Pennsylvania. Called the Haines Shoe House, it was built back in 1948 in the shape of a work boot to promote the owner's chain of shoe stores. The five-story home is currently available to rent for short-term stays.
Vineyard Hollow | Robertsbridge, England
Fans of The Lord of the Rings will love this Hobbit-like home located southeast of London. On the outside, it's magical and whimsical — and on the inside, it's no different.
The blue dome ceiling is decorated with stars and the rounded doors feel straight out of J.R.R. Tolkien's imagination.
The Goose Creek Tower | Talkeetna, Alaska
The Goose Creek Tower in Alaska is dubbed the Dr. Seuss House by admirers of the vertical vision. However, the builder and owner Philip Weidner calls it "a poem in the sky," per Woodz.co. Stacked 14-17 floors high and reaching 185 feet, according to Atlas Obscura, this private home likely delivers unmatched views of the stars and an unforgettable experience that sets a new standard for what a home can look like.
RELATED: Mural Magic: 9 Artists Making Communities Stronger and Brighter, One Wall at a Time