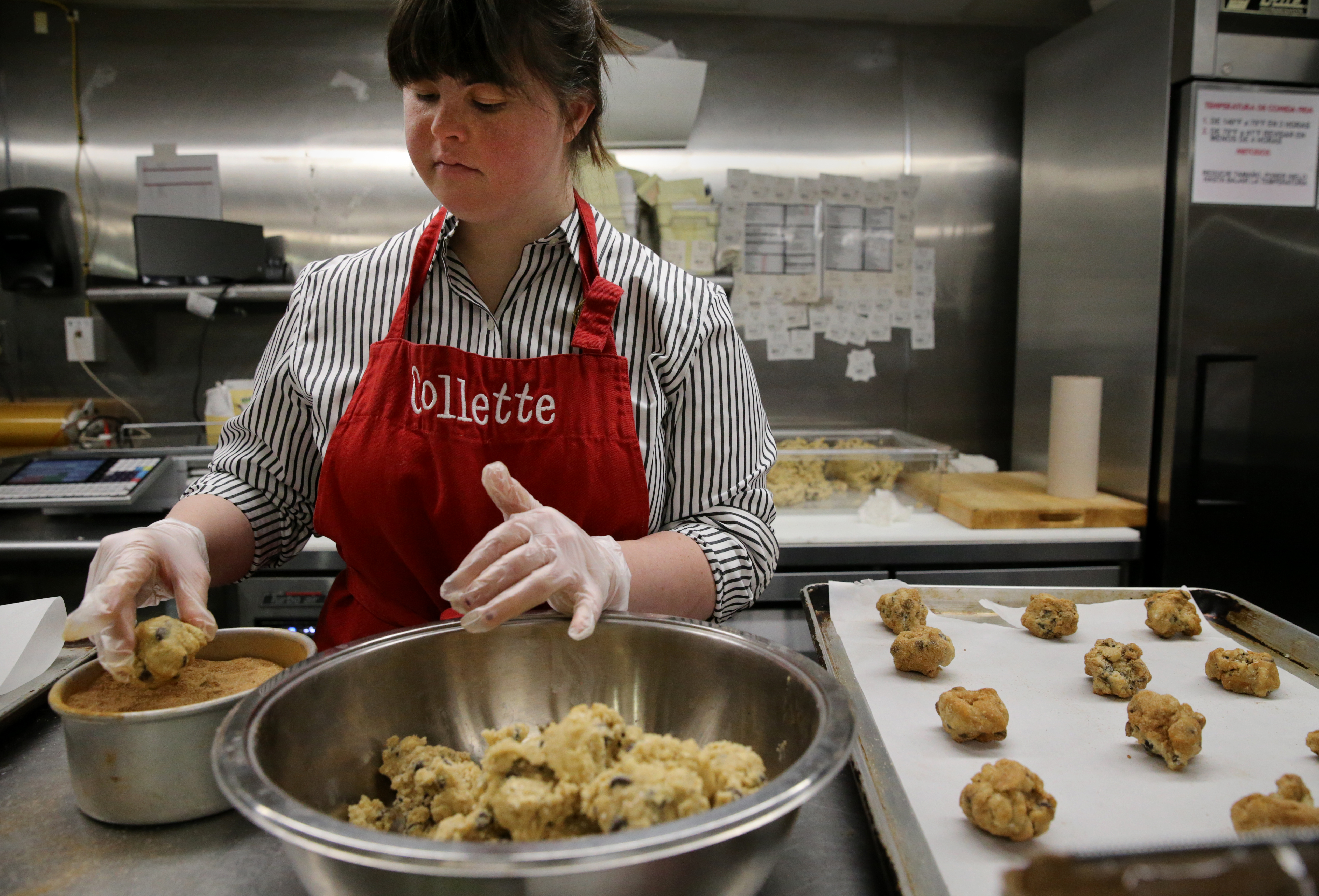 Craig F. Walker / The Boston Globe via Getty Images
Collette Divitto isn't allowing a disability to hold her back from accomplishing her dreams.
The entrepreneur, who was born in 1990 with Down syndrome, is the CEO and founder of Collettey's Cookies — a successful cookie company that's on a mission to create jobs for people with disabilities.
"I was not only determined to show everyone how capable people with (dis)abilities are, but my mission is to open production facilities across the country and employ thousands of (dis)abled people!" she said in a statement on her website. "Only 17.5% [of] people with disabilities were employed in 2015. Most people with disabilities live on [the] poverty level."
Divitto's love of baking began nearly two decades ago. She grew up in Ridgefield, Connecticut, and started taking classes in high school, the time when she learned more about the kitchen craft. "It was a hard time for me. I had no friends, I didn't have a social life. I got bullied, I got picked on," she told CBS News. "And that's why I had been taking baking classes."
She tested out numerous recipes before she perfected an original cookie dough concoction, featuring cinnamon and chocolate chips. It was a hit with loved ones and fittingly dubbed "The Amazing Cookie."
Following high school, Divitto attended Clemson University in South Carolina, where she completed a multi-year LIFE program, a part of the school that is geared towards students with intellectual disabilities who want a more traditional college campus experience.
Post-college, she was excited and eager to find a job in Boston — but the career search proved to be difficult for the burgeoning businesswoman. "After I graduated from college, no one would hire me," she said in the trailer for Peacock's Born for Business docuseries, which chronicles the lives of four entrepreneurs who have disabilities.
Craig F. Walker / The Boston Globe via Getty Images
But she didn't let closed career doors stop her from succeeding. With the help of her mother Rosemary Alfredo, Divitto founded Collettey's Cookies in 2016 and scored a local grocery store as her first client.
In the six years since, her company has sold more than 400,000 cookies — and made more than $1 million in revenue, CBS News reported. The cookie company CEO has a team of 15 employees, some of whom have disabilities, helping her bake the tasty treats and continue expanding the business.
When she's not in the kitchen, Divitto travels the country as a speaker and leads her non-profit organization, established in 2018 "to provide workshops, training, empowerment and leadership for those with or without (dis)abilities," her website reads.
And she's already on her way to do that. The children's book author has started a Change.org petition calling for "a policy that offers tax incentives for employers who hire people with a labeled disability."
Looking to the future, Divitto's main goal is to work with Washington, D.C., lawmakers "to create policies that would increase employment opportunities for people with disabilities," her profile explains.  
Through every employee that's hired, and each cookie that's baked, Divitto is helping make the world a sweeter place. "My whole mission is creating jobs for people with disabilities," she told CBS News. "For people who do have disabilities … some want to have a job so badly."