Courtesy of Jim Kitchen
Jim Kitchen dreamt of becoming an astronaut as a child. While in college in the 1980s, he worked selling low-orbit space travel, despite constant ribbing from his friends about the then far-off idea. And when he married his wife, he asked for a prenup with the sole stipulation that he be allowed to go to space should the opportunity arise.
On Thursday, March 31, Kitchen's lifelong dream finally came true as he launched into space on one of the latest Blue Origin flights — and he also made history. Once he reached orbit, the 57-year-old entrepreneur from North Carolina became the first person on record to visit all 193 U.N. recognized countries as well as space.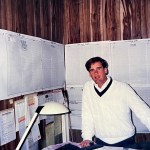 "Some of my friends, some of whom will be at the launch, they ridiculed me mercilessly for selling space travel," Kitchen recalled to Nice News. "And to be able to actually accomplish that dream 40 years later … it's just mind-numbing."
Kitchen had embarked on several zero gravity flights in the past to simulate the feeling of space travel. So once the Blue Origin flight reached its final height of about 350,000 feet — 10 times that of a usual commercial plane — he said his only goal was to plant himself next to the window and gaze down at Earth from a new angle.
"Having walked the planet, I just want to see it from space. I just want to see this blue, beautiful planet of ours, the eternal darkness of space, I want to take in that whole spectacle," he said ahead of the launch. "Then, I think I'm going to float upside down and take it all in upside down."
Before his mission to get to space was realized, Kitchen said his quest to visit all 193 countries first began as a simple love for travel. He was a "passport stamp collector" as a young person, but that desire to see new places soon turned into a real passion. "I just transitioned from a collector to a connector," he shared. "I fell in love with the idea and the notion of meeting people."
"When I first started traveling, I had no idea how many countries there were," Kitchen added. "It wasn't until probably 10 or 15 years ago that I was like, 'Oh, there's a list! Okay, well, let's start going there.'"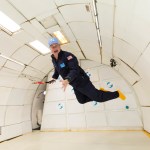 In 2019, right before the COVID-19 pandemic hit and shut down global travel for a time, Kitchen reached his last of all the nearly 200 U.N. recognized nations: Syria. He said it was a "bittersweet" moment that left him ready to tackle his space dream, his final undiscovered frontier.