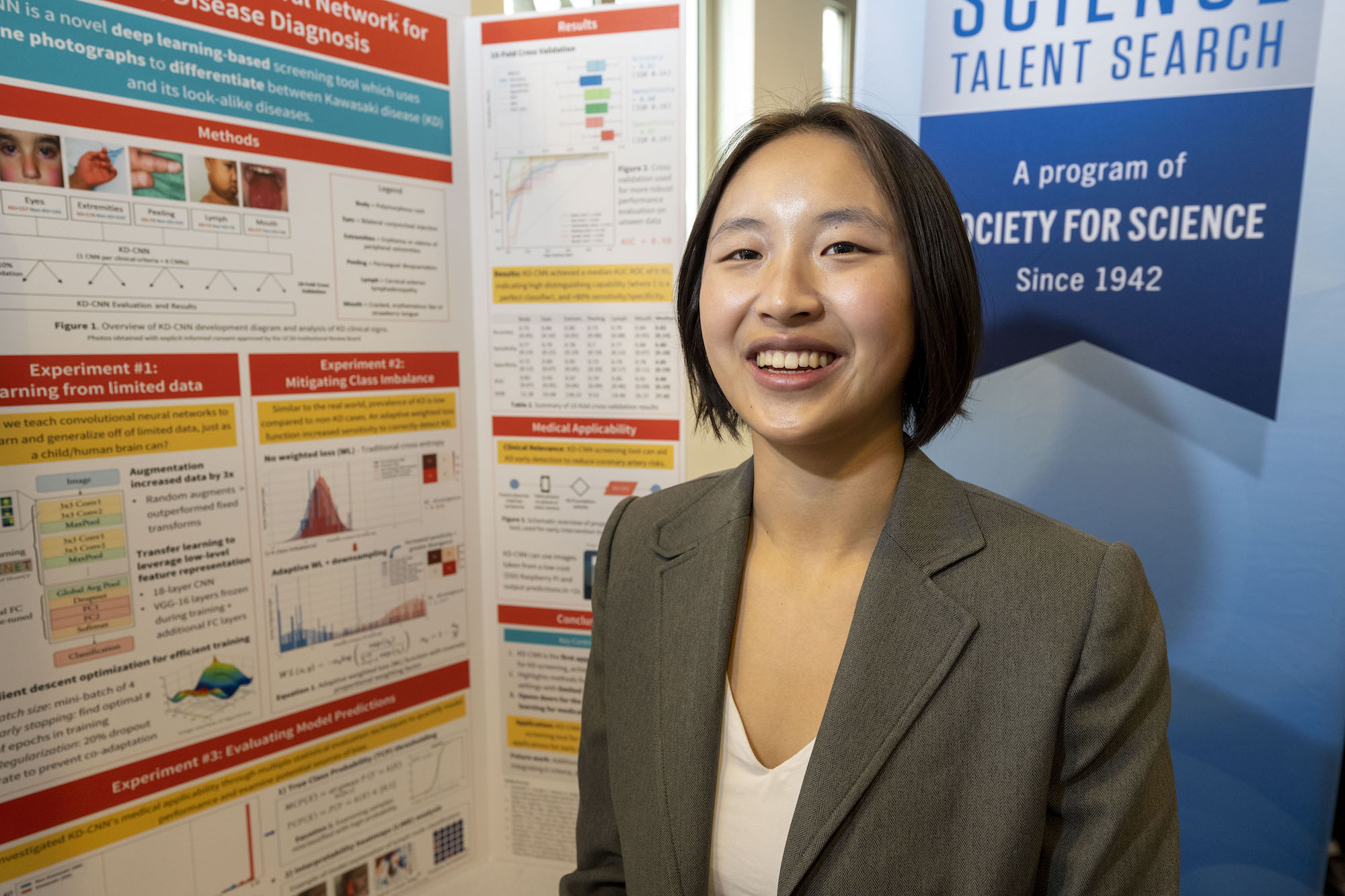 Society for Science/Chris Ayers Photography
Ellen Xu, a 17-year-old from San Diego, created an award-winning algorithm that uses smartphone photographs to help diagnose Kawasaki disease — a leading cause of acquired heart disease in the U.S. that primarily affects children younger than age 5.
It's a disease that's personal to Xu; her younger sister, Kate, was diagnosed with Kawasaki when they were young children.
"If you're like me and my family, you've probably never heard of Kawasaki disease before and part of the reason for that is because it's such a huge medical mystery," said Xu in a Society for Science video describing her invention.
The cause of Kawasaki disease is unknown, and it can lead to long-term heart complications that can be fatal. However, it is treatable, with most children recovering with "no lasting problems," according to Cedars-Sinai.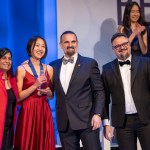 Society for Science/Chris Ayers Photography
Unfortunately, diagnosis of Kawasaki is often difficult due to the symptoms sharing similar clinical features with other health conditions, or "lookalike diseases," which is what initially happened with her Kate.
Xu explained that when she was 5, her sister became sick with a "mysterious illness" that involved swollen hands and feet, a fever, a body rash, and a red tongue with white spots (also known as "strawberry tongue"). Her family was initially told it was likely the flu, but as her symptoms worsened, she was eventually diagnosed with Kawasaki disease.
Thankfully, Kate shared in an interview with NBC San Diego she has since made a full recovery.
This made Xu wonder: "What if we could help aid in the diagnosis of Kawasaki disease through differentiating it from its look-alike diseases?"
Driven by this question to help more people get better like her sister, she created an algorithm; Xu spent around $50 on computer parts and crowdsourced photos from patients worldwide. Her goal was to teach the algorithm how to recognize features of Kawasaki disease and prevent misdiagnosis.
Here's how it works: The "convolutional neural network" is a deep learning-based algorithm that analyzes imagery and mimics the way our eyes function, to ultimately learn data "just like a child or human may be able to look at just a few images and recognize objects." By training the algorithm to recognize Kawasaki disease with "high sensitivity," Xu was able to create a tool that can distinguish clinical features of the disease from its "extreme lookalike diseases."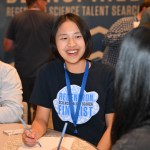 Society for Science/Chris Ayers Photography
For example, Johns Hopkins Medicine said some children with COVID-19 develop a condition called multisystem inflammatory syndrome in children, which can cause symptoms similar to Kawasaki disease, including fever and rash. Additionally, a 2009 study explained how the disease can be misdiagnosed as a rash, along with measles, Epstein-Barr, and a mercury hypersensitivity reaction.
Because Kawasaki disease relies on a physician's assessment and physical diagnosis of the visual features, Xu said her tool can be especially useful as an early screening tool and in low resource settings where a medical provider may not be available.
Her invention was awarded $150,000 at Society for Science's 2023 Regeneron Science Talent Search — the most prestigious math and science competition for high school seniors in the U.S. She earned third place out of 40 finalists, all of whom were evaluated based on their projects' "scientific rigor, their exceptional problem-solving abilities, and their potential to become leaders in STEM."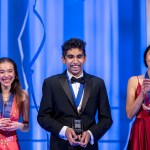 Society for Science/Chris Ayers Photography
Showing the power of curiosity, STEM, and a sisterly connection, the tool is already delivering promising results. "Ellen's work indicates that her model can distinguish between children with and without clinical manifestations of [Kawasaki disease] with 85% specificity using a smartphone photo of the child," according to the competition's website.
The hope is to get more patients treatment earlier and prevent medical misdiagnosis.
"I'm really excited for this, the potential of this algorithm, and I hope it demonstrates the feasibility for the use of photographs and deep learning to help prevent medical misdiagnosis," she said.
Xu, who will attend Stanford University post-graduation, told NBC: "Even if I could change one life, that would be super, super meaningful."
RELATED: Viral Physics Professor Uses Social Media to Encourage More Women to Join Her Field: Watch