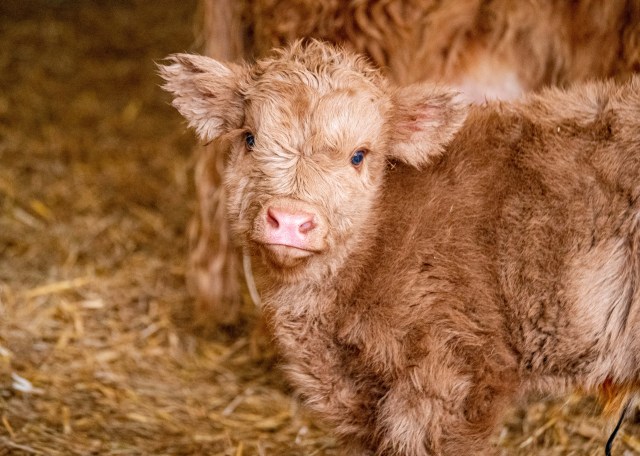 Noah's Ark Zoo Farm
This post is being regularly updated as more animal births are announced in spring 2023
Spring is a time of renewal: As Spanish poet Juan Ramón Jiménez wrote, "You are reborn with the roses, in every spring." And in addition to symbolizing rebirth, the season brings an abundance of actual births, specifically in the animal kingdom.
In the wild, the warmer weather and longer days that follow the spring equinox serve as ideal conditions for expectant animals to give birth to their offspring. Ample environmental resources and higher air pressure also help explain the proliferation of baby animals that are born, according to The Old Farmer's Almanac.
Farms and zoos also see their share of newborns this time of year. To celebrate, we've rounded up adorable baby animals that made their debuts in recent months. Scroll to admire a fuzzy penguin chick, a pair of Andean bear cubs, a couple of critically endangered mice, and many more new additions to the world!
Sumatran Orangutan at the Sacramento Zoo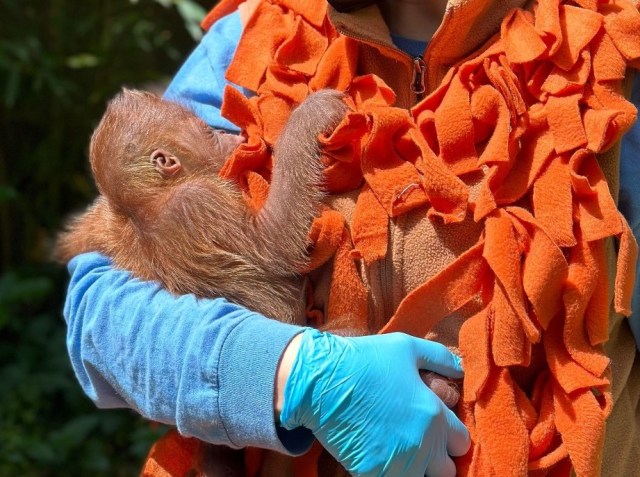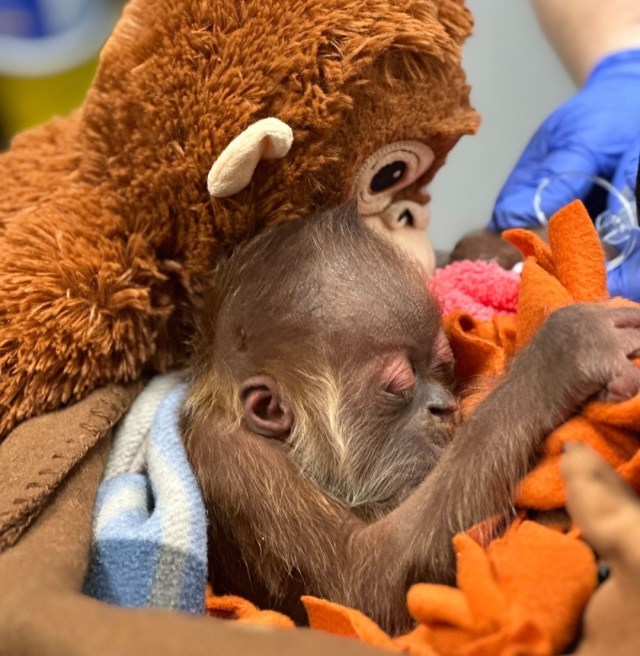 For the first time since 1981, a critically endangered Sumatran orangutan was born at the Sacramento Zoo in California. The adorable male infant, as yet unnamed, arrived May 1, the organization announced on Facebook. He and his 19-year-old mother are two of just 79 Sumatran orangutans in human care throughout the United States. Only nine populations of the primarily arboreal species, most with fewer than 250 members, currently live in the wild.
Kirk's Dik-Dik Calf at the Edinburgh Zoo
One of the smallest species of antelope in the world has welcomed a (tiny) new member: Petal, born at the Edinburgh Zoo in Scotland to mom Noodle and dad Drax. The youngster is "growing in confidence every day and can be spotted exploring the African Aviary," the zoo shared on Facebook. Kirk's dik-dik antelopes typically grow to an adult height of about 16 inches and are native to Eastern Africa.
Visayan Warty Piglets at the Newquay Zoo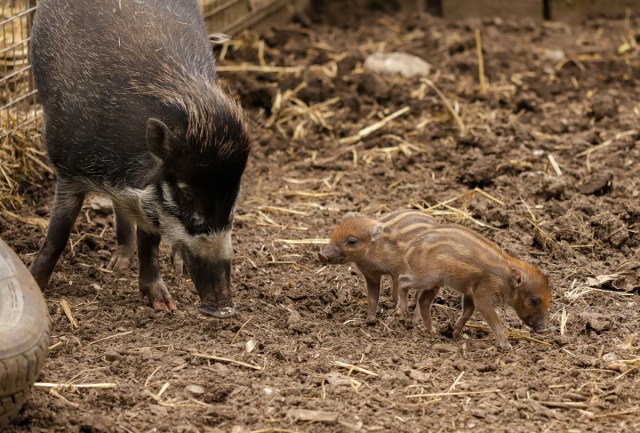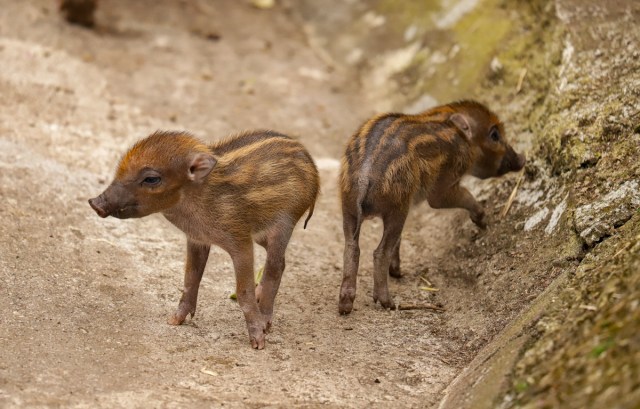 Two Visayan warty piglets — among the rarest pig species in the world — were born at the U.K.'s Newquay Zoo last month. The new arrivals are both adorable (click here to see a video of them exploring their enclosure under their mom's "watchful eye") and essential for conservation, as their species is considered critically endangered. "We are so pleased to welcome these new arrivals and to continue helping increase the Visayan warty pig population," the zoo's Dave Rich said in a statement.
Andean Bear Cub Twins at the San Diego Zoo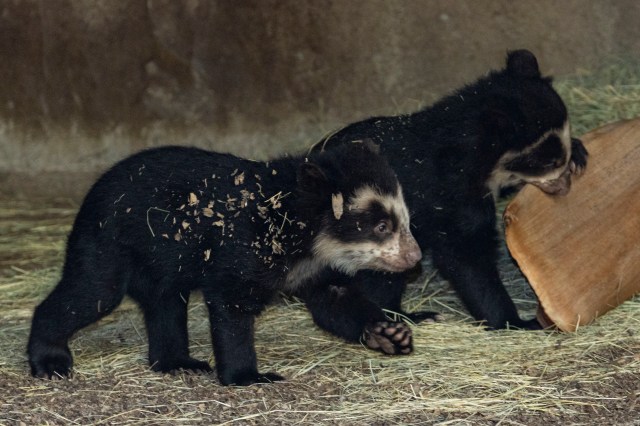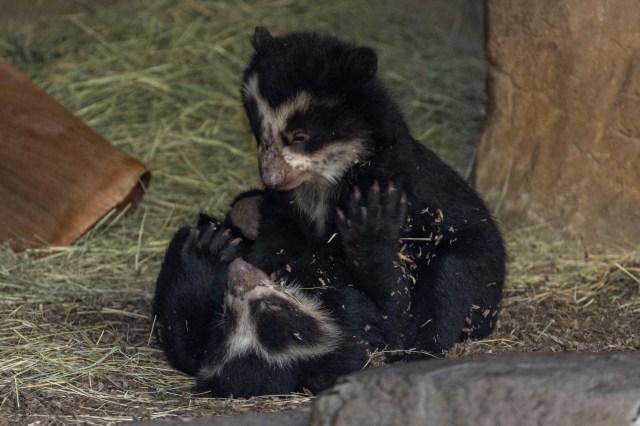 Ken Bohn, San Diego Zoo Wildlife Alliance
Ken Bohn, San Diego Zoo Wildlife Alliance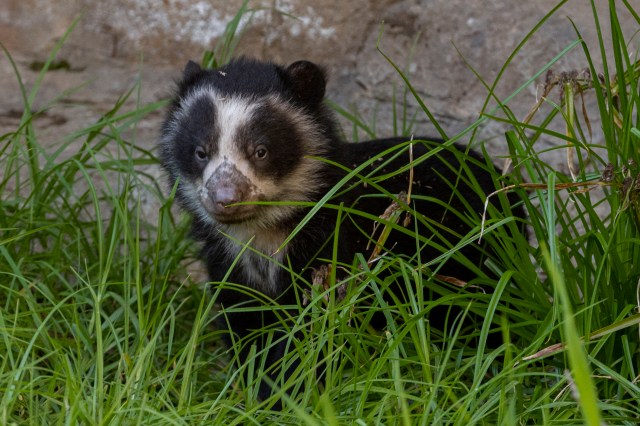 Ken Bohn, San Diego Zoo Wildlife Alliance
Ken Bohn, San Diego Zoo Wildlife Alliance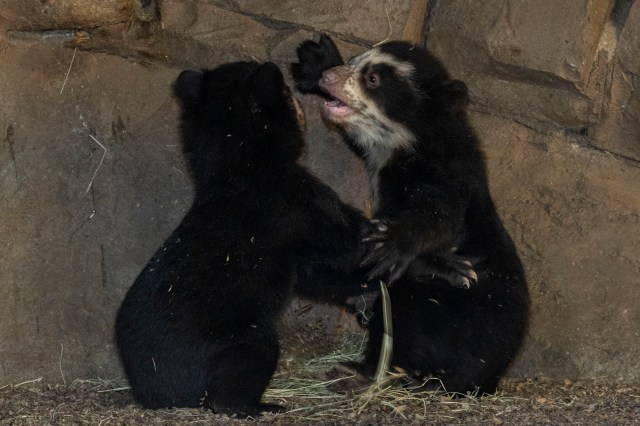 Ken Bohn, San Diego Zoo Wildlife Alliance
For the first time in nearly 30 years, twin Andean bears were born at the San Diego Zoo this past December. The species is native to South America and deemed vulnerable by the International Union for Conservation of Nature's Red List of Threatened Species, due in part to habitat loss and poaching. The San Diego Zoo Wildlife Alliance called the newborn twins' birth "significant for conservation research." Now 4 months old, the sweet pair is being cared for by their mother, Alba, who welcomed her first cub in 2020.
Amur Leopard Cub Twins at the San Diego Zoo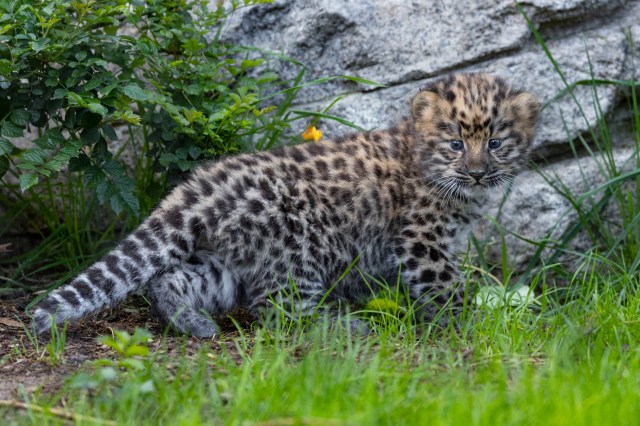 San Diego Zoo Wildlife Alliance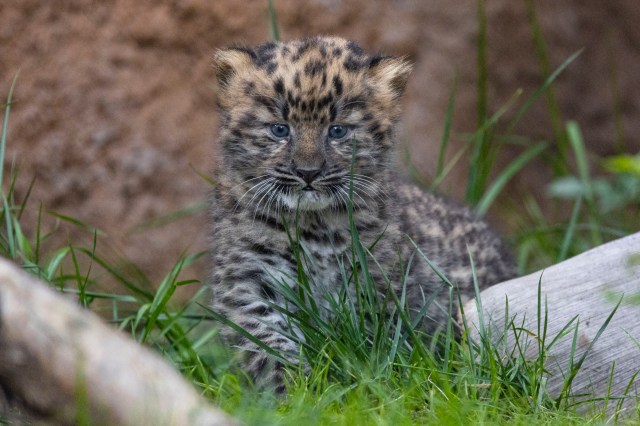 San Diego Zoo Wildlife Alliance
San Diego Zoo Wildlife Alliance
Also at the San Diego Zoo — another set of twins! These darling Amur leopard cubs were born in March, an extra special cause for celebration as fewer than 300 of the species are believed to exist on Earth. The Wildlife Alliance noted that the twins' birth is "furthering the nonprofit conservation organization's ongoing work to save this vital Asian species." Click here to watch a video of the cute cubs exploring their habitat.
Eastern Bongo Calf at Potter Park Zoo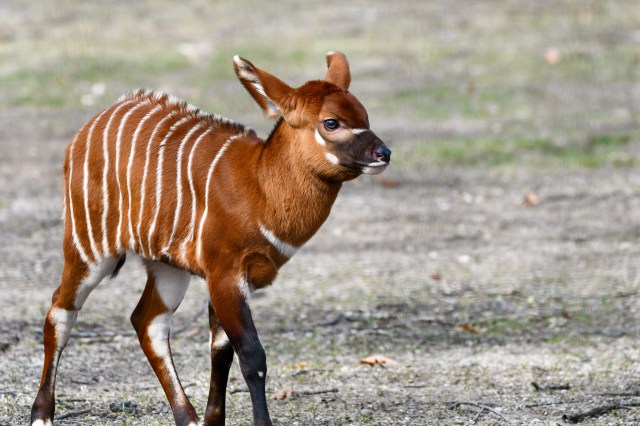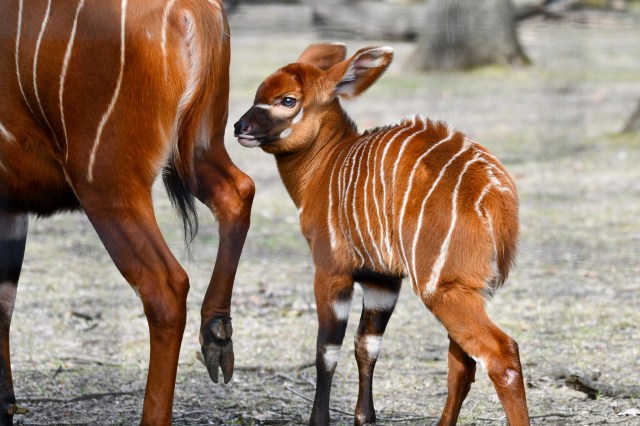 Meet Maeve: Potter Park Zoo's brand-new Eastern bongo calf. Located in Lansing, Michigan, Potter Park noted that only 100 of the mountain antelope species remain in the wild. "Bongo are critically endangered, so each birth is special," the zoo's director of animal health, Dr. Ronan Eustace, said in a statement. "The calf appears healthy, and the mother has raised calves successfully in the past." Watch the charming little calf spending time with her mother and checking out the camera.
African Penguin Chick at the Audubon Aquarium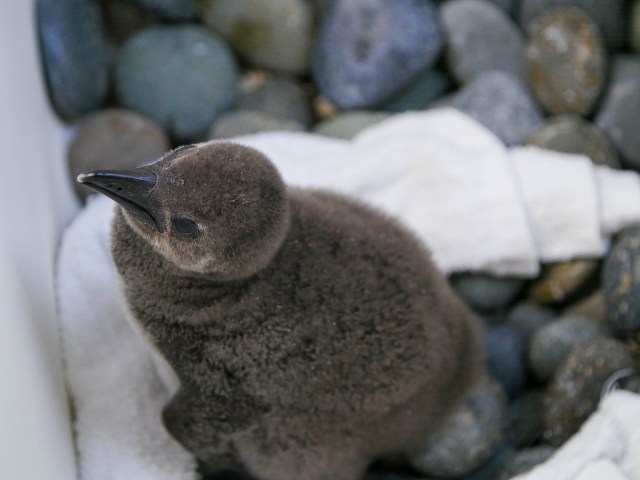 This precious bundle of fuzz hatched on February 10 at the Audubon Aquarium in New Orleans, which is currently undergoing renovations and is set to reopen this summer. "African black-footed penguins are extremely endangered in the wild, so each new chick is important for the species survival," Bill Robles, the aquarium's curator of birds, said in a statement. Still awaiting a name, the gray chick will start sporting his black-and-white plumage in a few months.
Highland Cow Calf at Noah's Ark Zoo Farm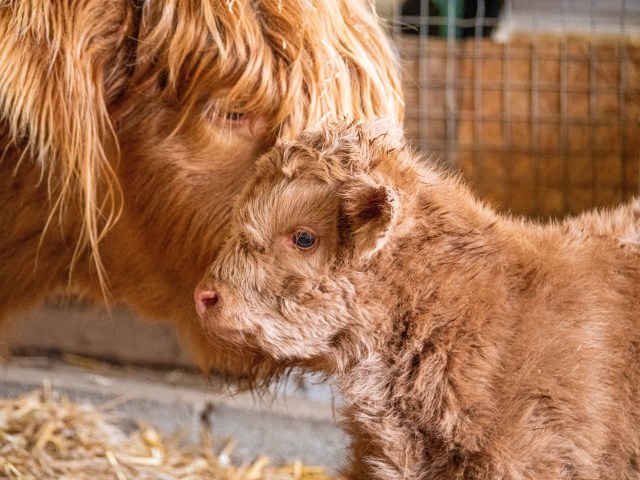 The family-owned Noah's Ark Zoo Farm is set on 100 acres of land south of Bristol, England. On March 4, the organization announced the birth of Merida, a gorgeous Highland cow calf who is almost too cute for words. Watch the fluffy newcomer doing "zoomies" around her pen as mother Agnes stands nearby, and learn more about Noah's Ark and its conservation and sustainability practices here.
De Brazza's Monkey at Prague Zoo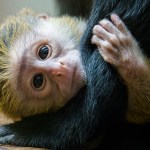 Petr Hamerník, Prague Zoo
A tiny face that could melt a million hearts! Born March 8 at the Prague Zoo, this De Brazza's monkey infant is being cared for by mother Anastasia and is "already very inquisitive and gazes around its surroundings from the safety of her arms," keeper Jan Ťoupal shared in a statement. The newborn joined two older siblings, both born to Anastasia and her partner, Malik. The zoo noted that "De Brazza's monkeys are the only members of their genus that often form monogamous pairs."
Sextuplet Lambs at Pandy Farm
A roundup of baby animals born in the springtime wouldn't be complete without a lamb in the mix — but how about six lambs? Pandy Farm in Wales, a small enterprise focused on naturally grown produce and environmental sustainability, welcomed sextuplets this March. The BBC spoke to 20-year-old farmer Erin Fflur McNaught about the "very rare" occurrence. The ewe's pregnancy scan indicated she was likely carrying three lambs, so McNaught was shocked to see six arrive. She shared that the babies "are up on their feet with a belly full of milk, all happy now."
Baby Warthog at the Dallas Zoo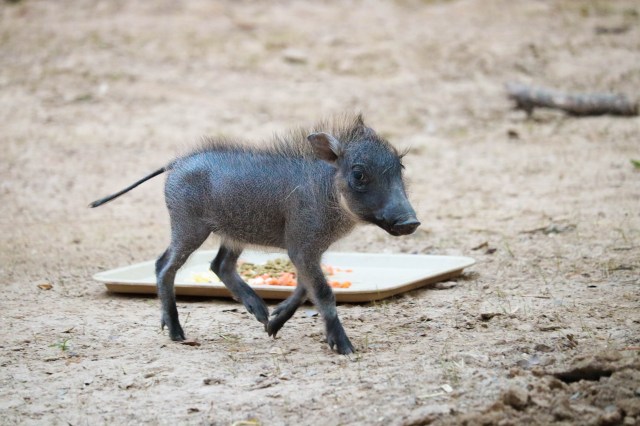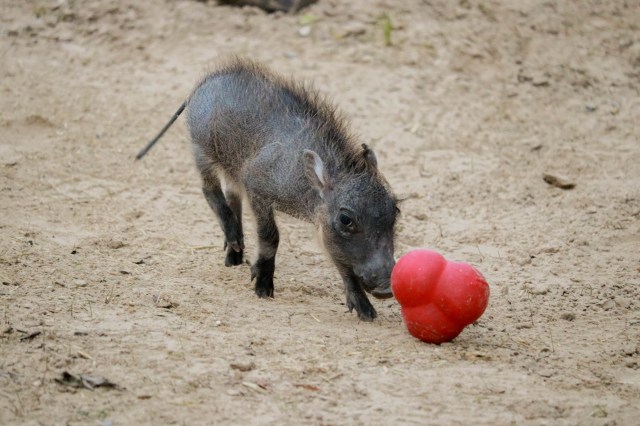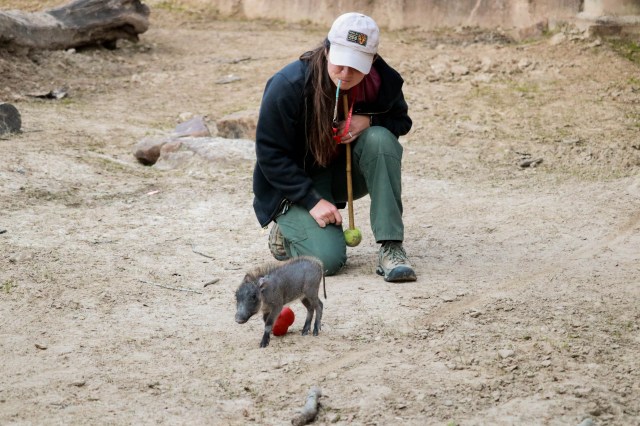 Warthogs are perhaps better known for being the real-life version of Pumbaa from The Lion King than for their cuteness, but one look at this photo proves that the babies of the species are as adorable as they come. Tikiti was born to mom Weela on February 17 at the Dallas Zoo. Her name means "watermelon" in Swahili, and the zoo shared on Instagram that it's "pretty fitting because this sweet girl looked like a little melon when she was born!"
Baby Giraffe at the Dallas Zoo
The Dallas Zoo had a number of baby animals make their arrivals this spring. This lanky "little lady," as the zoo referred to her in a Facebook post, was welcomed March 19 by mom Chrystal and dad Tebogo, and came into the world weighing 131 pounds. "Both mom and baby are doing well. This sweet girl is very attached to mom and follows her everywhere," the post reads. Even more special? The zoo said the baby giraffe has "a little heart-shaped spot on her shoulder." Click here to see her standing up just minutes after her birth.
Baby Elephant at the Dallas Zoo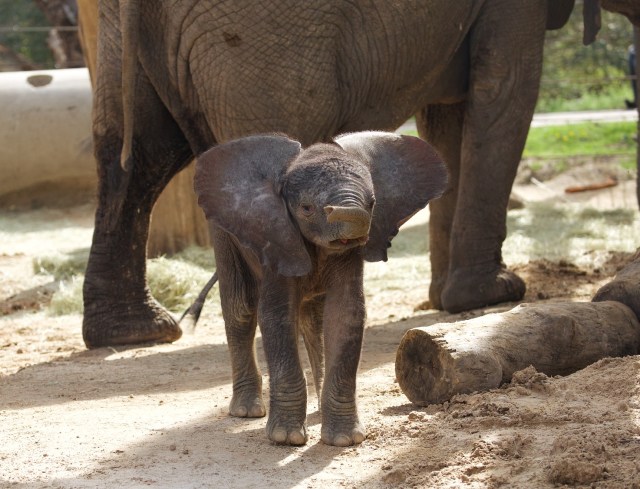 And last but certainly not least among the Dallas Zoo newborns, Okubili the elephant was born to mother Mlilo on February 26. The not-so-little bundle of joy came to be during what's called a "herd birth," the first of its kind at the Texas zoo. Another female elephant stayed with Mlilo during and after the event, "just as would occur in the wild," the zoo shared on Facebook, adding: "They are both taking such good care of the little one, and he'll soon start to meet other members of the herd."
Komodo Dragon Pups at Bioparc Fuengirola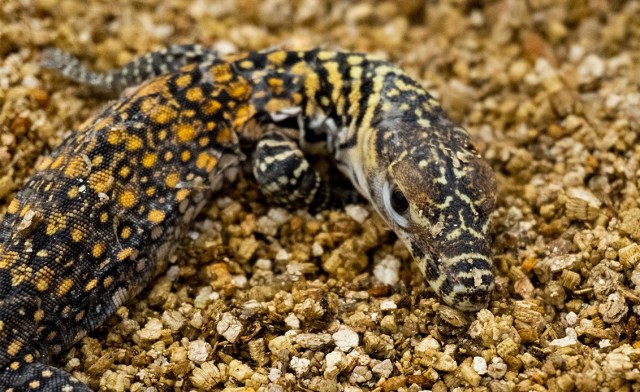 The sole reptile representatives on this list, five endangered Komodo dragon pups made their debut at Spain's Bioparc Fuengirola this March, marking a "milestone in the conservation work" the organization has been doing within the European Endangered Species Program. "From the first moment, we have guaranteed the well-being of both reptiles and now also their young. For everyone, it is undoubtedly a great achievement," Milagros Robledo, head of herpetology at the center, said in a statement.
Linne's Two-Toed Baby Sloth at Stone Zoo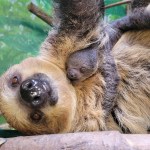 A sweet baby sloth is one of the newest residents at Stone Zoo in Stoneham, Massachusetts. Born the first week of March, the teeny animal "snuggles 24/7" with mom Lunesta, the zoo wrote on Facebook, adding in another post that staff members are "completely smitten." Check out a video of the newborn sleeping on Lunesta as she and mate Nero munch on snacks.
Klipspringer Fawn at the Brevard Zoo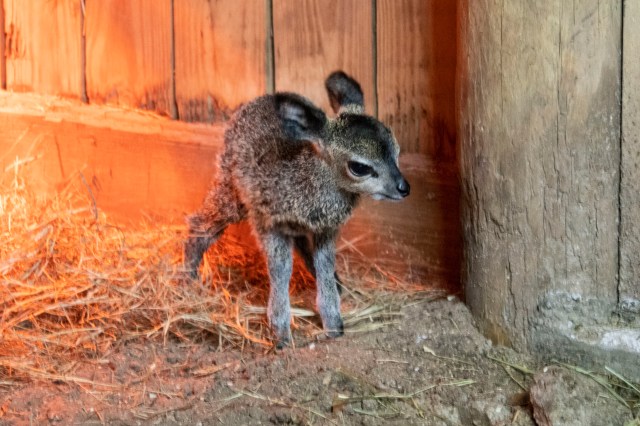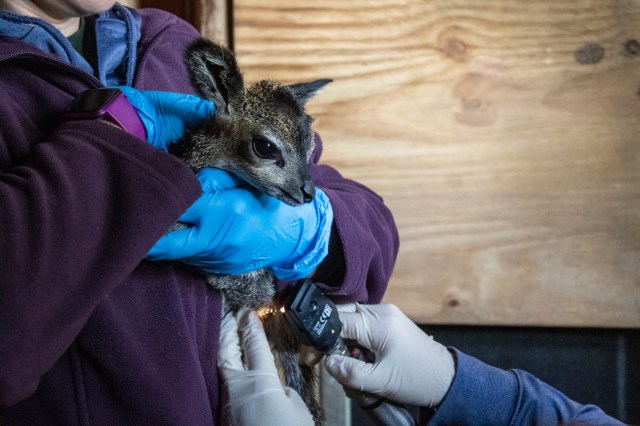 Though an antelope rather than a deer, Brevard's Zoo's newborn klipspringer brings Bambi to mind. A slight little creature with big brown eyes, the cute female fawn joined the world on March 18 and weighed just over 2 pounds at its first neonatal exam. The zoo, located in Melbourne, Florida, shared that the baby is doing well and that its mother, Deborah, is a "great mom." Watch the tiny baby being adored by zookeepers.
Perdido Key Beach Mice at the Brevard Zoo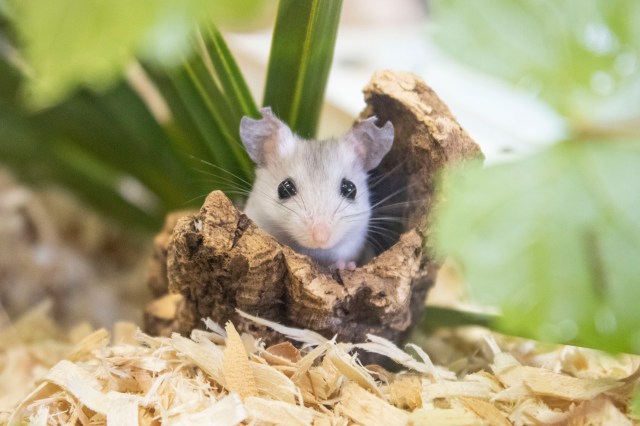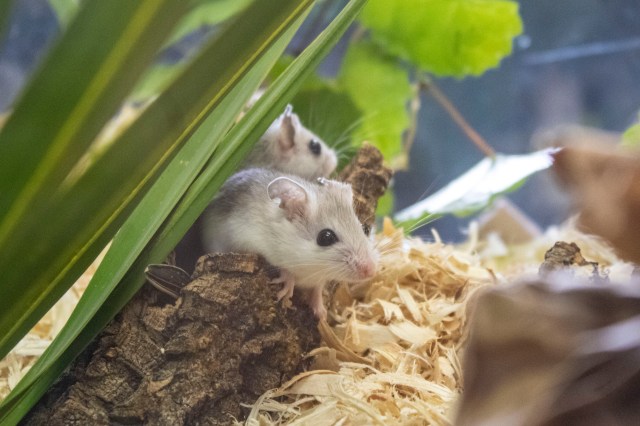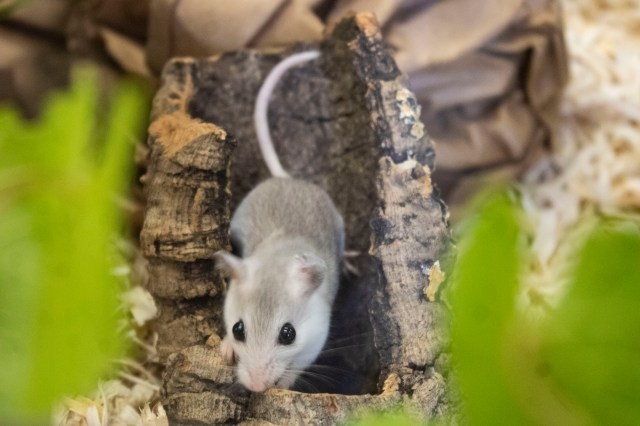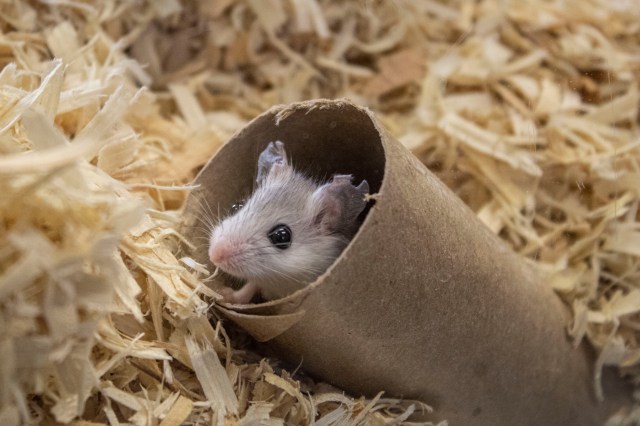 Finally, meet two more (even tinier) additions to Brevard Zoo. Two male Perdido key beach mice, called pups, were born to mom Malaika and dad Gifford, the zoo announced last month. The species is critically endangered, and the zoo has run a conservation breeding program since 2007. According to the organization, the mice are critical to Florida and Alabama's coastal ecosystems as they "help spread the seeds of dune-stabilizing plants as well as aerate the soil to encourage the plant growth."