Andrew James / San Diego Zoo Safari Park
A 4-month-old baby giraffe has a new lease on life at the San Diego Zoo Safari Park in Escondido, California, thanks to a brace devised by doctors specializing in human medicine.
Msituni, which means "in the forest" in Swahili, was born on February 1 with a life-threatening abnormality. A hyperextension of the carpi (similar in function to wrist bones in humans) caused her front legs to bend improperly, the San Diego Zoo Wildlife Alliance announced in a May press release. Without treatment, the young giraffe wouldn't be able to stand or walk properly, making it mission-critical to get her orthotic braces.
"Without these lifesaving braces to provide support, the position of her legs would have become increasingly more painful and progressed to a point she would not have been able to overcome," said Matt Kinney, senior veterinarian for the San Diego Zoo.
Since Safari Park staff had no experience fitting a brace for a giraffe, they had to get creative.
"We commonly put on casts and bandages and stuff. But something that extensive, like this brace that she was provided, that's something we really had to turn to our human [medicine] colleagues for," Kinney told the Associated Press.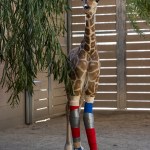 Andrew James / San Diego Zoo Safari Park
They proceeded to turn to Dr. Ara Mirzaian and his colleagues at the nationally recognized Hanger Clinic, who were happy to contribute their expertise. Despite having no experience treating animals, they didn't hesitate to step in and help the baby giraffe using human medicine and techniques.
"I've never worked with wildlife before — it's one of those things that is a once-in-a-lifetime opportunity, and you just have to savor the moment," Mirzaian told San Diego Zoo Wildlife Alliance.
They teamed up with wildlife care staff to create a specialized plan for Msituni. After fitting the calf for the device, they devised custom-molded carbon graphite braces, complete with a giraffe pattern to match the rest of her fur.
"We put on the giraffe pattern just to make it fun," Mirzaian told the AP. "We do this with kids all the time. They get to pick super-heroes, or their favorite team and we imprint it on their bracing. So why not do it with a giraffe?"
The braces were a success. They worked so well that she was healthy enough to join the rest of the herd in the Safari Park's 60-acre East Africa savanna habitat. Kristi Burtis, director of wildlife care at the San Diego Zoo Safari Park, said this is an important step for Msituni.
Andrew James/San Diego Zoo Safari Park
"This was an important step in Msituni's natural development," said Burtis. "As her bond grows with the herd, she will be able to learn behaviors and skills important to the development of a young giraffe."
This isn't the first time human doctors have intervened to help ailing animals. Earlier this year, cancer patient Crescent — a great hornbill with potentially fatal skin cancer — received a 3D-printed prosthetic beak after tumor-removal surgery by a team of doctors, biomedical engineers, and specialists.
The African Wildlife Foundation estimates that giraffes have lost 40 percent of their population in the past 30 years as a result of habitat loss and poaching, making saving Msituni's life all the more special.