Mark Makela / Getty Images
Like the Macy's Thanksgiving Day Parade and pumpkin pie, the National Dog Show is an American holiday tradition. More than 2,000 of the top American Kennel Club (AKC) sanctioned dogs will compete this year in the most widely viewed dog show in the United States, which takes place on November 19 and 20 at the Greater Philadelphia Expo Center at Oaks in Oaks, Pennsylvania. The show will also air in a two-hour NBC special, from 12-2 p.m. ET, on Thanksgiving Day.
Around 200 AKC-recognized breeds and varieties will compete. This year, according to County Lines Magazine, three new breeds will compete for Best in Show for the first time: the Russian Toy, Bracco Italiano, and Mudi.
Each of the AKC-registered breeds and varieties are categorized into one of seven groups, corresponding to what the breed was initially bred for. These include terrier, toy, working, sporting, hound, non-sporting, and herding. The pups will compete for Best in Breed, First in Group, and the ultimate prize: Best in Show.
Judges evaluate each dog and award points depending on how well each conforms to the ideal standard for their breed, considering both appearance and performance. To earn Best in Show, dogs must first earn Best in Breed, which sometimes means outperforming 100 or more competitors. The best of each breed then compete against the others in their group to earn First in Group. Then, the seven top dogs go tail-to-tail to earn the coveted ribbon, prize money, and international acclaim as the winner of the National Dog Show Presented by Purina®. GCH Foxcliffe Claire Randall Fraser, a.k.a. Claire, a Scottish deerhound, made history in 2021 as the first dog to win Best in Show for two consecutive years.
Per the event's website, the host, Kennel Club of Philadelphia, "brought its own tradition to the table with a history of dog shows dating back to 1879." But it wasn't until 2002 that The National Dog Show Presented by Purina's was cemented as a holiday staple, when NBC first aired the rebranded show as a part of its Thanksgiving programming. According to AARP, a network executive for NBC Sports reportedly thought of the idea after watching the mockumentary Best in Show, starring Eugene Levy and Catherine O'Hara, which hilariously and affectionately portrays some of a major dog show's most quintessential and eccentric characters.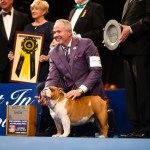 Mark Makela / Getty Images
It's one of three major dog-centered shows in the U.S., along with the Westminster Dog Show and AKC National Championship. Some National Dog Show champs go on to compete at Crufts, the world's largest dog show, in the U.K.
"I can't believe 21 years now they have kept this going on, and it's becoming an enormous family tradition in America," John O'Hurley, who co-hosts the show with Mary Carillo, told County Lines Magazine. "It's my favorite day of the year, the chance to be able to go to Philadelphia and spend the entire day with 2,000 of the best dogs in the country, and every one of them gets along."
The two-hour family-friendly televised event airs immediately after the Macy's Parade and draws around 20 million viewers each year.
Jon Miller, an NBC Sports executive, told the New York Post in 2013: "It's the perfect day to celebrate the family being together, and dogs are family members."