Alaska SeaLife Center
A walrus calf found in northern Alaska captured hearts online after the organization caring for him shared that he's been put on a regimen of 24/7 cuddling.
The young animal, which weighed in at around 140 pounds, was rescued in late July about 4 miles inland from the Beaufort Sea — "a highly unusual location for [a] Pacific walrus," the Alaska SeaLife Center said in a press release.
Walruses depend heavily on their mothers for their first two years of life, and with no maternal figure in sight, officials knew the wandering calf wouldn't survive alone.
Estimated to be about 1 month old at the time of rescue, he was flown to the SeaLife Center and diagnosed with malnutrition, dehydration, a cloudy eye, and a possible infection.
"We are lucky that his first night went well," said Jane Belovarac, the center's wildlife response curator. "It isn't often that we're able to admit a walrus calf, but every time we do, we learn more about the species and how to care for them."
Now onto the cuddles: As of August 3, the walrus was put under a 24-hour care regimen that includes "round-the-clock 'cuddling'" in order to emulate the physical closeness usually provided by the mother. Since "calves tend to habituate quickly to human care," he was already eating formula from a bottle at that time.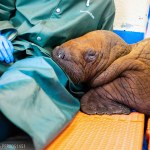 In an update two days later, the center said staff were continuing to provide constant care to the calf, who was alert and still eating well.
"This is the center's first walrus patient in 4 years, and one of only 10 admitted in the center's 25-year history, making this an exceptional case for the Wildlife Response Program and a rare opportunity for all involved," the release read.