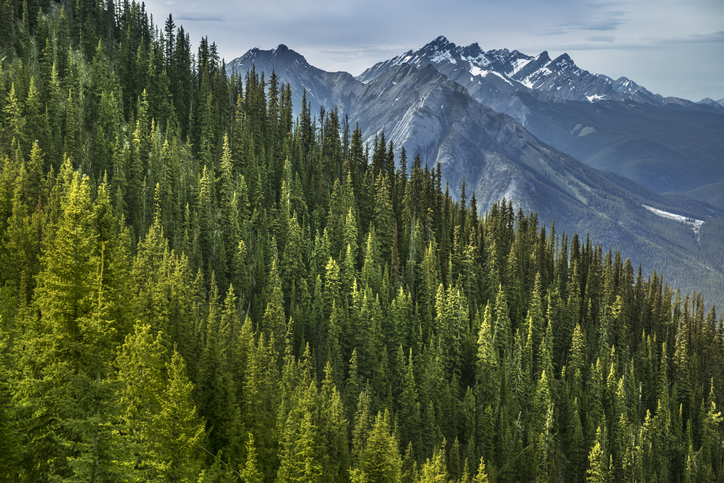 Pgiam/ iStock
A Canadian woman is being heralded for the extraordinary number of trees she planted in the Great White North. Across three summers, Leslie Dart planted 372,290 trees, often documenting her progress on TikTok, with one of her videos earning a whopping 8.7 million views.
Some may see her as a modern-day Johnny Appleseed, but Dart is among thousands of foresters helping to repopulate Canada's forests. According to My Modern Met, an estimated 5,500 workers plant trees around British Columbia every year.
Though the occupation itself may not be unique — it's a popular summer job for students, who typically earn between 13 and 27 cents per tree — the sheer volume of trees Dart planted certainly seems to be: In a viral video posted in July 2022, she said that she had planted over 4,500 trees in one day, scooping the soil out quickly with her shovel and then dropping in the sapling.
Dart shared how the experience has positively impacted her in an interview with The Canadian Press, saying the job helped her toughen up. "You just really have to be prepared for everything, be open-minded, roll with the punches," she explained. "It just makes you a stronger person mentally and makes you more adaptable and ready to take on the world."
She started her work as a forester while in college at Durham College in Ontario. On social media, she would often share how grueling but rewarding the replanting efforts were. It's backbreaking work, but Dart makes it look effortless, despite frequently battling the elements.
"It could start the day off sunny and then minutes later, it will just be raining, torrential downpours, hailing or snowing. You never know what to expect," she said. "There were some days that we were planting through a heat wave, so we had like 37-to-40-degree weather for several days straight and that was really difficult."
The job wasn't without its hazards either. Dart often fought off mosquitoes and had to be careful to avoid losing her footing among the fallen logs, rocks, and roots. She would also encounter various wildlife, such as bears and moose.
Conservationists like Leslie Dart often work to fulfill legal regulations by the British Columbia Ministry of Forests that stipulate a certain number of trees must be planted each year to replace those cut down by logging companies, and efforts are also in place to regenerate forests following wildfires. In total, foresters plant around 200 million saplings in the province annually. 
Taking a look at Dart's social media, fans may have noticed that she's been quiet this year. That's because she graduated from college in the spring and has started a career in the aerospace manufacturing industry. However, she hopes to resume her tree-planting efforts in some capacity soon. She told the Canadian Press: "Being surrounded by snow-capped mountains and such a vibrant, wild landscape, I couldn't help but pause every second to take it in."