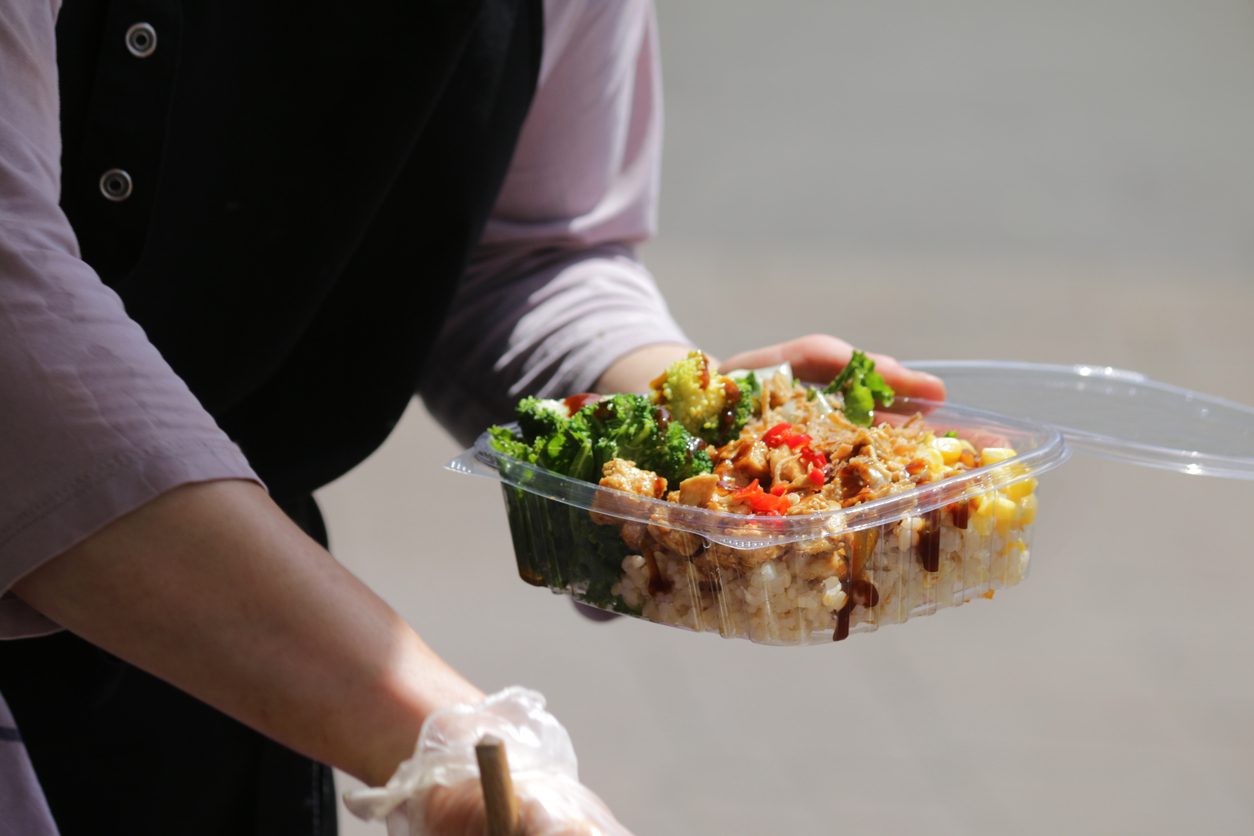 mtreasure / iStock
As the popularity of fast food options and meal delivery services has grown in recent years, the number of single-use plastics that accompany orders has also increased. To help the restaurant industry cut down on plastic use and disposable packaging moving forward, Beyond Plastics has created a free, detailed guide for businesses to successfully implement positive changes — while continuing to serve up tasty meals to customers.
The organization released the easy-to-follow, 47-page manual, titled "Hold the Plastic, Please: A Restaurant's Guide to Reducing Plastic," last month. Brimming with helpful tips, examples, and resources for restaurant owners who are looking to cut down on plastic use, it includes a plan to effectively implement reusables for to-go orders.
The guide states that 44% of plastic waste in the ocean consists of takeout food and drink containers, and consumers are eager for businesses to take action to prevent more waste from littering the environment. This gives restaurants an added incentive to make long-needed changes that may have previously felt overwhelming.
"Industry research has found that the use of plastic makes consumers feel guilty, frustrated, and annoyed — precisely the opposite of what restaurant owners want their customers to experience. The majority of people surveyed also shared that they feel restaurants must do more to address the plastics problem directly," Megan Wolff, Ph.D., MPH, Beyond Plastics policy director and lead author of the guide, said in a press release.
The guide includes case studies and statistics, and provides a multi-step process for reducing waste: perform a plastic audit, involve staff, notify customers, and finally make the switch to reusable dishware and takeout containers.
"Reusables are the gold standard for reducing litter, fighting plastic pollution, and combating climate change," the guide states. While it does acknowledge that "the upfront costs are higher, the payback period for switching to durable goods can be as short as a few months, and over their lifetimes reusables use less energy and water than single-use containers, even after dishwashing. They also result in lower greenhouse gas emissions." Additionally, many resusables are recyclable and reduce the amount of waste that ends up in landfills.
To make the switch to reusable takeout containers, it's suggested that restaurateurs partner with third-party services that operate much like linen services: supplying, collecting, cleaning, and redistributing the reusables.
The guide also highlights the importance of restaurants telling the world that they have taken "steps to reduce plastic and safeguard the environment," adding that "now is your time to shine, so don't be shy about showing off your credentials as a green business."
With the United States generating more plastic waste than any other country on Earth, and the industry largely contributing to the growing climate crisis, it's vital that action is taken to protect our planet.
"Already, many eateries are choosing to either become plastic free, reduce their use of plastic, or eliminate single-use disposable items. In doing so, these restaurants have demonstrated that they can decrease costs, grow their clientele, increase revenue, and make a real and vital contribution to the health of the environment," the press release reads. "Their actions send an important message to consumers: the future is not in plastics."