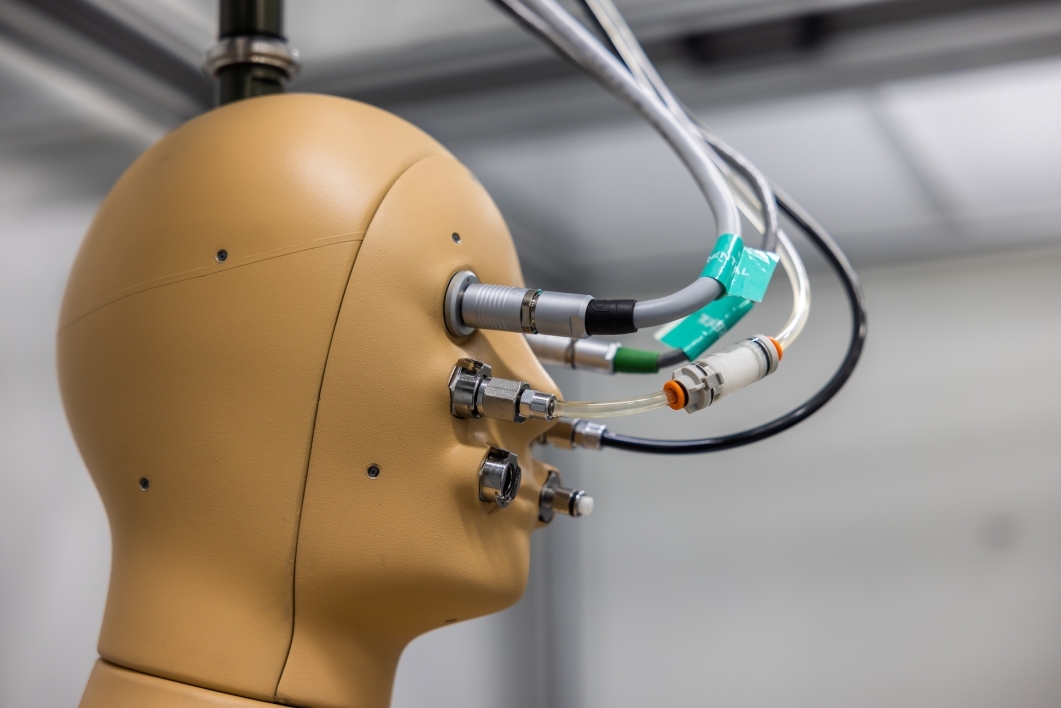 Photo by Christopher Goulet/ASU
Someone better call actor Andrew McCarthy. Science hasn't gone so far as to literally bring a mannequin to life like it did in the 1987 film Mannequin, but some visitors to Arizona State University's Tempe Campus might be fooled. Housed at ASU is ANDI: the world's first indoor-outdoor breathing, walking, and sweating manikin.
Manikins, similar-looking to mannequins that are used to display clothes, "are human-shaped models that medical professionals use to simulate the human body for the purpose of medical training," American Hospital Supply explains. And at ASU, ANDI is being employed for that exact purpose. Custom-built by the company Thermetrics and funded by the NSF Major Research Instrumentation Grant, the manikin is being studied by ASU researchers to better understand how humans are affected by heat stress and what exactly makes high temperatures fatal for some.
In total, there are 10 ANDI manikins across the world, but this is the first thermal model that can be used outside. "He can mimic the thermal functions of the human body and has 35 different surface areas that are all individually controlled with temperature sensors, heat flux sensors, and pores that bead sweat," according to a press release from the university.
ANDI has an internal cooling channel that circulates water throughout its frame, allowing it to withstand extreme heat conditions while "measuring complex variables that contribute to our perception of heat in different environments," per the release. And it's the manikin's ability to sweat that makes it so valuable to the research team.
"You can't put humans in dangerous extreme heat situations and test what would happen," Jenni Vanos, an associate professor at ASU's School of Sustainability, said in a statement. "But there are situations we know of in the Valley where people are dying of heat and we still don't fully understand what happened. ANDI can help us figure that out."
Along with being studied outdoors, the manikin can be put through a number of different simulated heat scenarios with the help of a heat chamber called the "Warm Room," which can reach a sweltering 140 degrees Fahrenheit.
Photo by Christopher Goulet/ASU
Realizing not everyone's body will respond the same way to heat, the research team designed a method of customizing ANDI's thermal regulation systems to replicate a variety of different groups.
"We can [enter] different BMI models, different age characteristics, and different medical conditions," ANDI's lead operator Ankit Joshi said. "A diabetes patient has different thermal regulation from a healthy person. So we can account for all this modification with our customized models."
This summer, ANDI will partner with another robot called MaRTy (a biometeorological heat robot) and together they will help the team better understand human sweating conditions.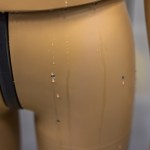 Photo by Christopher Goulet/ASU
The researchers plan to take the two walking robots through an array of environments, including exposed streets and also non-air-conditioned mobile homes in the Phoenix area. "MaRTy measures the environment, and then ANDI can then tell us how the body can react," said assistant professor Ariane Middel.
With the collected data, the team is hopeful that they'll be able to design heat interventions, like cooling clothes or exoskeletons for backpacks — and in turn, potentially save lives.
"There's a lot of great work out there for extreme heat, but there's also a lot missing," said Konrad Rykaczewski, an associate professor at the School for Engineering of Matter, Transport and Energy "We're trying to develop a very good understanding (of how heat impacts the human body) so we can quantitatively design things to address it."
RELATED: Meet ART: The Amphibious Robotic Turtle With Limbs That Morph Into Flippers