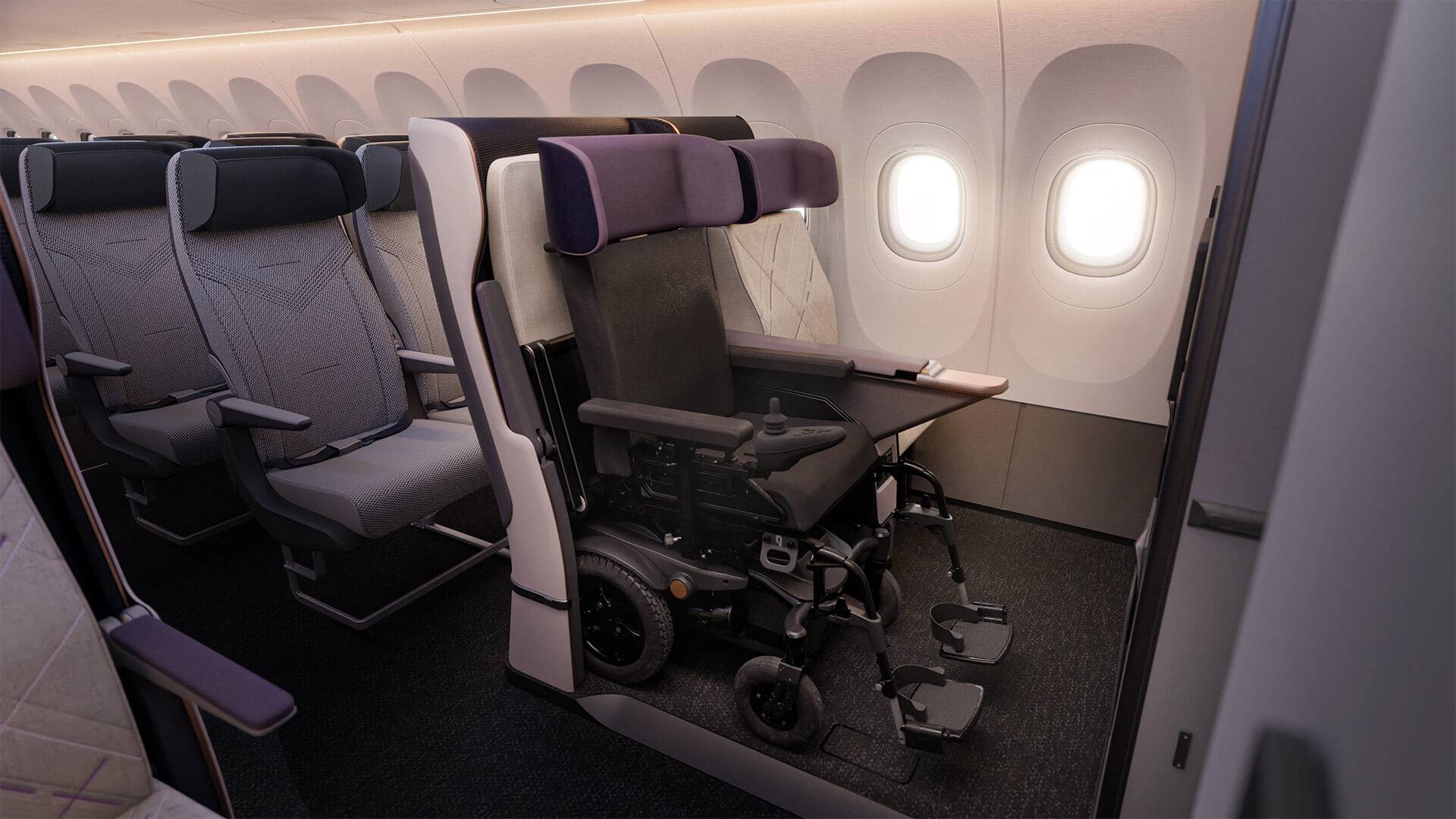 Courtesy of PriestmanGoode
Traveling can be a pain for everyone, but flyers who use wheelchairs face another level of obstacles, from a lack of bathroom accessibility, to potential injuries incurred while boarding the plane, to the possibility of damaging expensive — and essential — equipment.
That last point is a particular problem: According to the latest data from the Department of Transportation, at least 1.5 of every 100 wheelchairs and scooters are mishandled during air travel. Over the past five years or so, that translates to tens of thousands of damaged mobility aids.
"If you're a full-time wheelchair user, your wheelchair has been designed to fit your body and your specific medical condition and your needs," John Morris, founder of the website Wheelchair Travel, explained to The Washington Post in 2021. "It's a critical issue when they're damaged."
A new plane seat design, being developed by Delta Flight Products and the U.K.-based consortium Air4All, is looking to change that and prevent people with disabilities from experiencing the distressing and all-too-common occurrence of a damaged chair.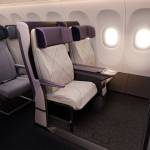 Courtesy of PriestmanGoode
RELATED: Greece Is on a Mission to Improve Wheelchair Accessibility on More Than 200 Beaches
The innovative seat folds up, allowing passengers with limited mobility to remain securely in their own powered wheelchairs for the duration of the flight, while still maintaining access to the headrest and console tray table. According to designboom, once the seat is folded up, it reveals a floor latch for a wheelchair to attach to and detach from the cabin floor, thus giving flyers more mobility.
Air4All is a collaboration in itself, formed by the design consultant PriestmanGoode, the advocacy organization Flying Disabled, SWS Certification, and Sunrise Medical.
Delta Flight Products, a subsidiary of the airline, is debuting a prototype of the seat at the Aircraft Interiors Expo 2023 in Hamburg, Germany, this week, per a press release.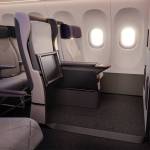 Courtesy of PriestmanGoode
"An innovation like this in air travel provides those with reduced mobility a safe and comfortable way for them to travel and remain in their own power wheelchair," said Flying Disabled founder Chris Wood. "It has taken a truly collaborative effort to develop this seat and we believe this product provides an optimal solution for all parties."
After the Aircraft Interiors Expo, Delta will finalize the design and send it off for testing and certification.
"This patented design offers new possibilities for customers in wheelchairs to enjoy a travel experience they truly deserve," said Rick Salanitri, the president of Delta Flight Products.