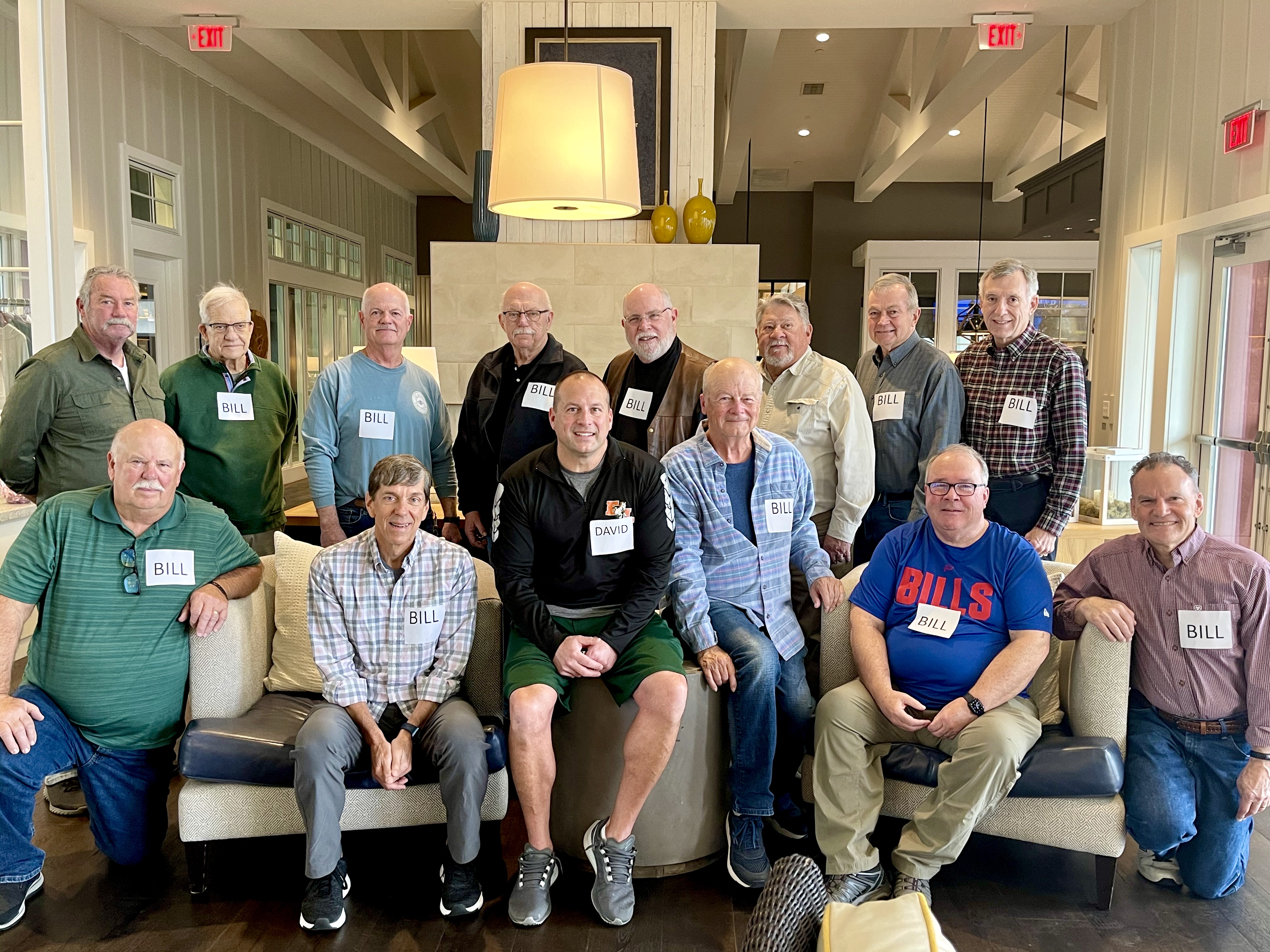 Courtesy of Terri Formosa
In most cases, people wear name tags so they know what to call each other in group settings. But at one annual gathering in Denver, North Carolina, they're just for laughs. That's because the same moniker is written on each attendee's tag: "Bill."
It all started after William "Bill" Gibb retired in 2018, when he and his wife packed up their home in Ohio to settle into the same, charming, 55-plus community that his brother-in-law lived in nearly eight hours south.
Upon arriving and meeting his new North Carolina neighbors, he began to realize he was far from the only Bill in town.
"I had two Bills right behind me; I had a Bill three doors down, and then across the street from one of the Bills was another Bill," Gibb told Nice News with a chuckle.
Bemused, he decided to investigate further, checking the neighborhood address directory. He found that around 25 different Bills or Williams were living in the community, called Trilogy Lake Norman. Seeing all those people who shared the same name gave Gibb an idea.
"I said, 'Why don't we get together for lunch?'" he recalled.
And so they did. On Super Bowl weekend in 2019, about seven months after settling into his new home, Gibb hosted the first "Bill Lunch," as the now-annual gatherings are affectionately referred to.
RELATED: So Bad They're Good: Embarrassing "Dad Jokes" May Help Children's Development, Study Says
"I think the first one, we had about 15 Bills come," said Gibb, adding: "Most of 'em go by Bill, but there are a lot of Williams that go by William."
They've organized a lunch each year since then, five in total, usually during Super Bowl week. The group meets at the community's clubhouse restaurant, so no one has to drive far to join in the fun. Said Gibb: "We have the usual people who stick their head [in] during the lunch and say, 'Hi, Bill' or 'Who's paying the bill, Bill?'"
And the bevy of Bills (there are now about 35 men in the community who go by Bill, William, or Will, according to Gibb) is always on the search for interesting speakers to attend the lunch — so far they've had three. This year, a local high school football coach who led his team to the state championship spoke to the group (his name is David). Last year, the guest of honor was the town sheriff, another Bill. "He gave a real nice speech and we all loved it," said Gibb.
Primarily, though, the lunches serve as an opportunity to talk about the big game, catch up with friends and neighbors, and welcome new Bills to the mix. In addition to promoting the community's fitness classes and other activities, the clubhouse's daily bulletin announces the annual lunch about three to four weeks in advance.
"There's new people moving into this community all the time, and there's new Bills, so they'll come just to meet some new people," Gibb explained, adding: "And from now on around the community, we see 'em and know they're a Bill."