cihatatceken/ iStock
Nearly half of all adults in the United States, around 116 million, have high blood pressure, but only about a quarter have their hypertension under control, according to the Centers for Disease Control and Prevention. And in 2020 alone, the condition was a primary or contributing cause in over 670,000 deaths.
In addition to leading to an increased risk of heart disease and strokes, hypertension has been linked to dementia. Current treatment recommends lifestyle changes, such as exercise and changing one's eating habits, and medication to lower one's blood pressure. Unfortunately, these measures don't always work, which set researchers at Columbia University and the University of Paris on a mission to find another solution.
In a study published in JAMA Cardiology, the team used an ultrasound device to help reduce blood pressure, with results showing a consistent decrease of 8.5 points for daytime ambulatory blood pressure in the middle-aged test subjects.
For the study, researchers pooled data from three randomized clinical trials on 506 patients experiencing varying levels of hypertension. Patients were separated into groups that would receive treatment via ultrasound renal denervation and "sham groups" that didn't. "Twice as many patients who received the ultrasound therapy reached their target daytime blood pressure (less than 135/85 mmHg) compared to patients" who didn't use the device, a press release explains.
Based on the results of the study, they determined those who received the new treatment experienced a significantly greater decrease in daytime ambulatory systolic BP two months later than those who did not.
"Many patients in our clinical practice are just like the patients in our study, with uncontrolled blood pressure in the 150s despite some efforts," Ajay Kirtane, professor of medicine at Columbia University Vagelos College of Physicians and Surgeons and co-leader of the study, said in a statement. "Renal ultrasound could be offered to patients who are unable to get their blood pressure under control after trying lifestyle changes and drug therapy, before these events occur."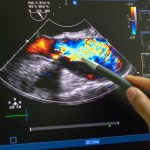 Pitchayanan Kongkaew/ iStock
Risks of high blood pressure increase as one gets older, and it's believed to be caused partly by overactive nerves in the kidneys. These nerves can send signals to the body to hold sodium and water as well as release hormones that have the ability to raise blood pressure, therefore causing hypertension. While blood pressure medications can treat the symptoms, they're failing to address the root cause of the issue — those over-processing renal nerves.
With the ultrasound renal denervation procedure, doctors insert a catheter into the leg or wrist of the patient to reach the kidneys. Therapy allows doctors to disrupt signals in the renal arteries, thus helping to lower blood pressure as a result. While the procedure is invasive, most patients in the study were discharged the same day, per the press release.
The device still needs to be evaluated by the FDA, but Kirtane is hopeful it will one day help treat patients with hypertension who've exhausted all other options. "Once the device is available, we envision recommending it to patients who have tried other therapies first," he said. "The hope is that by controlling blood pressure, we might be able to prevent kidney damage and other effects of uncontrolled blood pressure."