Courtesy of Dutch Cycling Embassy/Facebook
While parking garages for automobiles are a common sight around the world, Amsterdam's new state-of-the-art garages for bicycles may be a game-changer for cyclists. Not only are they located underground and underwater, but they are also housed nearby the bustling Amsterdam Central Station.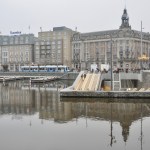 Courtesy of Dutch Cycling Embassy/Facebook
The train station sees 200,000 travelers every day, The Verge reports, with around half arriving via bike. Cycling is a major mode of transportation in the capital city of the Netherlands, with nearly 32% of people choosing to bike, according to the 2022 Global Bicycle Cities Index by Luko. While biking may be a more physically active and environmentally friendly way of traveling, Amsterdam is filled with bikes taking up space in public areas — an issue the new garages will help relieve.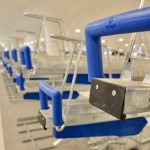 Courtesy of Dutch Cycling Embassy/Facebook
"The opening of the new parking facilities marks the beginning of a new era, in which Amsterdam Central Station will be somewhat like it was around 1900. Accessible and pleasant, without cars and bicycles parked everywhere and nowhere," Amsterdam representatives said, according to designboom.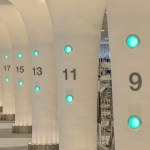 Courtesy of Dutch Cycling Embassy/Facebook
Combined, the two garages will store 11,000 bikes, making them the "largest bicycle parking facility in the city," according to the Dutch Cycling Embassy. The Stationsplein bicycle garage, which opened January 26, can hold nearly 7,000 bicycles while the IJboulevard facility (opening this month) can house an additional 4,000 bikes.
Courtesy of Dutch Cycling Embassy/Facebook
The garage features a sleek white design with curved columns and double-stacked bicycle rows, and artwork, including pieces by the late Lex Horn, adorn the walls. Both garages have direct access to Amsterdam's Central Station, adding to the convenience for commuters. A series of electric ramps provide easy access to and from the garages for cyclists. The Stationsplein garage also features a shop where cyclists can buy accessories or get their bikes fixed.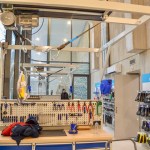 Courtesy of Dutch Cycling Embassy/Facebook
According to project manager Pieter Visser, the Stationsplein parking garage took 12 years to complete and cost around $54 million. "Some call it, like, an open heart surgery of Amsterdam Central Station because it's smack down in the middle of Central Station, one of the busiest places in Amsterdam. So it's quite an achievement, and it's a beautiful parking [garage]," Visser said.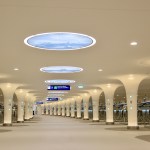 Courtesy of Dutch Cycling Embassy/Facebook
The city has plans to expand the number of storage spaces for bikes in the future. "We are in good shape with the opening of the two new bicycle parking facilities, but we expect that there will be a greater need for bicycle parking spaces around the station," city officials said, per designboom. "That is why we have already started preparations for even more parking spaces for bicycles."