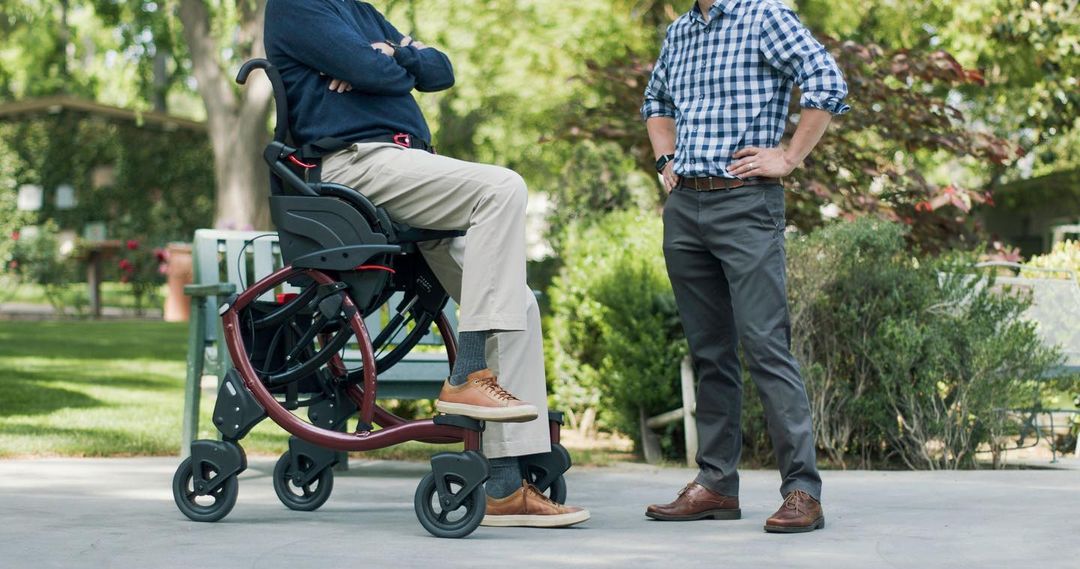 @Go_Zeen/ Instagram
In the U.S. alone, 12.1% of adults have a mobility disability, resulting in serious difficulty walking or climbing stairs, according to the Centers for Disease Control and Prevention. And a 2015 study found that there were about 2.7 million wheelchair users in the nation. Inventor Garrett Brown — best known for coming up with the Steadicam used on movie sets around the world — was inspired to help those millions while visiting his then-97-year-old dad in a care facility.
"We need a comfortable chair," Brown, 80, told CBS Saturday Morning. "We need to not have to ditch that chair to get moving." Brown said he noticed something "missing" between his father's "pals" who use walkers and those who use wheelchairs. "You're not upright," he pointed out, noting that having one's feet on the ground and standing up as straight as possible is better for cardiac health, bone density, the limbic system, digestion, and psychological well-being.
That's why Brown created the Zeen, a new kind of wheelchair that he hopes will change the industry in the same way the Steadicam did for film production in 1975. "To be up among your fellow humans is one of the things we hear most often that they love about this machine," he said.
The device can also be used as a walker, to help individuals who do have some lower body mobility retain as much of it as possible. "Our goal is to help them hang on to what they've got," Brown explained to Whyy.org in April 2023, "because you atrophy frighteningly quickly if you cease to use any given set of muscles."
After conceptualizing his invention, one of over 100 patents he holds, it took Brown about five years to develop the official prototype, and a few more to begin manufacturing the product in 2018. To date, more than 300 Zeens have been sold. And at least one has been gifted — to Pope Francis, no less: Brown flew to Rome to deliver the device in 2022.
"I was looking at a video report of Pope Francis struggling with mobility," he shared with CBS. "I thought, 'He could use one of these things.'" So he wrote to the Vatican suggesting just that. "And didn't we get back a wonderful letter saying, 'Yes, we accept. Thank you very much.' And we heard later it's in his apartment. So this story is unfolding," Brown continued. "No official citing, but, you know, if — if it's useful to Pope Francis, that would be really, really satisfying."
The Zeen currently retails for $3,980, and the company website directs those who need help with funding to charities like Ceridian Cares, which offers assistance and grants for medical devices and other necessities. Other resources include a state-by–state list of alternative financing programs for assistive technology and the medical crowdfunding nonprofit Help Hope Live. Zeen also offers installment payment plans through PayPal and ShopPay.
"The instant that we give you this, A. degree of freedom, and, B. autonomy. And that's an important word with this," said Brown. "When you're in it and you're safe, you're on your own."